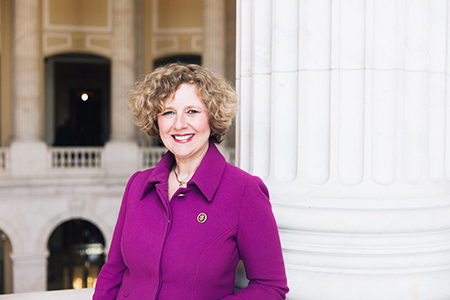 Indiana Rep. Susan Brooks, a Republican who has represented Indiana's 5th District since 2013, announced Friday morning that she will not run for a fifth term in Congress.
"This kind of work demands much," Brooks said in a written statement. "You're never off the clock and there is always more work to be done. With gratitude for all that I've accomplished, I believe in term limits and in the power of new talent. At this point in my life, I'm ready to focus on the people who've done so much to support and care for me throughout my career: my husband David and our family and our dear friends."
"I want the kind of schedule where we can visit our children, Jessica and Conner, who've made their homes in far-flung corners of our great country," she added. "We need greater flexibility to see our parents when their care grows in time and significance. We're ready for the next chapter, and so, I will retire at the end of my current term in 2020."
Brooks told USA Today that she is not considering a run for any other office, including Indiana governor. In 2016, Brooks was one of the top contenders to replace then-Gov. Mike Pence on the ballot for governor after he left to be now-President Donald Trump's running mate. But she lost that bid to then-Lt. Gov. Eric Holcomb, who went on to win the general election that year.
Brooks, 58, has authored eight laws in Congress, seven that have been enacted and an eighth awaiting the president's signature, including legislation to address substance abuse, mental health support to first responders and reforms to protect young amateur athletes from sexual assault and abuse.
Her district includes the northern portion of Indianapolis and the northern and eastern suburbs.
Democrats are targeting the 5th District as a possible pickup in 2020. The Democratic Congressional Campaign Committee put the district on a list of 33 held by Republicans that it was targeting for picks in 2020. Then in February, the DCCC put Brooks on its "2020 Republican Retirement Watch List" and said it would buy social media ads to target the race.
Former state Rep. Christina Hale—who was the Democratic nominee for lieutenant governor in 2016—is considered a likely candidate for the congressional seat.
"Congresswoman Brooks' decision to step aside reaffirms just how quickly the political landscape is shifting toward Hoosier Democrats in places like the Indianapolis suburbs," Indiana Democratic Party Chairman John Zody said in a written statement. "Senator Joe Donnelly won CD5 in 2018 and legislative candidates made seismic gains there last fall. There's absolutely no doubt it's a top target for Hoosier Democrats in 2020. Game on."
The district is seeing shifts in demographics as more young residents move in but hasn't been considered competitive by the political observers who rank such things. That changed slightly after Friday's announcement, as the Cook Political Report shifted the district from "solid Republican" to "leans Republican."
Brooks has won re-election three times but her closest race came last year, when she beat Democrat Dee Thornton with 57% of the vote. That's still a huge margin, but that's a smaller margin than in 2016 when she won with more than 60%.
Brooks recently bucked her party in moving for the Equality Act, legislation backed by the LGBTQ community. Brooks was one of eight Republicans to vote for the act—which would prohibit discrimination based on sexual orientation or gender identity—and the only GOP member from Indiana's congressional delegation to support it.
"In order to work toward eliminating discrimination throughout our country, whether in the workplace, when purchasing or renting a home, staying in a hotel, at schools, applying for credit or in jury service, we must expand civil rights protections to the LGBTQ community," Brooks said in a statement at the time.
Of the eight Republicans who bucked their party with Brooks, three others also represent districts that are on the Democratic Congressional Campaign Committee's list of targeted races for 2020.
However, the other three Republicans who are targeted by Democrats and voted for the Equality Act are ranked as potentially vulnerable, according to The Cook Political Report.
Brooks has a near perfect record of voting with her party. And according to FiveThirtyEight, she votes with President Donald Trump 98% of the time.
"Thanks to the work of Congresswoman Brooks and the leaders who came before her, the results of decades of Republican leadership in the 5th District will keep this seat solidly in Republican hands," Indiana Republican Party Chairman Kyle Hupfer said in written remarks. "Even after she's retired, I'm confident that Hoosiers will long be feeling the impact left by Congresswoman Susan Brooks."
The Carmel resident served as the United States Attorney for the Southern District of Indiana from 2001 to 2007 and was deputy mayor of Indianapolis under former Mayor Steve Goldsmith from 1998 to 1999.
"I'm proud to have served alongside my good friend Susan Brooks and to have witnessed her tireless advocacy for Hoosiers and our great state," U.S. Sen. Todd Young of Indiana said in written comments. "Her thoughtful and common-sense approach to policy will be deeply missed in Congress. … I admire her continued commitment to the next generation of leaders, especially her efforts to encourage more women to pursue leadership positions and elected office. We need more people like Susan in public service, and thanks to her hard work, we have them."
Former Republican state lawmaker Luke Kenley, whose state Senate district is within the 5th District, said he was sad to hear she wouldn't seek re-election.
"There wasn't anybody around Hamilton County that ever said anything but good things about Susan," Kenley said.
Kenley said he could sense that the constant back-and-forth to Washington, D.C. and the lack of legislative accomplishments right now in Congress were starting to bother her.
"She's a person that's used to doing things," Kenley said.
Please enable JavaScript to view this content.