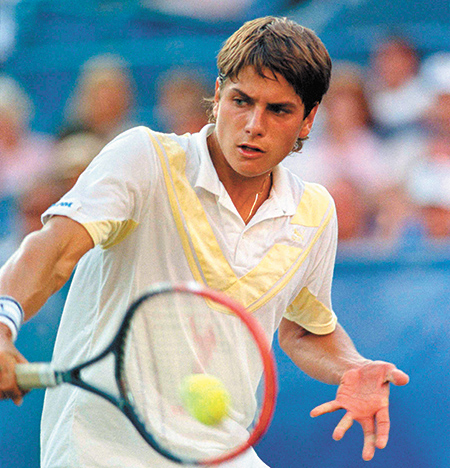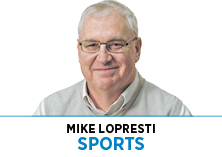 It was just after 7:30 on a London Thursday evening that the two unseeded Americans began their match on court 17 in Wimbledon, far from the crowds of Centre Court, and unaware they were about to midwife history.
It would take them three days, prolonged by weather delays and darkness and their own unwillingness to give. They would be out there for 71 games and five hours and 28 minutes of playing time—the longest match anyone could ever remember at Wimbledon, and a standard of endurance that would last 21 more years.
When it was over, the winner had to play again in under two hours and was quickly beaten. The loser called home to Indianapolis. He was the most accomplished tennis player the state of Indiana had ever produced.
Thirty years ago this month. It seems a good time to remember Todd Witsken.
Team Witsken Tennis operates from an indoor facility in the back of an apartment complex on the north side of Indianapolis. You walk in the lobby, and on the left is a huge picture of two men playing at the 1986 U.S. Open. That's Carmel's own Todd Witsken, serving to Jimmy Connors, the legend he would beat that day. On the right is a framed information sheet for the Wimbledon championships of 1989. In one corner of the frame is a small picture of Witsken's four children. In the other, his obituary.
"So long ago," his brother Rick Witsken is saying. "And yet, that's yesterday."
Todd Witsken died of brain cancer in 1998—five years after he retired from a professional tennis career that had him as high as fourth in the world in doubles and 46th in singles, once reaching the quarterfinals of the Australian Open.
There would be other more glorious moments in his career than that rainy interlude at Wimbledon 30 years ago. The day in 1986 when he shocked the world by taking out Connors in straight sets at the U.S. Open. The Hong Kong tournament in 1991, when he knocked out John McEnroe in singles and doubles. And yet, the marathon in London put his name in the record book. Nobody would play a longer Wimbledon match until 2010.
Witsken was ranked No. 82 in the world that day. His opponent, Greg Holmes—a former NCAA champion from Utah—was No. 309. So not many were watching their second-round match.
But P.A. Nilhagen and his wife were in the stands. He had moved to Indianapolis to teach tennis in 1973 and started coaching Witsken at age 10. Meanwhile, back in Carmel, the Witsken family was trying to follow the match, with no TV coverage, no internet, no cell phones. Bud and Marilyn Witsken had produced eight children, four earning Division I tennis scholarships. Todd and Rick had both won the state high school singles titles for Carmel, Rick doing it twice.
Witsken and Holmes started at 7:39 that night. Witsken won a long first set 7-5, and it was 3-3 in the second when darkness stopped play at 8:56. Rain delayed the restart the next day, but they finally began at 2:49 p.m. Holmes won the second set 6-4, the third 7-6 in a tiebreaker, and Witsken the fourth 6-4—though play was interrupted twice more by rain. They began the deciding fifth set at 7:47, but by the time they had battled to a 9-9 tie—there is no tie-breaker at Wimbledon in the fifth set—it was too dark to go on.
They were back again Saturday afternoon, and Homes finally won the match 14-12, in 34 minutes.
Rick: "I remember Greg Holmes being a very nice guy and a good friend of Todd's on the tour. He had stayed at our home in Carmel back when they were junior tennis players. It was just one of those frustrating moments, calling over to Wimbledon and getting updates, and sometimes they didn't answer the phone. Little did I know he was setting history into a new perspective of how long the duration of a match from start to finish could last."
Nilhagen: "I think there was a disadvantage for Todd, more than Greg, because Greg was a pretty energetic shot maker. Todd was more a methodical guy that needed to get into a match. So I think the rain delays disfavored him from the beginning. Of course, I didn't tell him that. I told my wife. My wife was more upset about always missing the dinner reservations. She said, 'Let's leave.' I said, 'I'm not here for dinner.'"
"Todd took it like a man, as he did all the time. He was a unique guy. He didn't get too high and he didn't get too low. That's why I think he made such a consistent run. He never really played a bad match or a bad tournament."
Thirty years later, both Rick Witsken and Nilhagen still teach promising juniors the game at Team Witsken. "There is a nostalgic feel to where we are today," says Rick, who went on to an All-American career at Alabama, played pro tennis, and now is nationally ranked in Pickleball. "Todd was coached by P.A. P.A. was my coach. So to hear him share stories about Todd Witsken with kids, and some of the stories I didn't even know because I was too busy playing my college and pro tour—I'm still learning about him, which is pretty cool."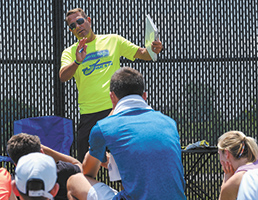 Rick Witsken, Todd Witsken's brother, teaches tennis and Pickleball—and is a nationally ranked player in the latter. (IBJ photo/Eric Learned)
Yeah, they remember 1989. But they remember 1986 better, when Connors was swept aside by Witsken on the stadium court in New York, 6-2, 6-4, 7-5. Nilhagen had given Witsken a pep talk and the strategy that day over the phone, as he always did. It's still written right on that photo in the lobby. Key game plan: Backhand slice low to the Connors forehand. It worked!
Nilhagen watched that one from Indiana, though the network cut away from the match in the third set to show a football game. "I went out to teach a lesson at North Central, where I taught for 39 years. I didn't know what happened. Then about an hour later, the Witskens had a motor home and I think the motor home came in the parking lot at about a hundred miles an hour. Right then, I knew. Is it one of my proudest moments as a coach? I'll never forget it."
The world tennis media made the theme an aging Connors being taken down by an unknown 22-year-old from Indiana. "It's unfortunate, but guys do get older," Witsken said after the match.
Sad irony. Connors turned 34 the next day. Todd Witsken would die at 34.
Rick and Todd worked together the last years at the Indianapolis Tennis Center. It was near the end, when a seriously ill Todd still insisted on sharing his love of the game, that Rick believes his brother built his most shining legacy.
"I think his behavior when you're looking at a six-month life expectancy in the face, to me that's even a greater legacy than, 'I beat Jimmy Connors at the U.S. Open.' The memories of him being a rock star athlete to going to when we'd be walking and he'd walk into a car, or I had to physically carry him—it's one of those things as a brother you don't ever forget it. You realize life is short."
They took a last trip together with family and friends to Wyoming. They rafted, went horseback riding, and a bald eagle often followed them. "Any time I see an eagle, that's my brother," Rick says. On his Pickleball paddle? An eagle.
Nilhagen remembers the last dinner he had with Todd, at an Indian restaurant in Broad Ripple. Nilhagen, fearing this would be their final conversation, had a word with the manager: They had much to talk about. They might be there a while.
"That's the first time he ever asked me, 'Tell me about my best matches,'" Nilhagen says. They talked about Connors, of course, and how much fun it had been to beat McEnroe. "We closed the restaurant. We sat there from 6 to midnight. I cried on the way home."
Soon, Todd Witsken was gone.
Here in 2019, the Witsken-Holmes match is now the fourth-longest Wimbledon match ever. Bud and Marilyn are still doing well. Bud, in his 80s, helps sweep the courts for Team Witsken. He never played much tennis. His wife didn't play it a lot. Rick still is at a loss to explain how that union produced such a tennis-gifted brood. Including the older brother who 30 years ago made history at Wimbledon.
"There's not even an argument," Nilhagen says of Todd Witsken's being Indiana's all-time No. 1. "I don't know who is 2. There is no 2."•
__________
Lopresti is a lifelong resident of Richmond and a graduate of Ball State University. He was a columnist for USA Today and Gannett newspapers for 31 years; he covered 34 Final Fours, 30 Super Bowls, 32 World Series and 16 Olympics. His column appears weekly. He can be reached at mjl5853@aol.com.
Please enable JavaScript to view this content.