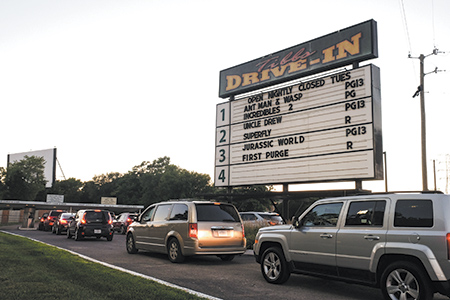 Ownership of Tibbs Drive-In, a long-standing fixture on the west side of Indianapolis, has changed hands.
Marcella Snyder and partner Jon Parkin purchased the four-screen outdoor theater and its 24-acre property at 480 S. Tibbs Ave., from Ed and Agnes Quilling. The Quillings had owned the theater since 1995.
Snyder declined to reveal the exact purchase price, but said it was between $1 million and $2 million. The deal closed May 23.
Snyder's first job as a teenager was in the concession stand at Tibbs Drive-In, and she worked there from 2000 until 2015. "I've been around the drive-in my entire life."
In 2015, she returned to college to earn bachelor's degrees in communications and biotechnology from IUPUI. She now works as a quality assurance agent for Covance Inc. in Greenfield.
Parkin, who is also Snyder's "life partner," works remotely for PayPal Holdings Inc. as a human resources information technology systems configuration manager.
The couple plan to keep their day jobs for at least the next few years before shifting full-time attention to the theater, Snyder said.
Snyder said her college degrees have already come in handy at Tibbs. The communications degree has helped her deal effectively with customers, vendors and lenders, and her science degree helps her take an analytic approach to challenges, she said. "Rather than pour emotion into the problem I think, 'OK. What's the root cause?'"
One such issue Snyder and Parkin are working out now is how to streamline parking and make it more orderly and efficient.
The two have already updated the theater's point-of-sale system, replacing 1980s-era cash registers. They're also looking into adding vegetarian options to the concession stand, and they're working with the community arts organization Big Car Collaborative to possibly bring some international or foreign films to the theater's lineup.
United Artists Theatres, which is now part of Regal Entertainment Group, opened Tibbs Drive-In as a single-screen theater in 1967. Two more screens were added in 1975, and the Quillings added a fourth screen in 1999.
Tibbs Drive-In is among a relatively few drive-ins around the U.S.
According to the United Drive-In Theatre Owners Association, as of August 2018, there were about 317 drive-in theaters and 559 total screens nationwide, including 20 theaters in Indiana. During the heyday of the drive-in in 1958, the country had as many as 4,063, the association says.
Snyder said she's not worried about Tibbs Drive-In's future, even in the age of Netflix and an expanding array of entertainment offerings. She said Tibbs offers affordable entertainment—for the price of an $11 adult ticket, patrons get two full-length movies.
"We're not really concerned. It's a great option for middle- to lower-income families," she said. "People do really still like to go out to the movies."
Please enable JavaScript to view this content.