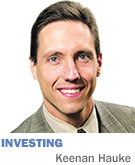 The 2-year-old boy living in my house can feel it. He can sense what's coming and he's loving every minute of
it.
Halloween is on the way, and every pumpkin, ghost and ghoulie he sees brings shrieks and delighted laughter.
If you come into my house, he will surely call you a "scary guy," and this will bring the biggest smile to a little
person's face that you have ever seen.
Let the historical record show, however, that not many investors
agree with my little guy's appreciation of October. The two largest stock market crashes occurred in October. October
2008 was anything but friendly for stock-market participants. And, this year, the media is feeding that fire in the expected
way.
Every money manager and analyst with a scary word is being trotted out and given ample air time. In mid-August,
Mark Mobius from the Templeton Funds talked about a 30-percent pullback in global equities by year-end. Of course the year
isn't over yet, but the market is higher today than when he said that.
Everyone's favorite perma-bear,
Bob Precther, is being handed perhaps one final stab as he says the market is about to crash. Over the last 20 years, he has
the distinction of performing about as well as a broken clock, which is right twice a day. And, by now we are pretty darn
sure of Iran's nuclear ascendancy and all the terrible things that will mean for the stock market.
It is
true that the stock market has experienced some big losses during the month of October, but September is the worst-performing
month historically for the market.
September 2009 showed a positive return for U.S. investors, but many foreign
markets were either flat or slightly down for the month. Japan seems to have suffered the worst, as it is down about 10 percent
from its late-August high.
U.S. markets opened October by leaning into the downside with a quick 4-percent pullback
in the first few days. Does the recent global weakness foreshadow what could turn out to be another nasty October? After all,
the markets are up a large amount over the last six months.
At least for this particular go around, I tend to
side more with my 2-year-old about October. Even though I give the market plenty of room to work off some of that strong six-month
run, this may be one October that offers a few flesh wounds rather than a nearly fatal blow. Another 4-percent or 5-percent
drop could certainly be on the way, but I don't believe the market is on the verge of a sustained down move, at least
not for the next few months.
The highest probability from here until year-end is a few more weeks of perhaps-scary
up-and-down action, followed by another run upward into the end of the year. Next year may very well bring multi-decade lows
to the market, but the next few months favor the upside.
It is worth noting that Japan has suffered the largest
sell-off of any international market over the last five weeks. Another few percent off and this could be a very interesting
play into the end of the year. Valuations are some of the best in the modern world and a newly elected government is talking
about free-market reforms.
If the Nikkei happens to find itself slightly above 9,000 in coming days, I will be
looking closely at moving some money into that country. From those levels, a trip back to 10,000 will make for a nice gift
after the scary season passes.•
__________
Hauke is the CEO of Samex Capital Advisors, a
locally based money manager. His column appears every other week. Views expressed here are the writer's. Hauke can be
reached at 203-3365 or at keenan@samexcapital.com.
Please enable JavaScript to view this content.