It's been a year since Republican Mayor Greg Ballard launched the City's Office of Sustainability. Actually
the groundwork had been laid by his Democratic predecessor, Bart Peterson, but Ballard saw value to taxpayers in many elements
of sustainability, such as energy savings and reduced pollution.
On Oct. 6, Ballard and his sustainability director,
Karen Haley, outlined accomplishments in the first year. Highlights include the purchase of 89 hybrid electric vehicles for
the city's fleet, an additional 14 miles of on-street bike lanes, and 17 walk-up recycling bins.
They also
noted that many firms and schools made extensive energy improvements, and that six had achieved so-called LEED certification,
including LEED "gold" ratings at the headquarters of developer Shiel Sexton, environmental consulting firm August
Mack and the not-for-profit Keep Indianapolis Beautiful.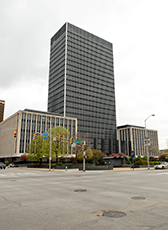 The 47-year-old City-County Building could cost $700,000
a year less to operate, under options explored by city's sustainability program. (IBJ File Photo)
The city also
launched a major sustainability project for its flagship building—the City-County Building. Teaming with the Rocky Mountain
Institute this summer, officials identified $678,500 a year in potential savings—principally through reduced electricity
use. Recommendations include the installation of sensors that automatically turn off lights when nobody is in a room, use
of LED lighting, and installation of lighting shafts to help illuminate the building's underground parking garage. How
to pay for those improvements is still being worked out.
The first annual report did not provide a detailed cost-benefit
analysis of improvements made so far.
Please enable JavaScript to view this content.