The organizers of this year's Rev fundraiser at Indianapolis Motor Speedway are breaking from tradition by not bringing in out-of-town celebrity chefs who are known for TV appearances and exclusive restaurants.
The May 7 event that benefits the Indiana University Health Foundation won't lose its luster, however, thanks to more than 70 Indianapolis chefs showcasing their skills and 20 musical acts performing at the track.
Meanwhile, the selection of Kathy Jones of Second Helpings and Sam Brown of Wheeler Mission Ministries as Rev's celebrity chefs signals an appreciation for their hunger-relief work amid the pandemic's challenges.
Second Helpings provides 1.5 million meals to more than 100 not-for-profit agencies each year at no charge. Restaurants and businesses may have closed during the era of stay-at-home orders, but Jones and Brown continued to feed people in need.
"We went from 22,000 meals a week to 45,000 meals a week," Jones said. "The numbers have gone down a little, but we've changed our model. We used to send out pans of food for communal meals. We now make sandwiches, and we do what we call 'grab and go's' so the pantries can hand the food out. Those were never in our model before. We spun on a dime."
Second Helpings collects food from wholesalers, retailers and restaurants and also trains people for careers in the food service industry. Brown graduated from Second Helpings in 1999, and he then studied at the Cordon Bleu Culinary Arts Institute in Ottawa, Canada.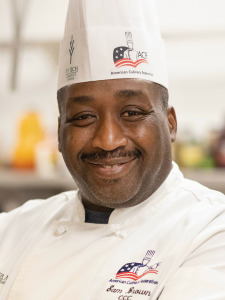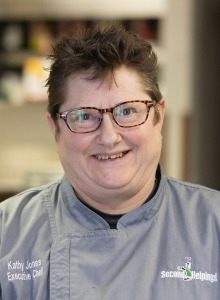 At Wheeler Mission Ministries, he's part of a team that provides goods and services to people who are experiencing homelessness.
When Brown talks about the most dire days of the pandemic, he notes that the health care system was overwhelmed, supply shortages affected food and housing insecurity affected people.
"Those are three areas our agency deals with directly," Brown said. "We went from 100 men to 120 men in the building to 350 men in the building every single night."
Jones, formerly the executive chef at Salt on Mass and Iozzo's Garden of Italy, and Brown previously have prepared cuisine at Rev, a 9-year-old event that's built a reputation for launching a month's worth of festivities surrounding the Indianapolis 500.
Rev attendees mingle with IndyCar drivers and sample food inspired by Indy 500 culture. Funds raised at the event support the IU Health Foundation's trauma and critical care programs.
Jones and Brown, who described their selections as celebrity chefs as unexpected honor, will collaborate on a special dish for Rev.
"We're doing a shrimp and grits cake with Hillbelly Sausage—which is a Smoking Goose product—that's going to be a gravy," Jones said.
Brown said he's looking forward to congregating with food lovers and race fans.
"It was tough from time to time," Brown said of the pandemic. "There were days when I literally was in the kitchen alone, because my entire team was on protocol. But we got it done."
For more information about Rev, visit revindy.org.
Please enable JavaScript to view this content.