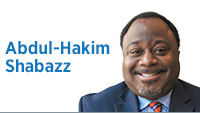 I recently gave a speech to the Indiana Manufacturers Association regarding the 2022 midterm elections. When I was asked what the results would be, I jokingly said if I knew that I'd be doing this speech from the island I bought in the South Pacific because I would have won the Powerball, Mega Millions and the Hoosier Lottery.
With that said, recent polling by my company Indy Politics and Illinois-based ARW Strategies can provide some insight.
First, let's start with the polling that shows a close race for U.S. Senate and secretary of state. Please note, I have always maintained that polls are not predictions of what will happen on Election Day but merely snapshots in time, which, when looked at in context, can highlight trends that demonstrate how things might turn out. With that caveat, we polled 600 likely statewide voters on Sept. 25-26. We used phones and text messages. And the poll's margin of error was plus or minus 4 percentage points.
Republican incumbent Todd Young had a 2-percentage-point lead over his challenger, Democrat Tom McDermott. Young led 39% to 37%, which is within the margin of error. Libertarian James Sceniak was at 6%, while 17% of voters are still undecided. What was interesting in the undecided category was that 24% of Republicans said they were undecided. My theory is that these are "MAGA" Republicans who haven't been crazy about Young's first term in office, but they aren't ready to vote for McDermott or Sceniak.
Ironically, Republican Diego Morales faces somewhat of a similar situation in the secretary of state race. Democrat Destiny Wells has a 4-percentage-point lead over Morales, 36% to 32%, albeit her lead is within the margin of error. Libertarian Jeff Maurer was at 7%, and 25% of voters remained undecided. Once again, if we look at Republican voters, 27% were undecided. My theory here is, unlike Todd Young, who has issues with the MAGA crowd, Morales has issues with the establishment wing of the party.
Please note that we polled before we broke the story about two women who say Morales engaged in inappropriate sexual conduct. [Morales has denied those allegations.] However, Morales already had problems going into the poll: getting fired from the Secretary of State's Office; quitting before he was fired a second time; spending $43,000 in campaign funds on a new car, which he could have had donated; unanswered questions about his military service; and backtrackingm on his positions on early voting and whether Joe Biden won the presidency fair and square.
And then there is abortion.
Indiana lawmakers met this summer and restricted abortion rights. It was legislation that neither the pro-life nor pro-choice side wanted. It got a lot of women worked up around the state. And the legislation is on hold while it makes its way through the court system. So, we asked in our poll: Would you vote for a candidate who supports abortion rights or a candidate who opposes abortion? Fifty-one percent of respodents said they would vote for a candidate who supports abortion rights, while only 35% said they would vote for a candidate who opposes abortion rights; 14% said it wouldn't matter.
At the start of this year, I would have argued that Republicans had things pretty much sewn up. Now? Not so much. Granted, a day in politics is a lifetime, and anything can happen. However, my Republican friends can't have too many more days like the ones they've had lately.•
__________
Shabazz is an attorney, radio talk show host and political commentator, college professor and stand-up comedian. Send comments to ibjedit@ibj.com.

Click here for more Forefront columns.
Please enable JavaScript to view this content.