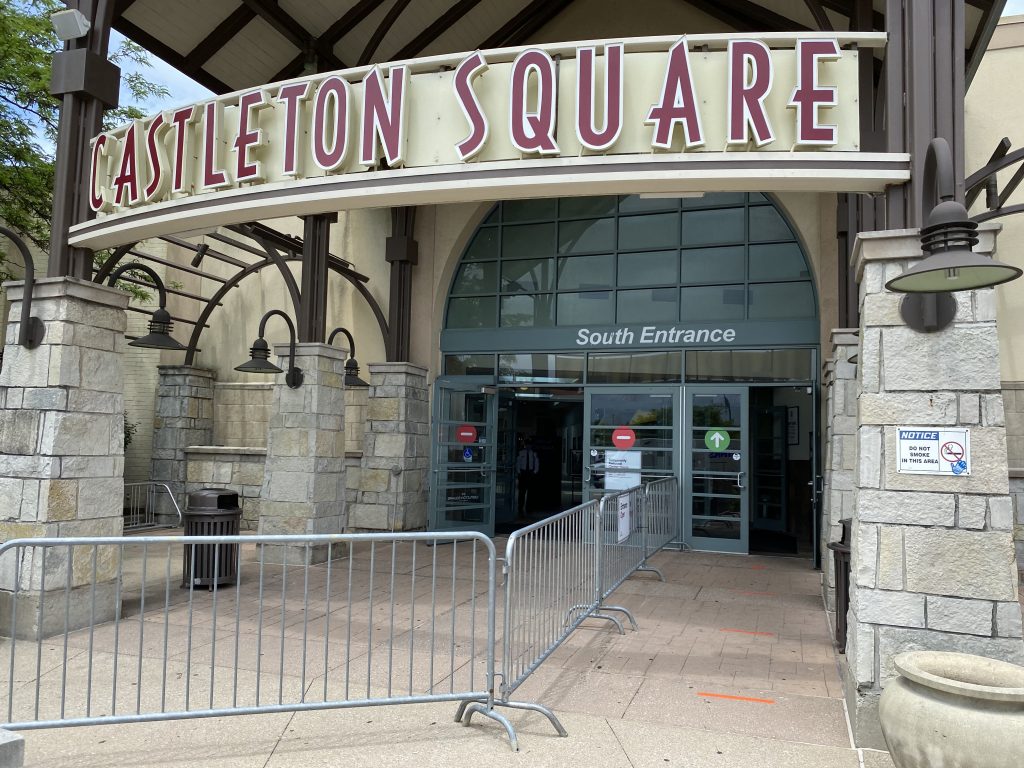 Dozens of stores and restaurants at Castleton Square have reopened in the past week, with additional retailers expected to begin welcoming back customers in time for Memorial Day weekend.
More than 60 of the 130 tenants at the Simon Property Group-owned mall have resumed operations, including two anchor stores: Dick's Sporting Goods and Von Maur.
But the experience at the state's largest shopping center is far different than it was before the coronavirus pandemic began in March—and it's likely to stay that way for a while.
Nearly 150 people were seen throughout the mall early Thursday afternoon—most wearing masks, traveling alone or in small groups, and following social distancing guidelines recommended by state and federal health officials. The mall typically attracts thousands of people daily during normal operations.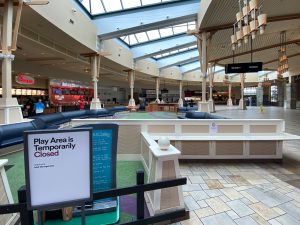 Anchors J.C. Penney and Macy's and such major retailers as Victoria's Secret and Gap are still closed at the mall, as their corporate teams determine how best to restore operations. The mall's food court seating area is closed, but some of the vendors are open and selling food to go. And children's play areas also are shut down.
A handful of stores, including Aeropostale and Claire's, plan to resume limited operations Friday.
At the behest of health officials and Simon, stores that have reopened are asking customers to alter their shopping habits to improve safety. The guidelines are generally a combination of each store's own protocols and those recommended by Simon.
Multiple store operators approached for comment by IBJ either declined to discuss the measures they were taking or referred questions to their corporate parents.
Women's clothier Charlotte Russe is one of several stores to close fitting rooms, cut down on customer interactions (both with merchandise and employees), and limit its capacity to far fewer customers than are typically allowed. Most Castleton tenants are also encouraging or requiring shoppers to wear masks.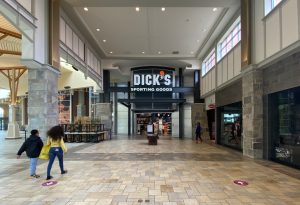 Additionally, Finish Line, Champs and American Eagle Outfitters have staff members at the front of their stores, keeping a tally of customers and ensuring guidelines are being followed.
The 1.3-million-square-foot mall has new standards, too. There is a sole entry and exit point—the sides are separated by a physical barrier—and markers with arrows show the recommended traffic paths throughout the facility.

Malls in Indianapolis are following a delayed version of the state's Back on Track plan, which rolls out Indiana's economic reopening in stages.
Most malls in the state can increase capacity to 75% on Friday (after initially being green-lit for opening May 4). But malls in Marion County weren't allowed to open until May 15 and they are limited to 50% capacity.
In a statement Thursday night, Simon said it "will comply with all state and local orders and only open properties when permitted to do so."
But it's not entirely clear how long mall customers will be asked to keep up current health protocols, even after they're no longer mandated by local and state governments.

Some stores may require visitors to continue wearing masks or socially distance through the summer—and even beyond—amid fears of additional waves of the virus later in the year.
Simon officials did not directly address how long the company expects it will take for the mall experience to return to normal. Nor did it answer questions from IBJ about how Castleton Square and its local properties are performing since reopening.

"We will share additional information when it becomes available," a spokesperson said.
Please enable JavaScript to view this content.