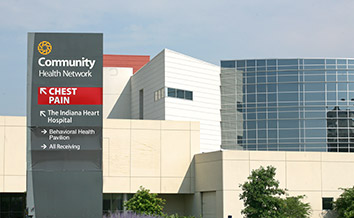 Fairbanks, an Indianapolis not-for-profit that focuses on treating alcohol and drug addiction, is merging with Community Health Network, ending more than seven decades as an independent organization.
Community Health, one of Indiana's largest health systems, announced the news Wednesday, and said the integration would be completed by Dec. 31. Terms were not disclosed.
Fairbanks, founded in 1945, operates a treatment center near East 82nd Street and Shadeland Avenue that offers programs for people with substance abuse disorders, including  detox, education, supportive living, outpatient and residential treatment. The operation is located just a few steps from Community Hospital North.
Fairbanks's assets, including the hospital, a men's lodge, a women's lodge and the associated programs, will become part of Community Health Network. Fairbanks CEO Barbara Elliott will remain in her position and run the hospital. Last year, Fairbanks served about 25,000 outpatients and more than 6,000 inpatients.
"In a nutshell, the strategic thinking is when we bring the two organizations together, Fairbanks has done something excellent, we do things really well, and together we can expand our footprint and create even more comprehensive services," said Jason Fahrlander, chief operating officer for Community Health.
Community Health operates seven hospitals in Indiana, along with dozens of physician clinics, urgent care centers and immediate-care clinics. Earlier this year, Community opened a new inpatient psychiatric unit on the fifth floor of the state's Neruo-Diagnostic Institute, near Community Hospital East.
The deal came about after Fairbanks approached Community Health to explore how they could combine services and expand offerings for patients, Elliott said.
Fairbanks lost $627,070 on revenue of $22.9 million in 2017, according to its Form 990 tax return, the most recent available. But both sides said finances were not a primary consideration in the merger. "I will say it's a challenging health-care market and behavioral health-care market now, but this is truly a strategic decision," Elliott said.
The merger is designed to give patients a more comprehensive approach to addiction and behavioral health services, including treatment for serious mental illness and a psychiatric intensive care unit. Fairbanks patients will also have access to a larger primary-care system and network of specialists.
Fairbanks has about 300 employees and had revenue of $24.6 million last year, making it the 42nd-largest not-for-profit in the Indianapolis area. Community Health will offer jobs to all Fairbanks employees, Fahrlander said.
Please enable JavaScript to view this content.