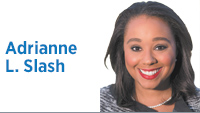 Indianapolis is in crisis. We can't afford to misstep, resort to platitudes or spend our energy telling everyone else what they should do. We can change everything, together, if we open up our resources.
In the 35 years I've called Indianapolis home, I cannot remember a time when leaders didn't know where to start or weren't comfortable leading for fear of being called out for trying. We're at that point now, and it's not OK.
We all have a role to play in reclaiming the city. It starts by staying in our own lane—respecting the expertise and experience people in our community have and speaking up in our own spheres of influence, and inviting others in to help us learn what we don't know.
It's time to ask youth workers. They're in on the ground level and know more than most of us do about direct need. Their insight is invaluable. We need to hear them out and help them find the resources to support the need.
As board members of community-serving organizations, we often know the 10,000-foot view of the work but have less exposure to the direct-service components of our organizations. Leading requires knowing when you're not the right person to take a stand and having the vision to pass the baton to those who are the right people.
The violence we see in our communities is more than news stories, and the need for greater use of resources is vital. As our city approaches a record homicide pace for 2020, we need to take a step back and process what we're doing to address the deeper issues.
We have many parents working multiple jobs and otherwise not available in the hours that our community centers are closed. Those centers have space and need funding and volunteers to keep their doors open later and for extended days. Churches are in the same boat.
It's time we fill the gaps. Our youth have been begging for places to hang out and just "be," which we haven't provided them. I like to believe that we're better than that. The Indianapolis Urban League's Project Ready and the Bloom Project and TruColorsIndy's Tru Dialogue series have gathered a wealth of information directly from our youth with their requests for support. It's time we listen to our youth and provide them the social spaces they need and want, equipped with youth workers who love them, believe in them and empower them.
As board members, community leaders, funders and members of the Indianapolis community, it's time we acknowledge that youth need positive influences after 7 p.m. and on the weekends. There are centers already doing this, but they need resources. They need money for operations as well as youth-empowering volunteers to help support their efforts.
If you love Indy, I'm begging you to love our youth and help us create safe spaces for them—even in the inconvenient hours. Together we can, but we can't do it while banging on our chests. Our youth workers will have to guide us and share their best practices, their challenges, and shine light on the root causes their youth have shared with them. There is no easy button or one-size-fits-all strategy that will work.
Navigating these muddy waters requires each of us to step up—in the areas in which we have expertise and experience—and make room for the other experts in our community. We don't need people to step into the limelight. We need people to take action and make things happen. Stepping up can empower a generation. Let's do that.•
__________
Slash is a diversity and inclusion consultant in the health care industry and is president of The Exchange at the Indianapolis Urban League. Send comments to ibjedit@ibj.com.

Click here for more Forefront columns.
Please enable JavaScript to view this content.