At Newfields' inaugural Harvest event Oct. 3-6, kids will be able to jump on a pumpkin-shaped bounce pad and maneuver a 400-bale hay maze while their parents hang out in hammocks or Adirondack chairs, drink in hand, after an Oliver Winery talk about sweet vs. dry wines.
The festival is about offering visitors a vast array of choices over 50 acres to celebrate autumn's cultural and creative endeavors, stemming from farms, orchards, markets, wineries, breweries and farm-to-fork culinary arts.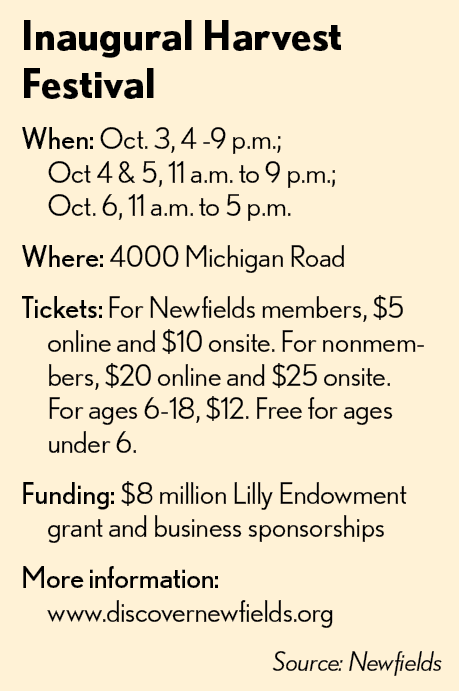 "What we really wanted to do was to give them virtually everything that they would do anywhere else all in one place over 3-1/2 days," said Josh Ratliff, Newfields' director of culinary arts.
The festival offerings will allow visitors to use all their senses to appreciate Indiana's seasonal artistic flairs.
For example, visitors will be able to plunge their fingers into a container of hops and take in the texture of the Hoosier-born-and-bred grains that make malt, all-the-while listening to farmers and brewmasters describe concoctions that make IPAs hoppy and stouts malty.
"Then, if you're 21, [you] can go around and taste how those ingredients come together to make different styles of beers," Ratliff said. "What we're offering is an elevated, curated experience that most people even in a beer-saturated state probably have never seen before."
A covered beer hall will sell dozens of local beers and ciders. Purchasing a $15 passport will allow a beer lover to try out several types. Another pavilion will offer Indiana wines and whiskeys, and a performance stage will feature bands, DJs and acoustic acts.
Yet food experiences will be the core of Harvest.
The demonstration tent will feature a custom-built kitchen set similar to what visitors might see on the Food Network channel, Ratliff said. During nearly every hour of the festival, up to 100 visitors will be able to watch a chef or other food and beverage expert demonstrate how to prepare a particular autumn recipe and then taste the results.
Most of the talent comes from trendy Indianapolis restaurants, including Bluebeard, Black Market and Three Carrots. But several food experts will travel here from other Midwestern cities and the South, including Allan Benton, 72, from Tennessee, famous for producing Benton's Smoky Mountain Country Hams, cured for at least nine months, and beloved by some of the country's most famous chefs.
Outside the tent, food booths will sell traditional autumn fare, such as German sausages, pretzels, popcorn and corn on the cob.
How good food is grown in the first place will be yet another part of the festival.

Horticulturists will host gardening workshops, and farming equipment will be on display. Peru's McClure's Orchard owners will toss their apples with those in Newfields' own Tanner Orchard and talk about how their family developed their business. Pettable friendly farm animals will graze in the orchard, too.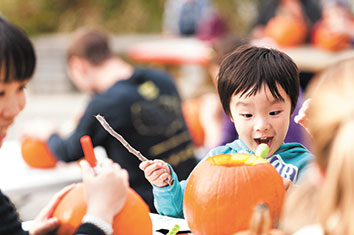 Every autumn fest must honor fall's other important motif—the pumpkin. More than 5,000 pumpkins of every shade, shape, size and texture will dot the campus, including hundreds used to construct a covered bridge that will shield a river of pure blue pumpkins that actually grew in that hue.
On Saturday, visitors will be able to watch two professional pumpkin carvers at work on carving—or perhaps drilling—designs into a pair of 400-pound pumpkins. The fruit of their labors will remain on display Sunday.
And organizers are making sure plenty of pumpkins will still be available for anyone interested in painting one and taking it home.
It's part of the staff's deep commitment to customer service for the event, similar to a guest favorite, Winterlights, a light show extravaganza.
Armed with market research and successful experiences at this and other large-scale events, Harvest organizers are focusing on strategies that will keep the operation running efficiently so visitors can enjoy themselves without long waits or confusion about what's available and how to get there.
Lindsay Hamman, director of public programs, said it's also been important to analyze the offerings to make sure the event provides something for visitors of all ages, interests, attitudes and moods. For example, the weary might be satisfied strolling the grounds or finding a soft spot to sit and people-watch. Others might spend the festival asking lots of questions or laughing with friends while gobbling a bratwurst.
Crafters might decide to focus on hands-on workshops to make their own birdhouse from a gourd or imprint a kitchen towel using fruit or vegetable stamps and plant-based ink, illustrating a concerted effort by staff to make the event environmentally friendly.
Saturday night will culminate with a free family film celebrating football, family and the University of Notre Dame.
"We are going to be screening 'Rudy' on Saturday night," Hamman said. "Bring a blanket and enjoy a very Hoosier fall film under the stars."•
Check out more A&E content.
Please enable JavaScript to view this content.