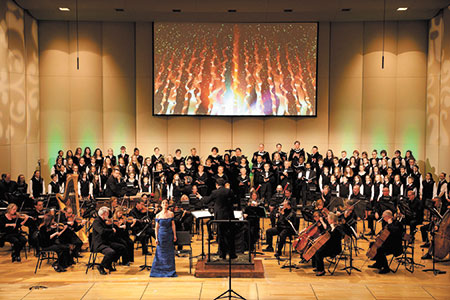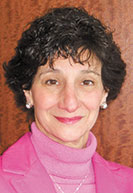 Following the 2019/2020 season, Indianapolis Chamber Orchestra Executive Director Elaine Eckhart is retiring after, well, the years you tally in her tenure depend on which jobs you count.
She served on the ICO's board for a decade, including four years as president. Three years after leaving the board, she was brought back in 2006 as executive director.
On the brink of her final season with the ICO (and in the midst of a $2.2 million capital campaign), she took time for a chat.
Obviously, the classical music big dog in the market is the Indianapolis Symphony Orchestra. How do you make a unique brand proposition pitch for the ICO?
The ICO has had the intimate/classical/original brand since shortly before I came. We try to make sure that we deliver on that.
Playing in a 430-seat hall makes a huge difference in terms of intimacy. We have a post-concert reception after our classical programs so people can continue the experience, meet the guest artist, and talk to our musicians. And there's the sound that differentiates us. A chamber orchestra does not have the same sound as a symphony. In a small hall, people are surprised at the power.
ICO has a reputation for a diverse repertoire. How much of a short-term risk is playing relatively unknown work? 
There is definitely some risk. We had a donor who recognized that and created an artistic excellence fund to help mitigate that. We've also found ways to cultivate interest. When we did [the new work] "Peacemakers," we introduced one movement at a time so that we could pique the curiosity of the audience.
When we hosted "Earshot," featuring five emerging American composers, [we] did it as a donor thank you event. We didn't charge. We said, "Come see what this is all about. This is about the future of the art form. Come experience it." 
What was the reaction?
Tremendously positive feedback. But, of course, every new book is not going to be enjoyed by everyone, and music is not different than the book or movie industry. 
What's one program that proved a positive box-office surprise?
Last January, we brought in pipa player Wu Man. As the financial person, it made me nervous. I never doubted it artistically, but how were we going to excite people about an instrument they never heard of? You don't want to play to an empty hall.
Well, that didn't happen. We partnered with the Chinese-American community and there was some good education and cultural exchange and we sold out—even with a new, 21st-century piece.
Do most people understand the difference between an orchestra's executive director and its music director? 
I sometimes get asked what instrument I play. No, I'm not in the orchestra. I'm in the office. 
But there must be some overlap between the business and artistic sides.
One of the reasons [former ICO Music Director ] Kirk Trevor and I worked well together and why [current Music Director] Matthew Kramer and I work well is that I try not to do their job and they respectfully try not to do mine.
Organizations can get in trouble when you have an executive director who believes they have artistic control. The same is true of an artistic director who doesn't respect that someone else has financial responsibility. 
Much of your work is in fundraising. How do you manage that puzzle? 
We don't have a development department. It's kind of a one-person shop. The trick is to find a balance. A diversified portfolio is important: government, private foundations, corporate support and, obviously, individual support.
But it's not just dollar amount. Another measure is loyalty. There are people who have been supporting us since before I became executive director who might give us $100 a year. But those are very important. It's important to accept that all subscribers aren't donors and all donors aren't subscribers. That's a myth.
And you can't guarantee you will get a bequest from someone who made a five-figure donation or that someone who hasn't made a donation won't make a bequest. That's another myth. You have to stay away from generalizations and know your people. 
What's next?
I'm reluctant to say. But I'm definitely going to be here. I'm not going anywhere except traveling. When I retired for the first time—from Indiana Bell in 1991 to be a stay-at-home mom—I was so worried that I wouldn't have anything to do. But it didn't take me long to be filled up. There are a couple of other organizations that I have a little interest in.•
Check out more A&E content.
Please enable JavaScript to view this content.