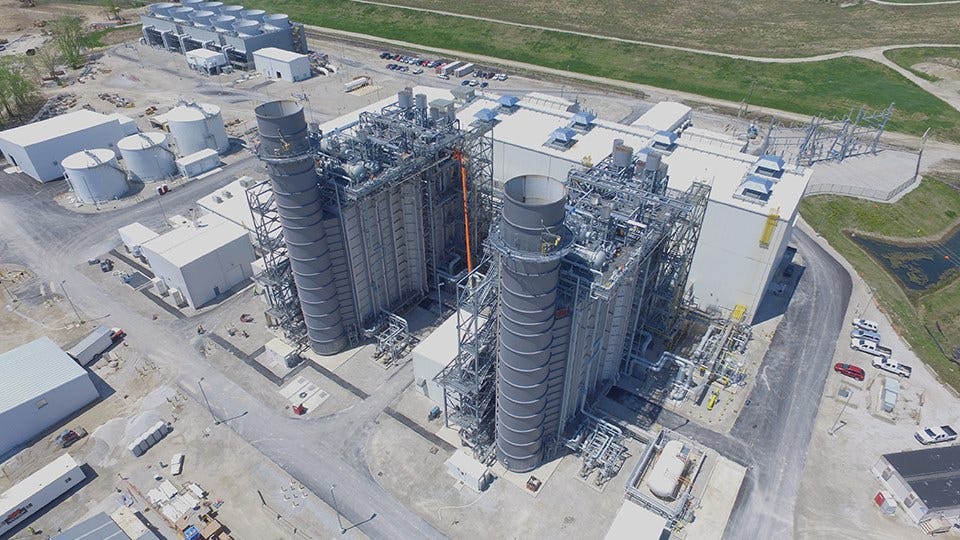 A four-year-old power plant belonging to AES Indiana is back online after nearly a year out of service due to a raft of mechanical problems that forced the utility to buy electricity from the regional power grid.
The Eagle Valley natural gas power plant in Martinsville is now operating at full capacity, AES Indiana said in a statement Friday morning.
The power plant is one of three generating stations that provides electricity to about 500,000 AES Indiana customers in central Indiana.
The utility, formerly known as Indianapolis Power & Light Co., said it has made a wide series of repairs since the plant conked out nearly a year ago.
"Since that time, we repaired the steam turbine generator, the steam turbine and the cold reheat line, and we implemented changes to the system controls successfully," the utility said. "AES Indiana is finalizing the root cause analysis report."
AES estimated that the outage resulted in $35M in additional costs. It said it plans to ask state regulators for permission to pass along those costs to consumers.
The problem at Eagle Valley began last April when the plant was attempting to restart after a planned maintenance outage.
During the startup, the steam turbine unit "experienced an issue with the generator breaker that prohibited it from synchronizing with the grid," the utility told state regulators at the time.
Upon inspection, they discovered other problems, including retaining rings that were damaged and a rotor forging that needed repair after melting under the heat caused by an electrical grounding.
Last month, the utility told state regulators a pipe ruptured at the plant in November as workers were attempting to restart the steam turbine generator following lengthy repairs from the first breakdown.
The pipe rupture was caused by overheating due to the lack of steam flow through the high-pressure turbine, the utility said.
The Eagle Valley plant is known as a combined-cycle turbine, which combines two natural-gas-fired turbines with one steam turbine, lowering environmental emissions more than 98% over coal-powered plants. The utility has retired its older Eagle Valley plant, with six units.
"AES Indiana understands our customers depend on us for reliable, safe and affordable energy to power their lives," the utility said. "There were no disruptions of electric service to our customers during the … outage. Our diverse generation portfolio will continue to serve customers' needs reliably and affordably today and well into the future."
But some utility consumer advocates say the Eagle Valley shutdown is the latest example that so-called "baseload power plants" built by investor-owned utilities have been a bad deal for customers.
"Between construction delays, cost overruns, and expensive and lengthy outages, these facilities have left customers with higher monthly bills and have failed to deliver reliable energy to the grid on a consistent basis," said Kerwin Olson, executive director of Citizens Action Coalition of Indiana. "Meanwhile, solar and wind continue to be extremely cost-effective and are delivering clean energy every day to Hoosier consumers."
Correction: This story has been corrected to reflect that AES Indiana has not yet asked state regulators for permission to pass along $35 million in extra costs from plant outage to consumers.
Please enable JavaScript to view this content.