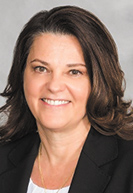 The parent company of utility AES Indiana has parted ways with its top U.S. utility executive in what the company is calling a mutual separation.
AES Corp., based in Arlington, Virginia, said in a filing Wednesday that Lisa Krueger, 57, executive vice president and president of AES US, left her position on Tuesday.
Krueger, who joined AES in August 2018, was responsible for the company's U.S. utility operations, including AES Indiana, formerly called Indianapolis Power & Light Co.
The company said the separation is part of an internal reorganization, but added there will be no impact to operations in Indiana.
An AES spokeswoman, Brandi Davis-Handy, told IBJ in an email that Krueger is retiring and the company is reorganizing to "support the growth of our businesses and drive transformation throughout AES."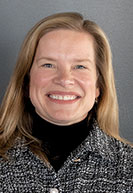 "There is no downsizing or consolidation associated with these changes," the email said. "Kristina Lund remains in her role as President and CEO of AES Indiana and AES Ohio. Kristina previously and will continue to have full responsibility for overall operations of both utilities. Additionally, there are no changes to Kristina's senior leadership team."
AES will be reorganized under three operating units. These units include US Businesses and Global Business Lines, International Businesses, and Global Operations and Transformation.
Lund will now report to Julian Nebreda, head of the new US Businesses and Global Business Lines unit. Lund started her job in Indianapolis in 2020, when she became the fifth CEO of IPL in the past five years.
Krueger will continue in a consulting role at AES Corp. for one year with a stipend of $420,000. As part of her separation agreement, she also will get a severance package worth one year of her base salary, plus bonuses, health benefits for 12 months and outplacement benefits.
Those amounts were not spelled out in the filing. In 2020, Krueger earned a base salary of $500,000 and had a total compensation package of $1.56 million, including bonuses and stock awards, making her the fifth-highest paid employee at AES.
AES, with operations from Brazil to Vietnam, had revenue of $9.7 billion in 2020 and 8,200 employees. The company has not yet filed its 2021 year-end financial report.
AES bought the former IPL in 2001 and changed the name to AES Indiana last year. AES Indiana provides electric service to more than 500,000 residential, commercial and industrial customers, primarily in Indianapolis.
Please enable JavaScript to view this content.