Indianapolis Power & Light Co. on Thursday named Kristina Lund, a senior executive from parent company AES Corp., as its new president and CEO.
Lund will become the fifth CEO of IPL in the past five years. She succeeds Vince Parisi, who stepped down in May after just 11 months in the job.
In her new role, Lund will also lead sister utility Dayton Power & Light in Ohio.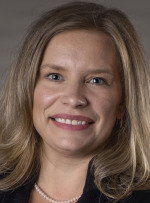 Lund, 43, takes over as IPL is embarking on an ambitious plan to upgrade its grid, with $1.2 billion in investments designed to prevent outages and other service interruptions. The company plans to replace old equipment with newer technology, including smart meters, new transformers, breakers and batteries.
The state has given the utility the green light to pass along the costs to customers, through special fees, called trackers. Under the plan, a typical household would likely pay an extra $1.50 a month in the first year. That monthly amount would increase by $1.50 each year, or by a total of $10.50 a month by the seventh year.
Previous CEOs were Craig Jackson, who resigned after 10 months; Rafael Sanchez, who left in a reorganization after two years and is now president of private banking in Indianapolis for Evansville-based Old National Bank; and Kelly Huntington, who left in 2015 after two years and is now a senior vice president at U.S. Infrastructure Co.
Lund has been with AES for nearly 15 years in a variety of senior roles. Most recently she was chief product officer for carbon-free energy. Previously she served as a regional chief financial officer, and led financial affairs and execution for AES businesses in 13 countries that represented more than $10 billion in assets. As vice president of corporate strategy and investment, Lund developed the company's strategy and facilitated its investment committee, the company said.
Lund holds a bachelor of arts in economics from Wellesley College and a MBA from Harvard Business School. Lund and her family recently moved to Indianapolis, and her two children are attending a local school.
IPL provides electricity to more than 500,000 residential, commercial and industrial customers in central Indiana. Dayton Power & Light provides electricity to about 525,000 customers in west central Ohio
Please enable JavaScript to view this content.