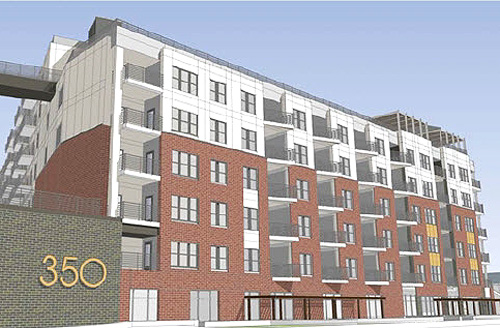 An out-of-state developer is preparing to move forward with its long-delayed plans for a $46 million addition to its 304-unit apartment development along the east bank of downtown's Central Canal.

Louisville-based Investment Property Advisors intends to begin construction in coming weeks on the second phase of its 9 on Canal project on Ninth Street, with plans for 279 additional units and more than 18,000 square feet of retail space.
The 9 on Canal Apartments, completed in 2014, included 304 apartments, 7,877 square feet of retail space and a 278-space parking garage. That building now is about 94% occupied.
The second phase, which the firm is calling 350 West—signifying its address at 350 West St. Clair St., which is directly south of 9 on Canal—had been stalled for several years, after Investment Property Advisors secured city incentives for the expansion.
The developer in 2015 received a 10-year real property tax abatement on the project, which originally called for 216 units, parking and retail for what was then estimated as a $37.2 million development. Under the initial terms of the abatement, the developer would save $2.4 million in property taxes over 10 years.

The firm has received approval from the city for two changes to its abatement agreement: updating the development amount to $46 million and pushing the target completion date back two years, to 2021.
The commission had allowed the completion date for the project to be modified once already, moving it from late 2017 to mid-2019 after the firm had to change its funding sources and adjust its construction schedule.
The project will have $20 million to $30 million of equity investment capital, allowing the developer to utilize the area's Opportunity Zone designation, which gives tax breaks to people who invest their capital gains on real estate projects in those areas.
The 350 West project will feature a six-story building, mostly comprised of studios, one-bedroom and two-bedroom units, along with retail and parking.
Each unit will have a full kitchen, washer and dryer units, walk-in closets and stainless steel appliances.
About 14,000 square feet of retail will be adjacent to the canal, while the other 4,000 square feet will be along St. Clair Street. Plans also call for about 209 sub-grade parking spaces.
According to Andrew Buroker, an attorney with Faegre Baker Daniels representing the developer, Investment Property Advisors expects to begin shopping for tenants after construction starts.
The project ultimately would be connected to 9 on Canal. 350 West is expected to be completed by March 2021, according to the developer.
Please enable JavaScript to view this content.