Less than a month into his new gig as senior director of innovation at Indianapolis-based AgriNovus, Geoff Zentz is tackling a big challenge—how technology might improve food access for Hoosiers in need.
AgriNovus, which is part of the Central Indiana Corporate Partnership, is a statewide initiative that aims to strengthen Indiana's agbioscience sector. Zentz was hired to lead the organization's innovation programming, including the development of a new program called HungerTech.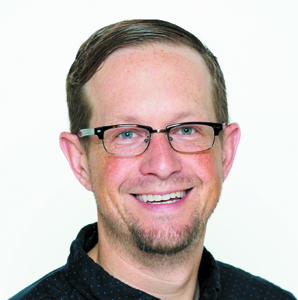 HungerTech, which is planned to launch in June, will be structured as an innovation challenge in which participants compete to develop entrepreneurial solutions to a given problem. The challenge will be open to students, entrepreneurs, companies and others
For HungerTech, participants will propose technology-driven ways to make it easier for Supplemental Food Nutrition Program recipients to order groceries online and have them delivered.
The premise of the challenge, Zentz said, is that technology can help improve people's food access even if they live in food deserts—areas without easy access to a grocery store. That's because the rise in online grocery shopping and delivery services makes proximity to a grocery store is less important than it used to be. If you can have your groceries delivered, it doesn't matter if the nearest grocery store is several miles away.
"The digital age has kind of ushered in this new world," Zentz said.
The issue that HungerTech aims to address, Zentz said, is that SNAP benefits cannot be used to pay for delivery fees. That, he said, means that SNAP recipients—by definition, people with low incomes—are likely shut out of the home-delivery options that other consumers enjoy.
Zentz previously worked for Wisconsin-based startup accelerator Gener8tor, where he ran all of the organization's gBETA accelerator programs around the U.S., including Indiana. He also developed gBETA's AgTech program, which is designed for early-stage ag-tech startups.
AgriNovus is hammering out the HungerTech program details now, Zentz said, including working to secure prize money for the challenge's winner. In developing the program, AgriNovus is consulting with a variety of parties affected by food access issues, including health systems, retailers, wholesalers and individuals who receive SNAP benefits.
Program details will be announced in May, and AgriNovus will run the challenge in June. Then, Zentz said, the winning HungerTech solution will be implemented in a pilot program set to launch in July or August in partnership with the state's Family and Social Services Administration, which manages SNAP in Indiana.
AgriNovus hopes to present the results of the pilot program to Congress by this fall, when lawmakers are set to begin working on reauthorizing the Farm Bill. First enacted in 1933, the Farm Bill funds a host of programs and initiatives, including SNAP, crop subsidies and more.
The hope, Zentz said, is that the HungerTech pilot can serve to inform lawmakers as they craft the next farm bill.
HungerTech will be the second such innovation challenge for AgriNovus. The organization launched a similar program in 2020, the Producer-Led Innovation Challenge, which focuses on developing new technologies for use in farming.
Please enable JavaScript to view this content.