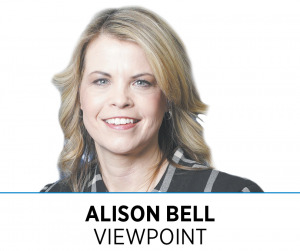 Colleges and universities across Indiana are finding themselves at a confluence where their financial cushion from federal COVID-19 funds is set to expire and the pool of college-going students is rapidly shrinking. The latter is known as the "enrollment cliff" and is due in large part to fewer births during the Great Recession, which will result in 15% fewer 18-year-olds by 2025. This could force a number of higher-ed institutions to close their doors by 2030 if they don't adapt quickly.
The future might feel grim to colleges and universities hyperfocused on the traditional approach to higher education, but it's not too late for leaders in the field to turn this fear into an opportunity for growth. In short, higher education leaders are focusing on the wrong target when it comes to planning for the future. We can't continue to squeeze juice from the same orange. Instead, we must adapt and consider other avenues to better support not only the future of our institutions but also the future of our workforce and economy.
Many colleges and universities are resistant to providing pathways that make degree completion more accessible for adult learners. But the "customer" of higher education is no longer just an 18- to 22-year-old. In Indiana, more than 50% of the population doesn't have a degree. In many cases, those adults would pursue a degree now if access were greater. And people who don't need a bachelor's degree might instead be seeking a more relevant certification.
We should adjust to meet their needs. From micro-certifications to more online- or hybrid-degree programs, the opportunities are right in front of us if we're willing to think beyond the traditional campus model.
Traditional models are slow to adopt the practice of giving credit for prior learning or recognizing competency based on experience. Funding models may be to blame, as some institutions receive funding based on the number of hours students are enrolled in each school unit. By offering credit for experience, schools assume a loss in money.
However, this philosophy does not put the student first. It ignores the longer-term potential for students in this subset who might be more likely to stay and earn one or more degrees. If you give credit to learners for what they already know—whether it's from experience they've gained in the workforce or from courses they've taken in the past—they're more likely to stay in school.
Traditional higher education institutions also resist accepting the fact that most people earn a degree with a career in mind, rather than only learning for learning's sake. We can embrace both—career-focused learning and learning to simply expand knowledge.
Colleges and universities must modify what they offer to accommodate student and employer needs moving forward. It's critical that higher education leaders become more attuned to the evolving landscape of the workforce and, as a result, begin creating and expanding academic programs in high-demand fields such as K-12 education, health care, information technology and business.
Further, factoring in how a degree will ultimately impact a graduate's career will prompt meaningful strategies and action to ensure return on investment for schools, students and employers. If we can measure and show the impact of a degree or certification on a person's lifetime earnings or career pathway, enrollment opportunities will follow.
Much of my more than 20 years of experience in higher education has been focused on creating learning opportunities for students, especially adult learners. I can confidently say that we're at a point at which upskilling this population to fill in-demand jobs is no longer the only goal. It's also a potential lifeline many colleges and universities will need to keep their doors open as we inch closer to the enrollment cliff of the traditional student population.•
__________
Bell is chancellor of WGU Indiana.
Please enable JavaScript to view this content.