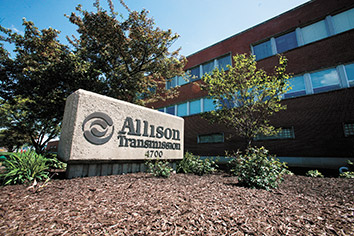 Indianapolis-based Allison Transmission Holdings Inc., which saw its revenue and profit plunge last year amid the pandemic, said Wednesday that it saw improvement by the end of 2020 and expects to see the rebound continue this year.
But the company also said it doesn't expect a return to pre-pandemic financial levels by the end of 2021.
In its fourth-quarter and full-year financial report, released Wednesday afternoon, Allison said it expects full-year 2021 revenue in the range of $2.27 billion to $2.42 billion, with full-year profit in the range of $375 million to $445 million.
The company reported full-year revenue of $2.7 billion in 2019, followed by a sharp drop to $2.1 billion last year because of the pandemic.
Its full-year profit last year was $299 million, or $2.62 per share, down dramatically from the $604 million, or $4.91 per share, the company reported in 2019.
For the fourth quarter alone, Allison reported revenue of $535 million, down from $617 million during the same period in 2019.
Profit in the fourth quarter was $60 million, or 53 cents per share, compared with $107 million, or 90 cents per share, during the fourth quarter of 2019.
Allison's fourth-quarter financial performance exceeded analysts' revenue expectations but fell short of profitability forecasts.
A consensus of analysts had expected quarterly revenue of $521 million and profit of 71 cents per share.
Allison released its financial results after the stock market closed Wednesday. Company shares closed at $41.65 each, down 2% from Tuesday's close, before falling to $40.90 in after-hours trading.
Please enable JavaScript to view this content.