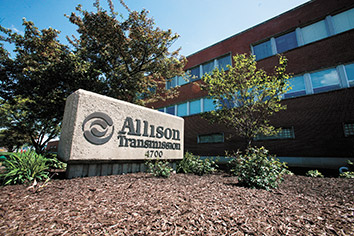 Allison Transmission Holdings Inc. saw its sales and its profit drop during the first quarter, but still exceeded expectations of analysts.
The Indianapolis-based manufacturer on Monday afternoon reported a first-quarter profit of $139 million, or $1.20 per share, down 17% from  $167 million, or $1.32 per share, during the same period a year ago.
That exceeded the average estimate of eight analysts surveyed by Zacks Investment Research, who predicted earnings of 94 cents per share.
Quarterly revenue totaled $637 million, down 6% a year earlier. Five analysts surveyed by Zacks expected $597 million in revenue.
"Despite the ongoing COVID-19 related disruptions to global supply chains and customer demand, as well as the withdrawal of our initial 2020 guidance in March, first quarter results were largely in line with our expectations, and the Allison team remains focused on aligning our operations with the needs of our customers," President and CEO David Graziosi said in a written statement.
Graziosi said he expects "continued disruptions to our business for the foreseeable future" because of the pandemic.
The company also said it is reassessing its growth and product development initiatives and plans to lower its 2020 capital expenditures by about 35% this year as compared with 2019.
Alllison suspended production at some of its Indianapolis facilities on March 30, citing coronavirus-related supply chain disruptions and weaker customer demand. Last week, the company said it was terminating 272 hourly employees in Indianapolis.
Allison released its earnings report after the close of trading Monday. Shares of Allison closed at $35.21 each Monday. The stock has traded between $26.15 and $49.73 per share over the past year.
Please enable JavaScript to view this content.