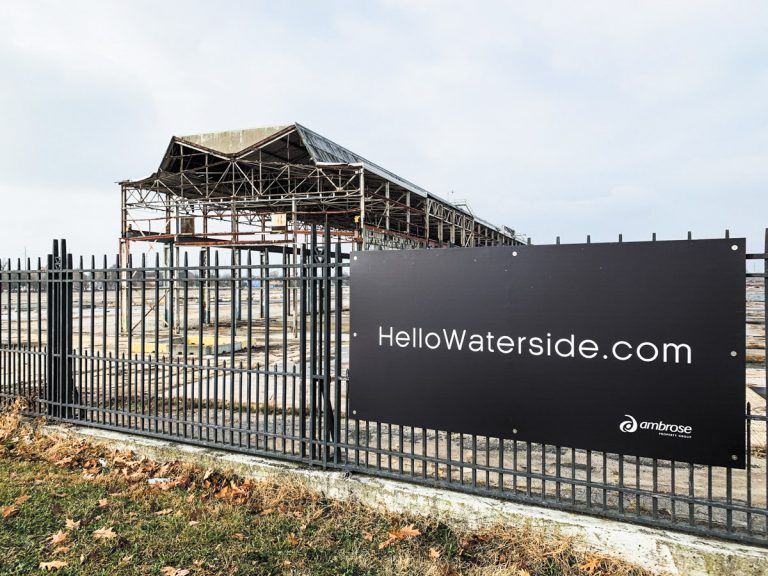 Indianapolis-based development firm Ambrose Property Group on Thursday said it asked the city this week to consider allowing industrial uses on the former GM stamping plant site, amid an ongoing legal dispute between the parties over the property's future.
Most of the 91-acre site west of downtown was rezoned in 2018 to permit residential and commercial uses as part of the firm's since-abandoned plans for a $1.4 billion mixed-use development called Waterside.
Ambrose, which withdrew from the project in September 2019, said in a statement it formally requested the city to allow for light industrial uses across the entire property—including artisan and light manufacturing and warehouse, wholesale and distribution operations.
The firm said the request followed "frequent requests for industrial space closer to downtown" by prospective buyers and tenants.
"E-commerce and logistics are becoming more vital than ever, especially during COVID-19," Ambrose development manager Derek Naber said in a written statement. "Our request to modify the zoning of Waterside could help seamlessly intertwine residential, commercial and industrial land use, and create more jobs for the neighborhoods near the Waterside property."
The company said development plans would be vetted by the neighborhood and through the Regional Center hearing process—standard procedure for most large downtown-area developments.
Ambrose said it still plans to sell Waterside to a "qualified buyer," but its efforts to do so have been hampered by the ongoing legal battle with the city. The sides have been at odds over whether Indianapolis can exercise eminent domain to take back the property—as the city has indicated it plans to do.
The sides are in mediation and plan to provide the court an update on their progress by June 15.
The city declined to comment, citing ongoing litigation.
Please enable JavaScript to view this content.