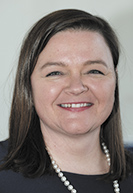 State lawmakers approved an election bill this week sans an amendment targeting Marion County Democratic Party Chair Kate Sweeney Bell, which would've required her to choose between her role as party chairwoman and her elected position as county recorder.
Democratic Rep. Cherrish Pryor's amendment to Senate Bill 328 prohibited a county party chair, specifically in Indianapolis, from also holding local office or being a candidate for a local position. Sweeney Bell is also running for county clerk.
Pryor and other Democrats have said Sweeney Bell's dual roles create a conflict of interest, because as chair, she appoints precinct committee members to fill vacant slots. Those members then vote on which candidates get the party's endorsement—for example, Sweeney Bell herself, or candidates she supports.
The Feb. 17 vote adopting the amendment won support from Republicans even as it split Democrats, passing 57-33. But when the bill returned to the Senate with Pryor's and other amendments, senators dissented to the changes.
In conference committee March 3, Minority Leader Sen. Greg Taylor said the amendment wouldn't fix deeper problems in Marion County's convention process.
Candidates going through the convention, he said, have not only paid fees, but have also signed several commitments. One contract requires candidates to endorse every candidate on the slate or be banned from running in the convention for five years, while another withdrawal form bars candidates that don't get the party's endorsement from running in the primary.
Sweeney Bell declined to comment to the IBJ.
Taylor also expressed concerns that precinct committee members must run in their local precincts, but can be appointed to precincts in which they don't live.
"Mr. Chairman, respectfully, I understand your need to—your ability to—do this, but it still leaves the issues that I have expressed for the future," Taylor said in a comment to committee chairman Sen. Jon Ford, R-Terre Haute.
Pryor's amendment didn't make it through conference committee.
The House ultimately approved SB 328 on Monday after rejecting the amendment, with a vote of 82-12. Pryor, Rep. Greg Porter, Rep. Robin Shackleford and some other Black Democratic leaders voted against the bill. The Senate adopted it unanimously on Tuesday.
Please enable JavaScript to view this content.