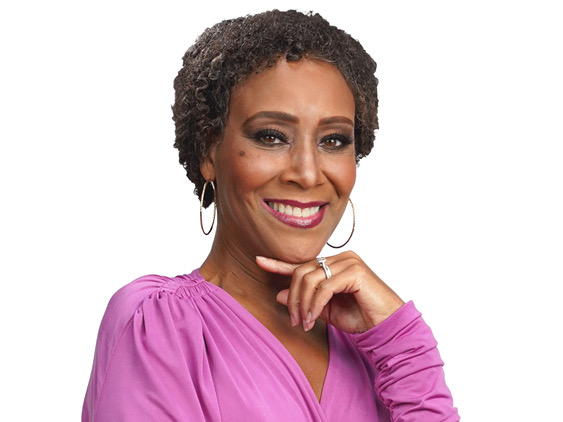 News anchor Andrea Morehead has decided to end her legal battle with former employer WTHR-TV Channel 13, saying she'd rather drop the discrimination lawsuit than win a ruling and be subjected to a non-disclosure agreement after such a decision.
Morehead devoted a statement posted Tuesday on social media to reiterate allegations of "years of intentional actions of bias, unethical behaviors, micro-aggressions, gaslighting, disparate treatment and physical abuse" during her 1999-2020 tenure at WTHR-TV.
In January 2021, Morehead filed a lawsuit in U.S. District Court in Indianapolis containing claims that she had been harassed and mistreated by colleagues and managers as she waged a public battle with breast cancer.
"While thousands of WTHR viewers shared support with Andrea Morehead, her coworkers poked fun at her suffering and created an untenable work environment," attorney Terrance Kinnard wrote in the lawsuit. Kinnard told IBJ that WTHR, an NBC affiliate owned by Tysons Corner, Virginia-based Tegna Inc., fired Morehead in December 2020.
The court finalized the suit's dismissal, initiated by Morehead, on Tuesday. She cannot refile the claim in U.S. District Court.
"The truth of my experience is exhaustive, and after two years of seeking accountability, it became clear that the legal route was never going to be a fair fight because the opposition doubled down on the lies," Morehead wrote in the statement posted Tuesday. "I had to weigh the costs of potentially having the case dismissed or settling the case and signing a non-disclosure agreement and forever remain silent. Neither option allowed the truth to be told."
Morehead's 400-word statement began with comments related to her experience as a Black employee.
"Current federal laws do not adequately protect people from racism," Morehead wrote. "Absent being called the n-word or a noose being placed on my desk, it can be legally challenging to prove intentional discrimination."
In a statement emailed to IBJ, WTHR president and general manager Michael Brouder said his company was pleased with the dismissal of the suit.
"Tegna and WTHR deny the allegations contained in (Morehead's) complaint," Brouder wrote. "We are an equal opportunity employer committed to creating an inclusive environment for all employees."
Morehead wrote that depositions involving present and former WTHR managers allowed her to "witness the squirms and struggle to maintain power at any cost. From blatant lies to factual omissions, a plethora of 'I don't recall' statements, and a dizzying game of semantics, they don't deserve any more of my energy."
The Howard University graduate who earned a doctorate in law from Indiana University wrote that she now plans to focus on "substantive works to dismantle the power structure and improve humanity."
Please enable JavaScript to view this content.