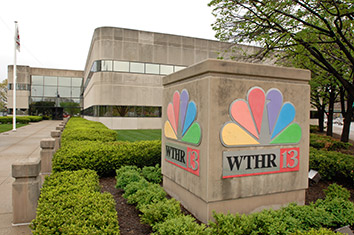 Longtime WTHR-TV Channel 13 news anchor Andrea Morehead claimed in a lawsuit filed last week that she was harassed and mistreated by colleagues and managers over several years as she waged a public battle with breast cancer.
"While thousands of WTHR viewers shared support with Andrea Morehead, her coworkers poked fun at her suffering and created an untenable work environment," attorney Terrance Kinnard wrote in a lawsuit filed Jan. 13 in U.S. District Court in Indianapolis.
WTHR's website still lists Morehead as one of its news anchors, but Kinnard told IBJ that the station fired her in December. Morehead's social media accounts continue to identify her as a WTHR employee.
Michael Brouder, WTHR's general manager, told IBJ he can't comment on pending lawsuits. Morehead, through her attorney, declined to comment.
The suit accuses WTHR and parent company Tegna Inc. of unlawfully discriminating against Morehead on the basis of disability in violation of the Americans with Disabilities Act. She is seeking unspecified compensatory and punitive damages, lost wages, legal fees and other compensation .
"The lawsuit is self-explanatory. She stands by every word," Kinnard said when contacted by telephone Sunday. "Mrs. Morehead is looking forward to her day in court."
In May 2018, Morehead announced publicly that she had been diagnosed the previous month with Stage 1 breast cancer that she described then as "aggressive" and said she would undergo chemotherapy. Then, in October, WTHR.com posted a video in which Morehead said that after 20 weeks of treatments and surgery, she was "cancer free."
The suit says Morehead's colleagues often poked fun at her after she was diagnosed, although it cites different dates for Morehead's illness than she had revealed publicly. The suit said she was diagnosed in September 2018 and underwent radiation treatments that ended that December.
Kinnard did not immediately return a message seeking clarification about the dates.
The suit said that to keep the cancer from coming back, Morehead underwent immunotherapy treatments from February 2019 until February 2020 that often kept her away from work. The suit points out that common side effects of immunotherapy are fatigue, body aches, fever, nausea, vomiting, dizziness and other side effects.
The lawsuit said the ongoing health care struggle made her the butt of office jokes. It claims that she learned in February 2020 that two coworkers and two managers bet $20 on whether she would return to work after the treatments were finished.
"Such conversations were a frequent occurrence within Andrea Morehead's work environment and were clearly poking fun at Andrea Morehead's unfortunate cancer diagnosis and the treatment she was receiving," Kinnard wrote in the lawsuit. "Although Tegna managers were present during these conversations, no action was taken to admonish the participants and the behavior was allowed to continue unfettered."
The suit said Morehead shared personal medical details with Tegna management as part of explanations for her requests for leave from work and to excuse any treatment-related tardiness or absences. After that, the suit said, station managers conducted a "relentless campaign of harassment."
Morehead said the discriminatory treatment extended to the story ideas she pitched and worked to get on the air.
"Several of Andrea Morehead's stories and story ideas were put off or disregarded completely," Kinnard wrote. "At times, management would simply rename Andrea Morehead's story ideas and assume credit for Andrea Morehead's story ideas."
In one incident, the lawsuit said, Morehead explained to her bosses that she would be unable to work a double shift in order to interview then-former Vice President Joe Biden in July 2019.
Morehead claimed managers in turn shared with coworkers details of her cancer treatments that she had wanted kept private.
Morehead, an Anderson native, joined WTHR in 1999 and has won seven Emmy Awards, according to her biography on WTHR.com. She has reported on major world events including the 2009 inauguration of President Barack Obama and the 2000 Summer Olympics in Sydney, Australia.
Ryckaert is a freelance reporter who worked for The Indianapolis Star for 23 years. You can reach him on Twitter at @VicRyc.
Please enable JavaScript to view this content.