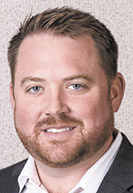 An Indianapolis-based developer plans to build a $25 million apartment project targeted at mid-income residents north of downtown along Meridian Street.
TWG Development LLC is in early discussions with city zoning and planning officials for the 125-unit project, which would be developed on the east side of the road from 1815 to 1835 N. Meridian St. The 1.1-acre assembled parcel is mostly owned by the Indianapolis Neighborhood Housing Partnership, through Redline Holdings IX LLC. TWG has the land under contract.
Tony Knoble, president of TWG, said the 18th and Meridian Family Apartments project will consist of studio apartments and one- and two-bedroom units for individuals and families making 60% or less of the area's median income.
The four-story development would feature about 20 parking spaces, along with bicycle parking, a fitness center and a business lounge. It would also feature some to-be-determined commercial spaces, he said.
The property is adjacent to a stop on IndyGo's Red Line, which Knoble said plays a big role in the company's efforts to build there.
"We think this area is going to see a growth in population, so we see some opportunity to create some newer workforce housing in that neighborhood, compared to what's there now," he said. "We're trying to step up options for people that are living and working in the area."
The proposed development is set to go before the city's Regional Center Hearing Examiner on Thursday. The property is currently zoned C-4 commercial, but TWG is expected to request a rezoning to MU-2, mixed use.
The project is expected to be funded in part through a 4% low-income housing tax credit from the Indiana Housing and Community Development Authority. Knoble said it's not clear yet whether the firm plans to request any incentives from the city of Indianapolis, although the rent limits set for the project would likely make it eligible to receive some assistance. The city has an affordability requirement for all new multifamily projects seeking city funds.
Knoble said the project could expand to include the opposite side of Meridian Street, with another 125 units, but the focus is currently on the initial development.
TWG has developed thousands of multifamily units in Indiana and 14 other states. Its local projects include 333 Penn Apartments, 707 North Apartments, 1010 Central Apartments, 800 Capitol Apartments, Canal Gardens Apartments, Fall Creek View, Pulliam Square Apartments and Lockerbie Lofts.
"We are excited to do another project in the downtown core," Knoble said. "We think there's a huge need for workforce housing. All the other projects we've been working on have leased up really well, so we expect the same here."
He said the project is being designed internally, and no date has been set for a potential groundbreaking.
Please enable JavaScript to view this content.