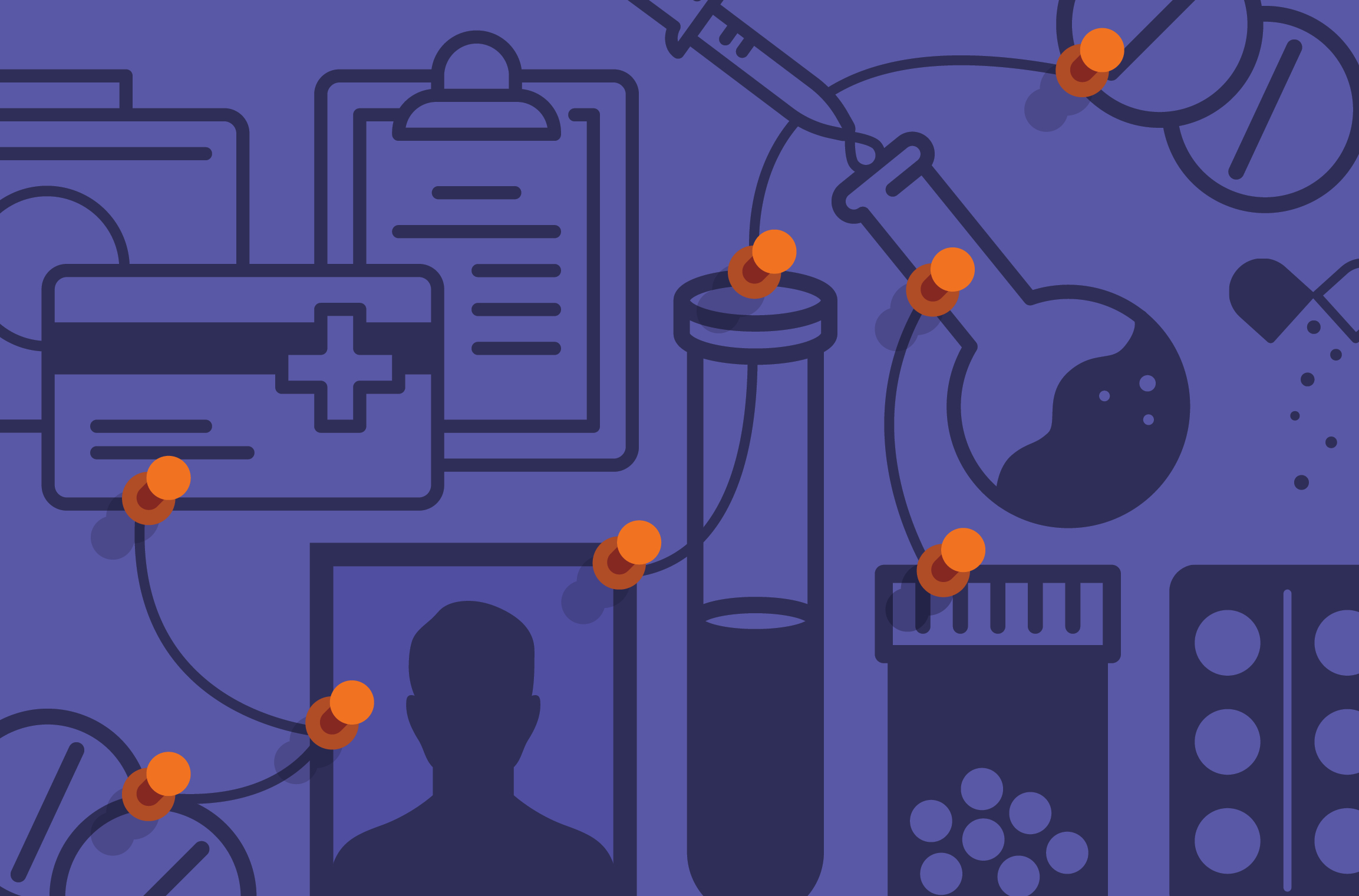 Trevor Thain was looking through his mail a few days ago at Topeka Pharmacy—a small, independent drugstore he owns in northeastern Indiana—when he came across two contract proposals from Express Scripts and Humana Pharmacy Solutions.
The two huge companies—which operate as middlemen between pharmacies, drugmakers and health insurance plans—laid out a complex payment formula required to stay in their networks starting in 2024. Thain said the proposal will siphon off more money from his business.
"They're asking me to take a contract where I will lose $22 on every brand-name prescription I fill for every patient on their plan," Thain said.
"So now I have a decision to make," he added. "Do I turn away patients and block their insurance from filling prescriptions here? Or do I continue to fill them and donate $22 a month per patient? … I don't have millions of dollars to front people's expenses."
Express Scripts, Humana Pharmacy and other so-called pharmacy benefit managers have long raised the hackles of pharmacies, drugmakers and even some patient advocates for demanding tough terms to remain in their huge networks.
For years, they have operated below the radar, with little government regulation, making it difficult for consumers, employers and insurance managers to see if they're getting a good deal.
Increasingly, policymakers, pharmacists, drugmakers and others are pointing fingers at PBMs, which they say are siphoning billions of dollars annually from the drug supply chain that should have gone to patients as savings at the pharmacy counter.
Over the past 40 years, nationwide spending on prescription drugs increased more than tenfold, from $30 billion in 1980 to $335 billion (in 2018 dollars).
The PBM industry, for its part, says it saves consumers billions of dollars a year on prescription drugs through tough negotiations on behalf of health plans, while drugmakers are raising prices every year.
But PBMs are notoriously protective of their contracts, making it difficult for consumers, employers and insurance managers to review their practices. Often, PBMs refuse to discuss the deals they set up with health plans, drugmakers and pharmacies.
Now, a series of federal and state actions are putting the $400 billion industry under a spotlight.
Last month, the Federal Trade Commission launched an inquiry into the operations of pharmacy benefit managers, who control access to prescription drugs for millions of Americans.
The consumer protection agency said it plans to order the nation's largest PBMs to provide a range of information and records detailing how they do business.
Also last month, the Senate Commerce Committee advanced a bill that would prohibit pharmacy benefit managers from setting "spread pricing" and from clawing back payments made to pharmacies. Both usually happen behind the scenes, with little regulation or openness.
Spread pricing occurs when a PBM reimburses pharmacies one price for a drug but charges the health plan another, pocketing the difference. Many pharmacists have complained that the reimbursement rate from PBMs is lower than the actual cost to acquire the drug, but they say they have no way to see what the PBMs are charging the health plans.
Clawbacks refer to fees PBMs charge pharmacies after a prescription sale at the counter, and are often a percentage of the total cost of the prescription.
States investigate
At the same time, several states are investigating the industry, examining whether certain PBMs have overcharged their Medicaid and Medicare plans. In recent months, more than a dozen states—including Ohio, Illinois, Massachusetts and Oklahoma—have settled cases with PBMs that require the companies to repay millions of dollars.
Indiana has not announced any lawsuits or settlements with PBMs, although several trade journals, including Modern Healthcare and Fierce Pharma, say Indiana is rumored to be among several states investigating the industry.
Indiana Attorney General Todd Rokita's office did not reply to several phone calls and emails from IBJ to discuss possible investigations into the industry.
Some patient advocates say the federal investigation is long overdue because the industry has for years operated in secret in how it determines pharmacy reimbursements and manufacturer rebates.
"My first comment is, it's about time," said George Huntley, a Type 1 diabetes patient from Carmel and CEO of the Diabetes Leadership Council, a patient advocacy group based in Lexington, Kentucky. "…The practices of PBMs are so anti-competitive. It blows your mind that it could even be allowed to occur."
The industry is highly consolidated, with three big players controlling nearly 80% of the market. They are Express Scripts (owned by health insurer Cigna), OptumRx (owned by health insurer UnitedHealth Group) and CVS Caremark (owned by CVS Health, which also owns health insurer Aetna).
Those companies did not respond to IBJ's requests for comment for this story.
It's not uncommon to see PBMs and insurers fighting for dollars. Three years ago, Indianapolis-based Elevance Health, the insurer formerly known as Anthem Inc., set up its own PBM, called IngenioRx, and dumped its longtime outside PBM contractor, Express Scripts, claiming Express owed it billions of dollars. Express said it acted according to the terms of its contract.
Last year, IngenioRx rang up operating revenue of $25.4 billion, contributing 18% to Anthem's overall revenue of $136.9 billion.
The Indiana Hospital Association said it supports any effort to increase transparency into how PBMs work—especially how they negotiate rebates with drugmakers, and who winds up pocketing the rebates. The nation's biggest health insurers, which operate the largest PBMs, are using their power to take a big slice of the savings, said Brian Tabor, the hospital association's president.
"With little to no oversight into these sectors currently, I fear [the insurance companies] are abusing their power through their integrated PBMs and specialty pharmacies and pocketing large savings from pharmaceutical manufacturer rebates that should be passed down to consumers and employers," he said.
PBMs fight back
PBMs say they are the only member of the prescription drug supply chain working to lower drug costs for patients, while drugmakers are raising prices every year.
The industry trade group, Pharmaceutical Care Management Association, based in Washington, D.C., called the PBM reform bill that passed the Senate Commerce Committee on June 22 anti-competitive and harmful to patients. It said the bill does nothing to reduce drug costs.
"Instead, the legislation is designed to award pharmacies and drug manufacturers an increase to their bottom lines, rather than lowering prescription drug costs for consumers," the group said in a statement.
But the bill's sponsors, Sen. Maria Cantwell, D-Washington, and Sen. Chuck Grassley, R-Iowa, counter that PBMs drive up the cost of health care, and say federal agencies need more power to monitor their practices.
"Pharmacy benefit managers and other intermediaries in the pharmaceutical supply chain must be held accountable for increasing the cost of health care in the United States," Grassley said.
Cantwell, the committee's chair, said PBMs set prescription drug prices, determine whether drugs are covered by an insurance plan, and "pocket unknown sums of money that might otherwise be passed along … [as] savings to consumers."
The National Community Pharmacists Association, which represents 19,400 independent pharmacies, said in a statement that it supports the legislation. The group said the bill would help stop PBMs' "unjust and deceptive practices," which it says are causing small pharmacies to struggle to remain viable.
Indiana lost more than three dozen independent pharmacies from 2011 to 2019, the association said.
The issue looms large at Topeka Pharmacy, a small, independent drugstore about an hour north of Fort Wayne that has about 30 employees. It was founded in 1988 by two graduates of Butler University to serve the small community of just 1,100 people.
Thain and his wife, Cassie, Purdue University alumni, bought the pharmacy in 2018, and say they want to keep it viable to serve the small town. But to do so, they need help to fight back against the large insurers and their PBMs, which pressure them to accept less money every year to fill prescriptions.
The PBMs have responded to the FTC investigation with "take it or leave it" contracts that Thain said will cause him to lose money. Express Scripts and Humana Pharmacy, for example, said they want him to dispense brand-name prescriptions at the cost of the drug minus 6%, plus a small fee for materials and labor.
Thain said he has asked the companies if they can give him a better contract that will allow him to make money on his sales. He said he rang up sales of $4.4 million but operated at a net loss of $152,000. He said has used his entire salary to help pay for operations, and is living off of savings and loans.
"They have stated they do not have any other offers and that if we would like to stop serving our patients and let the PBMs' mail-order pharmacies take care of them, we can opt out of the contract," Thain said.
Legislature intervenes
In many states, PBMs are unregulated, even as insurance companies, pharmacists, doctors and other health professionals are overseen by state boards and commissions.
In recent years, Indiana lawmakers have tried to help by passing a series of bills intending to keep PBMs on a shorter leash.
In 2020, the Legislature passed a bill that required PBMs to register for the first time with the state Department of Insurance, which sets up rules on licensure, reporting and business conduct.
But two years later, the Insurance Department still has not finalized rules on the matter, said Darren Covington, executive director of the Indiana Pharmacists Association, which represents more than 1,000 pharmacies across the state.
"And until that takes place, there will be no enforcement of all the protections that were put in place for pharmacies," he said.
Last year, the Legislature passed another bill that would allow pharmacies to take a complaint about a drug's price to the state insurance commissioner if they and their PBM couldn't resolve the complaint.
The bill was intended to help alleviate cases where more expensive drugs were being forced on pharmacies, while the PBMs were getting rebates and discounted prices from drugmakers to include the pricey drugs on their formularies, or lists of approved drugs maintained by each drug plan.
To maintain their customers, some pharmacies say, they often eat the cost of the more expensive drugs.
And in yet another protection, the Legislature ordered the state Medicaid program to have an audit conducted of its pharmacy benefit manager. That has yet to happen, either.
Other states that have conducted audits have concluded that PBMs have pocketed an unfair amount of money. They are suing for reimbursement.
Last month, insurer Centene Corp., based in St. Louis, reached a $13.7 million settlement with New Mexico over an investigation into its PBM practices for the state's Medicaid program. The company had previously reached settlements with Kansas ($27.6 million), Ohio ($88 million), Mississippi ($55 million) and other states.
The company recently told investors it had set aside more than $1.2 billion to resolve similar lawsuits in other states. Centene officials did not return calls to IBJ to say whether they were in advanced talks with Indiana over Medicaid reimbursements.
Patient advocates say the state and federal investigations intended to rein in the power of PBMs are good for the health care system as a whole, and for patients in particular.
And if the investigations force PBMs to pass on their rebates with drugmakers to customers at pharmacy counters, that will be the best outcome of all, said Huntley of the American Diabetes Council.
"The patients will be the No. 1 winner," he said.•
Please enable JavaScript to view this content.