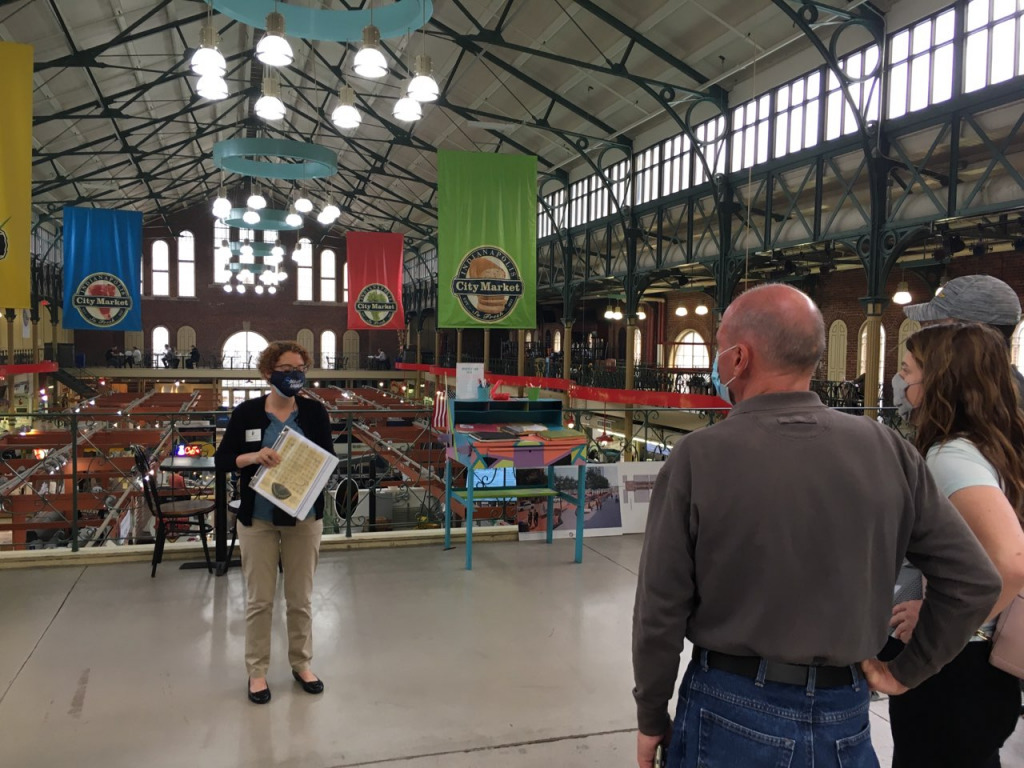 With visitors from around the nation in Indianapolis for the NCAA Men's Basketball Tournament, area attractions are making a play for visitors' attention—and their wallets.
Several local museums said they saw an increase in visitation over the weekend that they attribute to March Madness. And some are playing up their basketball connections—however tenuous they may be—in an effort to capture some tournament traffic.
The Indianapolis Motor Speedway Museum at the iconic race track saw its best numbers in 18 months during the weekend, said Eric Powell, the museum's director of communications.
From Friday through Sunday, the museum's attendance was nearly 1,250. In comparison, the museum saw a total of 610 visitors the weekend of March 5-7. Most of the latest weekend's visitors, Powell said, were people who were in town for the basketball tournament.
"This is a nice shot in the arm," Powell said Monday. "Those tours are very important for our bottom line."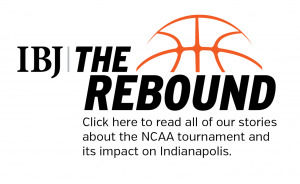 Powell said several tournament teams have also visited the Speedway or its museum, including Loyola University Chicago, the University of Florida and Rutgers University, potentially boosting IMS's profile among those teams' supporters.
Morgan Snyder, director of public relations at Visit Indy, said it's always tricky to estimate the tourism impact of sports tournaments because so much depends on the particular teams that advance. Teams within driving distance of Indianapolis typically attract more fans, she said.
But Snyder said she's optimistic that some fans will stick around and visit local attractions this week. "We anticipate, with no games being played over these next few days, fans will have more time on their hands."
One positive note: Within seven days of launching, VisitIndy.com/fan-guide has generated more than 13,000 page views, with what Morgan calls "a healthy time on site."
'This is an indicator visitors are hungry to find out what else they can experience between games," she said.
The Children's Museum of Indianapolis also saw a busy weekend, although the museum couldn't specifically say how much of that was tournament-related.
The museum saw 6,500 visitors combined on Saturday and Sunday, its highest attendance since the start of the pandemic, said Executive Vice President Jennifer Pace Robinson. Among visitors who are not museum members, 42% of the weekend's visitation came from out of state.
"I think people are feeling safer to come out, and I do think the tournament had created a buzz to come to the museum," Robinson said.
The museum has decorated its Sports Legends Experience outdoor attraction and its outdoor dinosaurs with basketball-themed items.
Robinson said the museum also has hosted some out-of-state journalists who are doing Indianapolis travel stories while they're in town covering the tournament. As of Monday, the museum had hosted reporters from both Kansas City, Missouri, and the Champaign-Urbana area in Illinois.
That type of media coverage, Robinson said, can help boost museum visitation over time by raising its profile among a wider audience. "Anything that we can do to generate a buzz, or to capitalize on a buzz that's already there, like the NCAA [Tournament], is really helpful," she said.
The Indiana Historical Society, whose museum and cafe are along the downtown canal, has pulled together some historical basketball footage from its archives in hopes of appealing to March Madness fans. The footage is airing on a loop in the cafe and visitor's center. The museum also has some basketball-themed online programming scheduled this week.
"We want to show people that there is something here that definitely would be of interest to them," said Amy Lamb, the organization's vice president of marketing and sales. "We're certainly hoping to see some increased traffic."
The museum saw a "slight uptick" in visitation over the weekend, Lamb said. Some of those visitors were from Nebraska, California and Missouri, which strongly suggests they were in town for the tournament, Lamb said.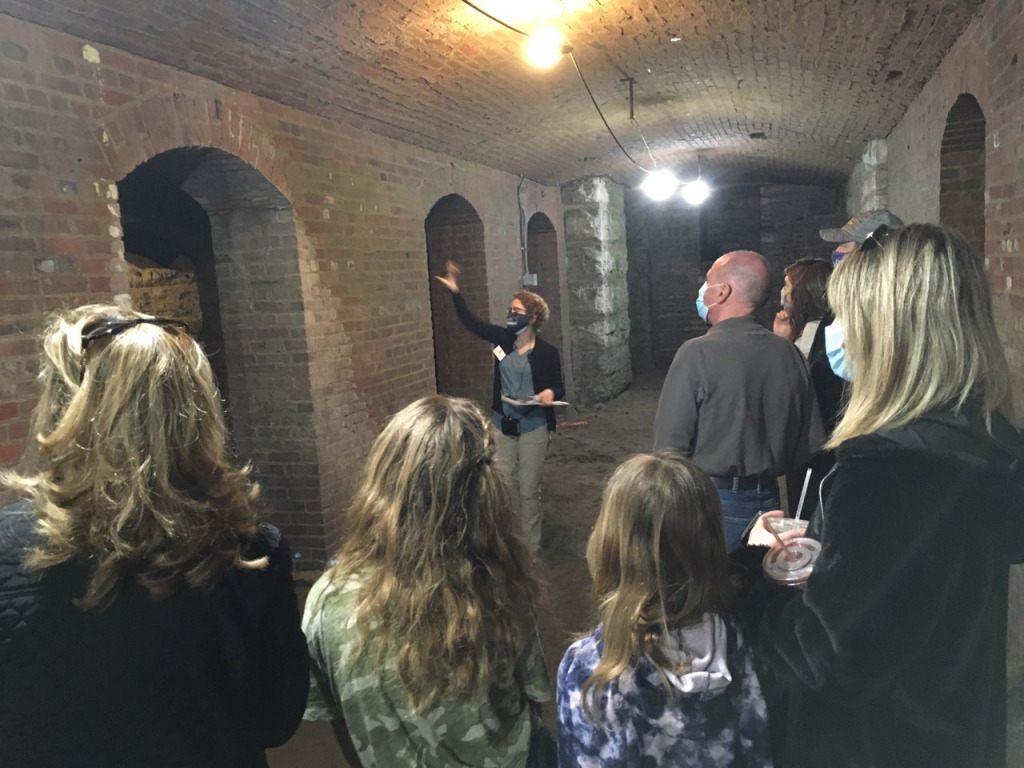 Through its catacombs tours, even the Indianapolis City Market has found a way to tie itself to basketball.
The tours, presented in conjunction with Indiana Landmarks, don't usually begin until May. This year, though, tours began late last week in an effort to attract tournament traffic.
A tour on Monday included this factoid: The now-razed Tomlinson Building, which used to stand adjacent to the current City Market, hosted YMCA basketball tournaments in 1893—only two years after the game had been invented.
"Basketball was so new, there was an entire half-page news article that explained what basketball was," tour guide Kasey Zronek of Indiana Landmarks told the group.
So far, Indiana Landmarks said, most of the tour-goers have been local residents. As of Monday, 282 tickets, or 67% of total available tickets, had already been sold for the tours that run through April 2.
Some visitors say they're not doing much while in town other than attending games.
"We're just checking out all the restaurants," said Nick Salisbury of Spokane, Washington, who was in town to cheer for his hometown team, Gonzaga University. Salisbury and his son arrived in town Friday and planned to leave Tuesday before returning next weekend to see Gonzaga's next game.
Salisbury, who stayed at the new Bottleworks Hotel on Massachusetts Avenue, said he'd been mostly catching up on work while in Indianapolis, and hadn't done much outside of exploring the area within walking distance of the hotel.
Michelle Wiederin of Omaha, Nebraska, arrived in Indianapolis with her family Monday afternoon for a night at the Bottleworks Hotel. They planned to attend the Creighton University game that evening, then head back home Tuesday. They hadn't yet decided whether to return this weekend if Creighton advances.
Wiederin said she and her family are die-hard Creighton fans who have traveled to see their team in other tournaments. Typically, the family will stay in town in between games, she said, but this time there were too many days between games to stay. After Monday's games, the next round of play won't be until this weekend.
Creighton topped Ohio University 72-58 on Monday to advance to the Sweet 16, where it will play Gonzaga on Sunday.
Please enable JavaScript to view this content.