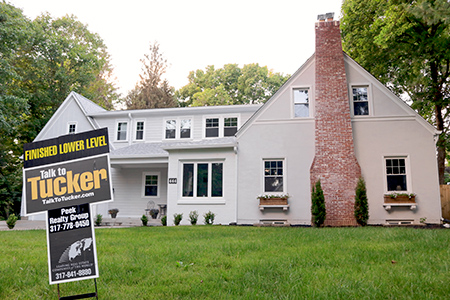 Sales of existing single-family homes plummeted 16.8% in central Indiana in April as the pandemic put limitations on house shopping and created financial uncertainty for many potential buyers.
Those who did decide to buy encountered record-high prices, limited inventory and a severely reduced supply of new listings.
Completed sales in the 16-county area fell from 3,032 in April 2019 to 2,522 last month, according to the latest data from the MIBOR Realtor Association.
Regional sales had been on the rise on a year-over-year basis in six of the previous seven months.
The median home price in the area reached a record $210,000, up 12.3% from a year ago. But that amount was up only 0.7% from March, at a time of the year when single-family home prices typically escalate by larger amounts.
The active inventory in April sank 17.2%, to 3,967 houses. New listings were down a whopping 32.8%, to 2,782.
Gov. Eric Holcomb declared a public health emergency throughout Indiana on March 6 and issued a stay-at-home order midway through March. Those restrictions lasted all through April. Residential real estate commerce took place mostly online, including through virtual showings.
MIBOR CEO Shelley Specchio said she saw bright spots amid the pandemic: Sellers fetched record amounts for their homes and received an average of 98.3% of their asking prices, near an all-time high. The median time on the market for a house was just 38 days—five days fewer than in April 2019.
"The April market saw much less of an impact from COVID-19 than might have been expected," Specchio said in written comments. "Although sales activity did slow, the [other] numbers show that, despite our current atmosphere, many are still eager to buy or sell."
Marion County
In Marion County—the most active market in central Indiana—closed sales in April sank 18.5%, to 950.
The median sales price in the county spiked 10.8%, to $177,250. New listings decreased 27.1%, to 1,135. The inventory of available single-family detached houses in Marion County fell 8.5%, to 1,459.
Other area counties
– In Hamilton County, sales dropped 14.1%, to 471, in April. The median sales price rose 9.9%, to $322,000. The inventory of houses fell 20%, to 848.
– In Hendricks County, sales sank 19.4%, to 199, and the median sales price increased 12.9%, to $240,000.
– In Johnson County, sales decreased 9.9%, to 228, and the median sales price rose 5%, to $209,950.
– Sales in Boone County were up 14.3% last month, to 104, while the median price of a house dropped 8.2%, to $275,255.
– Hancock County sales slid 17.2%, to 101, and the median price rose 11%, to $230,000.
– Sales were down 20.8% in Madison County, to 114. The median sales price increased 36.1%, to $144,300.
– Morgan County sales fell 13%, to 80 last month and the median sales price rose 31.3%, to $207.500.
– Shelby County saw 31 closed home sales last month, down from 52 in April 2019. The median price jumped 9%, to $157,500.
Please enable JavaScript to view this content.