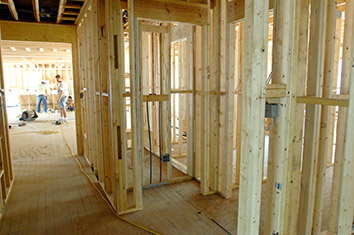 Homebuilders continue to see high demand for new houses in central Indiana, but supply-chain issues, labor shortages and a lack of suitable lots are holding back sales, according to the Builders Association of Greater Indianapolis.
Builders in the nine-county Indianapolis area filed 669 single-family building permits last month, down 15% from February 2021. That's the fifth month out of the last seven that has seen declining filings on a year-over-year basis.
Builders are coming off their busiest year since 2005, but 2022 has started out on a downswing. Builders filed 1,363 permits during the first two months of the year, a 14% decrease from a year ago.
"The supply chain issues and labor shortages our industry have been facing have now been compounded with another serious challenge of not having enough lots in the market areas consumers most prefer," Steve Lains, chief executive of BAGI, said in written remarks. "We're hearing from most builders that it is still difficult to find the materials and labor needed to build a home right now. Couple those ongoing issues with a very limited supply of lots and meeting consumer demand, which has not slackened, and it becomes a difficult challenge for everyone in the industry and market today."
Lains said supply issues and labor problems led to delays in completion of some homes in late 2021 and early 2022, exacerbating problems for builders.
County numbers
– Marion County reported 115 single-family building permit filings in February, a year-over-year decline of 12%.
– Hamilton County, typically a new-home hotbed, saw filings sink 20% in February, from 272 to 217. Year-to-date filings are down 32% in the county.
– Hendricks County's numbers jumped 53% last month, to 176.
– Hancock County saw February permits drop 8%, to 73.
– Johnson County experienced a 57% decrease in filings last month, to 35.
– Filings dropped 23% in Boone County last month, to 46.
– Madison County filings were off 65%, to 20.
– Morgan County filings fell from 20 to 17.
– Shelby County saw no filings in February, down from three a year ago.
Please enable JavaScript to view this content.