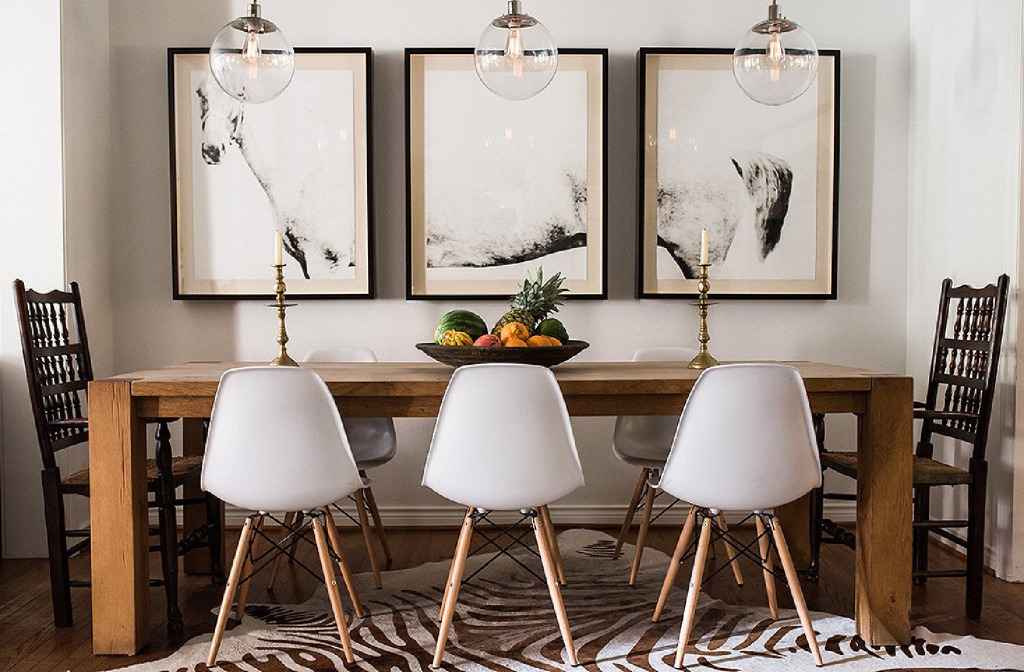 If any good has come from COVID-19, it's the fact that many homeowners have rekindled the love of being home, cooking and nesting, even if at the request of a stay-at-home order.
Cooking and dining at home has led to the rediscovery of the dining room. This inevitable global experience has taught us to rethink our homes and to not overlook any aspects of the decor, furnishings or layout of a dining room. Eating should be a celebration, and your dining room should be an expression of such an occasion
The ideal dining room should be furnished with maximum care so that it continues to be the center of conviviality and, at the same time, keep to the guidelines of social distancing. Take into account the shape and proportions of your room, the furniture selections, and the materials and tactile surfaces for a stylish and safe room.
The main feature of a dining room is and always will be the dining table. Selecting the wrong table for your dining room can be disastrous for the flow of guests and service to the table. In many rooms, rectangular or square tables are fine to use, as the excess space around the table ensures you won't be running into the sharp edge of the table. Round and oval tables are the preferred shape for dining rooms or areas where space is restricted. The softer shapes of these tables are less prone to accidents.
Dining rooms should not be crowded. Besides the table, you should have an adequate number of chairs. It should not look like seating at a gaming table; there should be enough room between each diner so that a full array of dining utensils, dishes and glassware can be placed correctly, with space in between for added safety. Under the new guidelines, at a table for eight, there should be no more than six diners; at a table for 6, there should be no more than 4 diners. Whatever material the table is made from, ensure that the surface can be cleaned after every use, as this is the most tactile surface in a dining room.
Chairs are the second feature of a dining room. They are meant to complement or contrast the style of your dining table. These should be as comfortable as possible and upholstered in user-friendly materials that won't stain easily. Dining chairs can have arms or not, but they should always be able to be tucked underneath the apron of the table when not in use. In today's world, any fabric, leather or vinyl used should be able to be cleaned, sprayed and sanitized periodically to avoid the spread of germs, bacteria or viruses.
A dresser or console is the only other piece of furniture that should be placed in a dining room. This surface can function as a place to rest dishes, foods or desserts, and any other utensils and/or decanters that may be needed during the meal. Avoid over-decorating the dining room, as it is meant to be a place of respite for the enjoyment of food. Don't suffer from horror vacui; sometimes, less is more, especially true in dining rooms.
One final piece of advice is to select your furniture first, your chandelier second and your paint for walls or wallcoverings last. This will guarantee that every decision is meaningful, thought-through and complementary of every design concern in this most important room.
Joseph Pubillones is the owner of Joseph Pubillones Interiors, an award-winning interior design firm based in Palm Beach, Florida.
Please enable JavaScript to view this content.