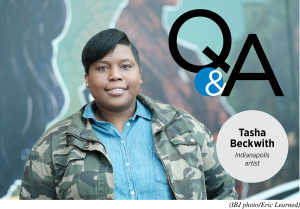 Indianapolis artist Tasha Beckwith was chosen by the Indianapolis Airport Authority's public-art selection committee to create an 11-foot-high, 75-foot-long mural depicting Madam C.J. Walker's impact on Indianapolis. The airport authority teamed with the Arts Council of Indianapolis and the Madam Walker Legacy Center to curate the mural, and Beckwith was chosen after a nationwide call to find an artist for it. She designed the mural digitally, then it was printed on adhesive vinyl to be hung at the airport. The mural is now on display pre-security in Civic Plaza. Beckwith's mural begins with Walker's humble beginnings as Sarah Breedlove and morphs into her status as the wealthy and prominent Madam Walker, sharing her success with other Black women.
Why did you want to work on the Walker mural at the airport?
Well, for one, it was going to be about a historical Black figure like Madam C.J. Walker, so I was like, "What an amazing opportunity," and then, one of the prerequisites to this was that it was going to be digital art, so that's something I've been doing for several years now. It's like, "This is something you can actually do, actually win. So why not go for it?"
What does Madam C.J. Walker mean to you?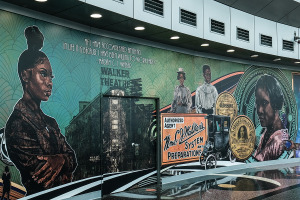 I think back to when I was a kid, and I remember seeing a picture of her in the Ford Model T with some of her workers. I thought, "Who is this lady?" She looks like such a boss. That was one of my inspirations. She's like the ultimate entrepreneur, just thinking about the amount of wealth she amassed during the time that she was living.
How long did the mural take?
So once I became [the] artist, there was a set amount of time; it was like five weeks that we were given to create a concept. I think it was late December that I started on it. Out of the five weeks, there were two weeks where I had no idea what to do. So I used the remaining time to actually create it.
After not knowing what to create for the first two weeks, when did you finally decide what the concept would be?
I was brainstorming and there was just a point where I had to completely stop thinking about it. And then one day—I have a part-time job as a bus driver—I was picking up the kids, the idea just popped into my head.
You included quotes from Walker in the mural. What one was your favorite?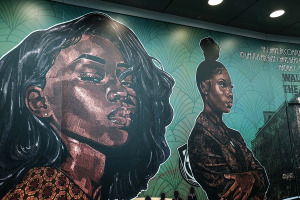 The one when she was talking about [how] she wasn't ashamed of her humble beginning, because it reminds me that it really doesn't matter where you start in life. It's about where you end. I also like the one where she was talking about creating her own opportunities and not waiting for anybody. That's something I've taken on thinking about myself. You don't have to wait for people to give you opportunities. You can create them yourself.
What was it like to see the mural finally hanging at the airport?
Oh man, I was in awe. Just the scale of it … and how they came together and made me feel so good. A lot of people have been messaging me just how proud they are. It's like, wow—I'm not used to getting so much attention.•
—Samm Quinn
Please enable JavaScript to view this content.