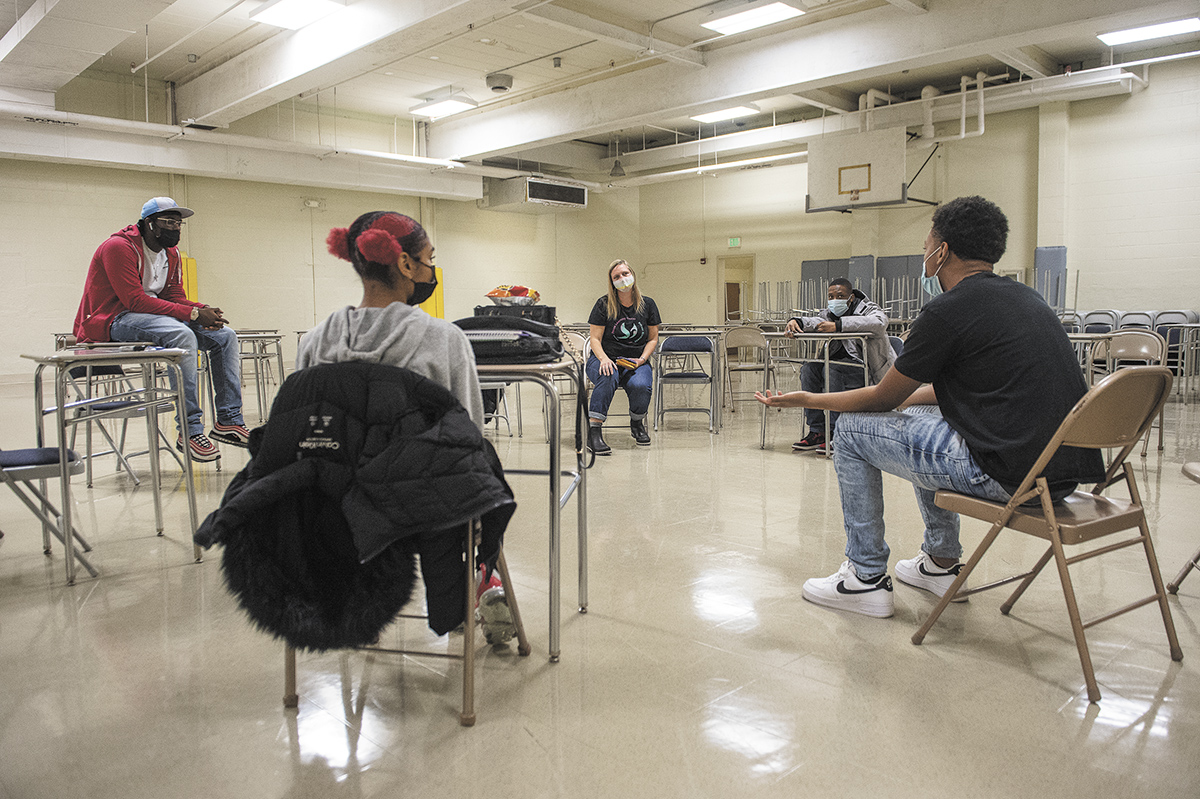 Over the next three years, Democratic Mayor Joe Hogsett plans to spend $45 million in federal pandemic money on grants for programs aimed at quelling violent crime in Indianapolis.
At $15 million a year, that's five times what the city spent in its last annual round of funding for the grant program, which has been dogged by questions about its effectiveness since it was sketched out 13 years ago in the final days of Democratic Mayor Bart Peterson's tenure.
Indianapolis has put more than $30 million into about 600 grants since 2009, when it launched what's now called the Violent Crime Prevention Grants Program.
After 13 years of funding, some want to see clear-cut results.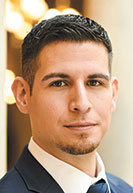 "Violent crime—homicides, specifically, and shootings, specifically—those are the ones that I've focused on. And, turns out, that's not getting any better with this program," said City-County Councilor Michael-Paul Hart, a Republican.
Indianapolis recorded 271 homicides in 2021, according to the Indianapolis Metropolitan Police Department, topping 2021's record-breaking 245 homicides.
But defenders of the grant program say that's not the only metric that should be used to measure success. City officials, grant administrators and not-for-profit leaders say they're tracking program results and seeing progress.
The Indianapolis Foundation, the Central Indiana Community Foundation affiliate that administers the program, requires quarterly reports from all grantees, plus midyear check-ins, according to Community Leadership Director Alicia Collins.
"Those reports look at what's working well, and what are some areas of improvement," Collins said. "We are able to make recommendations and provide solutions and brainstorm with other partners on how to course-correct … right then, and not wait until the end of the grant period."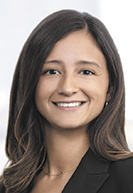 "[We're] making sure that we are holding the organizations accountable to what they say their metrics are," added Office of Public Health and Safety Director Lauren Rodriguez. Her office funds the program.
CICF also submits reports annually to the city.
For 19 adult-serving grantees focused on recidivism, just 9% of clients were arrested during the year-long grant period, according to the 2019-2020 report. But for the 10 groups zeroed-in on employment, results were "unknown" for 57% of clients.
Nine youth-serving organizations working on recidivism reported that just 17% of clients already under court-ordered restrictions had new juvenile court cases filed during the year-long grant period.
The seven youth organizations looking at violence reduction noted that only 9% of clients were suspended from school and 3% expelled, while the 16 focused on skills and attitudes said 74% of clients learned new skills and 75% experienced positive changes in attitude.
Tough to pin down
But because grantees have diverse missions with diverse approaches, the data is fragmented, with few organizations per category reporting numbers. And the CICF report doesn't compare recipients' results in grant years versus pre-grant years.
Gauging effectiveness against the rising homicide rate is its own headache.
"We're trying to prove negatives here," Rodriguez said. "How do we know that my [hypothetical] intervention program, that I know … touched 100 lives this month, saved 400 lives? I can't tell you that. I can't tell you what would have happened had I not intervened at that moment. …"
"When we are looking at the data, when we're assessing whether or not something has been effective, it's not a direct correlation—that there's one person who's going to commit these 10 murders—because we don't know," Rodriguez continued. "But we do know that they're not committing murders right now because they're at services that take them away from the lifestyle that could have led them to committing a murder or committing a violent crime."
Hart said he considers the difficulty in quantifying the results a key concern. He had planned to propose legislation imposing stricter evaluation standards for the program, but said Hogsett's administration and other members of the Democrat-dominated City-County Council panned the idea as too narrowly focused.
"When I say, 'How good are the results?,' generally, I'm shot back with, 'Well, we can't quantify lives saved,'" Hart said. "If we can't put in [key performance indicators] that say this is successful, or this is not successful, then we've kind of started off on the wrong foot."
But the questions of effectiveness go back even beyond Hogsett's administration, which has made the grant program just one element of a larger $150 million-plus anti-violence plan. It includes funding for 100 new police officer positions, 44 new "peacemaker" positions and more.
Administrative shuffle
Spurred by disagreement over what groups should receive grants, administration of the program has changed hands twice.
Upon launch in 2009, a crime prevention advisory board recommended awards, but then-Mayor Greg Ballard's Republican administration ran the show. The City-County Council approved an ordinance detailing the awardees for the second grant cycle in 2010, but within months, the Parks Foundation, now known as The Parks Alliance of Indianapolis, had taken over administration.
Funding in the years after the change dropped by half. In 2013, grant heavyweight Central Indiana Community Foundation took on the program's administration, and funding has ticked up in the near-decade since.
That switch in administration took work.
Former Republican City-County Councilor Benjamin Hunter, who now leads Indiana University's public safety apparatus, wrote the 2013 ordinance that put CICF in charge.
"Any grant process, especially a recurring grant, you're going to have to show metrics," Hunter said. "My intent was simply that—it wasn't to really dictate what [the metrics] needed to be. I wanted grant professionals [at CICF] to be able to dictate what those should be."
The effort, he said, faced bipartisan opposition, but gradually won approval from key councilors.
"My intent from the get-go was simply to stop people—and I don't—I'm trying to be very careful because I'm not—don't take this as I'm bashing [Ballard]—I felt like people were just going up and asking the 25th floor [of the City-County Building] for money," Hunter said. "It was turning into a fund where they could just, you know, 'Oh, sure. We'll give you $5,000 for this, $10,000 for this,' or what have you."
The solution wasn't perfect, Hunter acknowledged, recalling complaints from organizations that still couldn't land grants or meet CICF's requirements for metrics.
And CICF has recently faced its own controversies, most prominently for awarding grants to The Bail Project's embattled Indianapolis chapter, which has bailed out at least three arrestees who were later charged with killing or stabbing people while out on bond.
CICF also charges a 7% administrative fee, which will amount to $1 million over the next three years. OPHS' Rodriguez said the fee was lower than quotes from other organizations.
There are also concerns over a potential conflict of interest.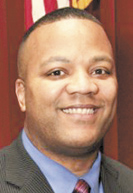 Democratic City-County Councilor Leroy Robinson is CICF's major gift director and chair of the council's Public Safety and Criminal Justice Committee—which appropriates funds for the grant program.
"I don't know if there's a correlation, but those two things do stand out to me," Hart said.
Robinson denied having any undue influence, emphasizing that the century-old CICF has run the program for nearly a decade, while he was hired about two years ago.
As a councilor, "I don't vote on those grant awards, the crime prevention grants, just to avoid the appearance of a conflict of interest," he said.
At CICF, "I definitely don't engage with Alicia [Collins] and her colleagues about how grants should be reviewed. That's not my lane," said Robinson, who added that his role is with "families and their philanthropic endeavors."
Today and tomorrow
The organizations doing the work say the results are worth the money—and that the service-provider community could use even more.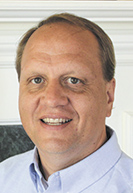 "$15 million is probably going to go by real fast," said Tim Nation, who has led Peace Learning Center for more than two decades.
His organization has been awarded about $820,000—above average—in grants since the program began. Peace has focused on school suspensions and expulsions as key points in which kids and youth can enter the juvenile justice system—and stay. The Peace Learning Center partners with eight schools to put "low-risk" children in danger of suspension or expulsion into restorative justice conferences instead—conferences that include the other kids affected, parents and a mediator, so all parties can develop an action plan.
"The philosophy is: Instead of taking services away from kids that need them most, we try wraparound services to help them through, and to learn from, the problem," Nation said. "… If you just suspend them, and you kick them out of your culture, then they're multiple times more likely to drop out of school" and become a victim or perpetrator of violence.
In its most recent grant application, the not-for-profit's performance goals covered four areas: reductions in reported violent incidents at partner schools, youth recidivism over two years, family-level conflict-resolution skills and staff training.
Nation's organization often partners with Reach for Youth, an outpatient mental health and restorative-justice not-for-profit, for children it deems "high-risk." Reach for Youth has taken in nearly $600,000 in grants since 2009, according to OPHS and CICF data.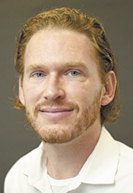 Aside from schools, most of Reach for Youth's referrals come from probation departments, according to Chief Operating Officer Aaron McBride, which divert qualifying youth from the juvenile justice system to a mental health support facility.
Counting only the funds the group landed in a recent grant cycle, McBride said the organization was able to provide treatment plans to nearly 380 families and put 13 young people through its teen court, an alternative to the juvenile justice system for low-level misdeeds. Teenage volunteers consider their peer's case and deliver a sentence that can include counseling, community service, written apologies and more.
For Reach for Youth, families receiving mental health support are successful when they meet 80% or more of the goals they've set in collaboration with a clinician. Annual success rates typically hover between 85% and 90%, according to McBride, but another measure is when families stay on for longer than a school or agency requires. None of the teen court's last class committed another offense.
The funds, McBride said, also confer credibility via the city stamp of approval, and enable the organization to be consistent in its relationships with schools and other partners.
"I think it's good to still investigate where these funds are going," he added. "And maybe take a new look at how they could be provided to other partners. I know a lot of partners over these years have been kind of consistent … and there are new organizations out there."
Accountability
Hart, for his part, introduced broader legislation at February's City-County Council meeting requiring agencies behind all American Rescue Plan-funded projects to submit quarterly and annual reports on their activities.
He said the ordinance would serve as a pilot for a more extensive expenditure-tracking dashboard, plus allow councilors to cut programs that don't work and build in budgets for those that do.
OPHS, meanwhile, is set to deliver monthly reports for initiatives, including the grant program, to the council. The first, according to Rodriguez, will be out in March and will cover activities beginning in January, since that's when funds were disbursed.
Rodriguez was hopeful Indianapolis' two-pronged crime-reduction and -prevention approach would pay off.
"What works now, we can build off to make sure that it's [a] long-sustaining effort, long-sustaining programming," she said. "That way, we're not—hopefully, you know, knock on wood—we'll never be faced with another huge year of violent crime because we will know what works in the immediate and what works for prevention in the future."•
Please enable JavaScript to view this content.