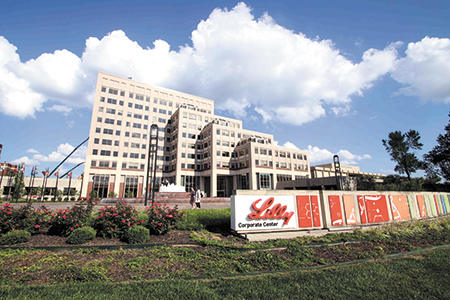 Pharmaceutical giant Eli Lilly and Co. has reinstated its mask requirements for all in-office employees and contractors in Indiana, regardless of vaccination status.
Many other large employers, however, are still in a wait-and-see mode on imposing new restrictions on employees.
Lilly confirmed to IBJ on Thursday its mask requirement is effective immediately and is based on recommendations earlier this week from the U.S. Centers for Disease Control and Prevention as COVID-19 infections begun to surge nationwide.
Lilly typically has about 11,000 employees at various locations downtown, including its massive corporate headquarters on South Delaware Street, and about 34,000 workers statewide.
The company reopened its downtown offices in June to workers, following more than a year of remote working during the height of the pandemic.
About 7,000 switched to remote working at the onset of the pandemic in 2020. Another 4,000 employees—largely lab workers and maintenance staff—continued to work on-site.
Throughout the region, workers are gradually returning to the office, but the transition is far from complete. Only about 45% of downtown workers are currently back in the office, said Sherry Seiwert, president of Downtown Indy.
She said she expects about 70% of downtown workers to return to the office at least two days a week after Labor Day. She said she was not aware of any large employers imposing new COVID-19 restrictions on workers, vendors or the public.
Columbus-based manufacturer Cummins Inc., said it is encouraging employees to get vaccinated, and employees who can verify their vaccination status are no longer required to wear masks.
Cummins spokesman Katie Zarich said the company has hosted vaccination clinics at several locations and has provided science-based information and answers to questions to employees.
Cummins' facilities include a downtown Indianapolis office building that housed about 500 employees pre-pandemic. The company started calling employees back to its corporate headquarters in June, is still planning a fuller return to work for other office employees in September, Zarich said.
First Financial Bank said it is not changing its protocols, and is not requiring employees to be vaccinated. Employees who can show proof of vaccination are not required to wear a mask. Unvaccinated employees must wear masks unless working alone in an office, cubicle or conference room.
Spokesman Tim Contron said the bank is still planning for its employees to return to the office Aug. 2, though the company will allow employees to work remotely one day a week. The bank is based in Cincinnati and has 11 Indianapolis-area branches.
"We do not intend to change this recommendation at this time, but we will continue to monitor CDC, state and local guidance, as well as the conditions in each of our communities," he told IBJ in an email.
Indianapolis-based Cunningham Restaurant Group, which operates 25 restaurants in Indiana, Kentucky and Ohio under the Bru Burger, Nesso, Stone Creek Dining and other brands said it is asking unvaccinated employees and customers to wear masks, but is not actively enforcing or policing this behavior.
"We will not require masks unless mandated to do so again," marketing director Carissa Newton told IBJ via email.
Newton said the company encourages its employees to be vaccinated and gives them time off to do so, but "we do not and will not ever require vaccinations" because "that is a choice the team member must make on their own."
At Pittsburgh-based PNC Bank, which has office employees in downtown Indianapolis and 48 branches here, workers began a voluntary return to the office on June 14.
"We plan to transition to a full return in November, dependent upon an analysis of key indicators that will help to determine the pacing of employees returning to our buildings," PNC Director of Corporate Relations Marcey Zwiebel told IBJ via email.
She said the company will "continue to consult with the medical community" as it plans its full return to the office.
Indiana state government had no updates on guidelines for state employees or for those inside state government buildings, Gov. Eric Holcomb's press secretary Erin Murphy said Wednesday. She expects an update to come later this week.
State employees returned to work in-person July 6, and there is no mask requirement inside state buildings. Holcomb lifted the statewide mask mandate in April and ended his weekly COVID-19 press briefings at that time too.
Holcomb is still encouraging Hoosiers to get vaccinated. He told the Fort Wayne Journal Gazette at an event Tuesday that, "Obviously the Delta variant has taken hold…if this isn't persuasive to get vaccinated I don't what could be. This is not hard to understand. Vaccines work."
Delaware-based Navient, said the student loan firm currently that employs about 1,200 people in Fishers, said most employees are still working remotely.
"For those working in our offices, we've continued to require employees to wear masks and maintain social distancing,"  company spokesman Paul Hartwick said in an email. "We've had that approach in place since last year and haven't changed it, regardless of an employee's vaccination status, and despite several updates in CDC guidance."
Navient isn't requiring its employees to be vaccinated, but it is encouraging them to get the vaccine by providing an incentive through its wellness program, he said.
Please enable JavaScript to view this content.