A mostly empty, 103-acre plot of land on the city's north side is poised for development—nearly 100 years after it was slated to become a subdivision.
Local firms Apex Realty Group LLC and Arbor Homes have partnered to build at least 60 houses on the property at the southeast corner of West 79th Street and Michigan Road, as part of a phased buildout for the development known as Augusta Heights.
Long term, the firms hope to build nearly 200 homes on the acreage, said Len Grabovsky, a principal at Apex. Each home would sit on a little more than 0.1 an acre.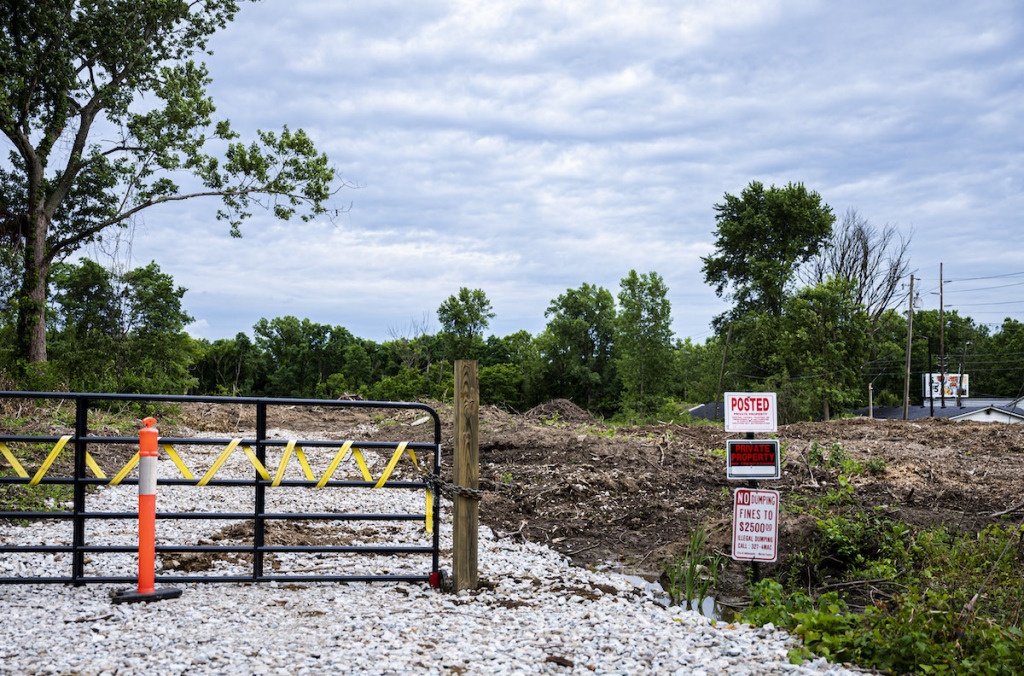 Grabovsky said the partners have so far—over seven years—assembled about 310 lots, or 91 acres. Many properties were acquired at auction from another developer that abandoned a project on the site; the rest were picked up through one-off buys and sheriff's sales.
The project's first phase will cover 14.5 acres. Grabovsky said Apex has yet to buy about a dozen or so lots in that space, but hopes to do so soon to "incorporate them into the project."
"It's kind of like putting together a puzzle," he said. "It's not like a cornfield where we are clearing everything and we're just mapping it out. Some people have built on this property over the years."
He said there's long been doubt that the property would ever be brought together in a way that could lead to a substantial development, even since Apex bought the land. But now that dirt is starting to move, he said, abutting property owners are beginning to take notice.
"We still had a lot of people who, until we started clearing the area, didn't think it was going to happen, because it's been like that for so long," Grabovsky said.

The plan
The boundary of Augusta Heights stretches as far east as Township Drive (which becomes Township Line Road north of 79th Street). But most of the eastern edge of the development ends at Walnut Street, across from land owned by American Tower, which has a communications tower there.
Much of the development's first phase will be concentrated in the southwestern portion of the land—close to Crooked Creek, which runs west-to-east just north of 77th Street. Houses that Arbor builds are expected to sell for $170,000 to $230,000.
Bruce Sklare, a longtime residential developer who joined Apex to work on the Augusta project, said the first phase will avoid lots the company does not yet control.
"I'm getting a few calls every day from people who are looking to buy houses, and they go by and see the sign up here for what's coming," he said. "They want to know how they can just get on the list. The demand for affordable single-family housing in this particular part of Indianapolis is very high."
Apex plans to spend around $3 million for infrastructure in the first phase, although the firm declined to share how much it would cost for Arbor Homes to develop the properties or how many of the houses would be speculative builds, meaning they are built before they have an owner.
The houses are expected to be similar to those in an Arbor development on East 36th Street, called Eagles at Winding Ridge. The homes in that neighborhood, which start in the $220,000s, range from a 1,355-square-foot ranch to a 3,200-square-foot two-story. The homes are generally two-to-four bedrooms with 2-1/2 baths.
Most of the houses at Augusta Heights will be two-story, marketed to younger families, with some ranch houses for older individuals, Sklare said.
He said the firm and Arbor have worked closely with city officials to update the properties' zoning language, which he expects will culminate with formal plat modifications in the next couple of months with the city's Metropolitan Development Commission Plat Committee.
City-County Councilor Leroy Robinson, D-District 1, said he has been working closely with the developers for more than two years to navigate city regulations, especially during the past six months as the project has inched closer to reality.
While not all neighbors are supportive of the development, Robinson said, some have warmed to the plans.
Those still opposed, he said, are concerned the development will disrupt a generally quiet neighborhood. In particular, the wooded areas that will be developed have long offered privacy between neighbors.
"The residents in close proximity to the development have enjoyed the privacy and underdeveloped area for quite a long time, [so] it could be viewed as a 'bad thing' for them, as it is totally transforming their living environment and the privacy … they've enjoyed for so long," he said.
Robinson said he is "fully supportive" of the development.
'Such a need'
Apex has already cleared about 13 acres of trees but is working with the city to avoid infringing on wetland areas on the property. The company plans to tap into city sewage and water systems—something Apex officials say is key to improving the value of the land in the long term.
"I think [the city] is willing to work through this because there is such a need for affordable, single-family housing in Indianapolis," Sklare said. "Right now, this project is like a rough diamond that just needs to be polished—but when it is, it's going to be a huge win for the community."
Augusta Heights was originally zoned for residential use in 1923, when developer George Kennedy amassed about 520 lots with hopes of building houses for those looking to live farther from the growing downtown corridor.
But over the years, only about 60 homes have been built throughout Augusta Heights—and none are connected to city sewer and water systems. All use wells and septic systems.
Most houses were built in the past 50 years, as developers have sold off individual parcels after stumbling in their efforts for a subdivision. Additionally, only a handful of streets in the development have been built out.
The most recent developer to take a run at the site was Crossman Communities and its successor, Atlanta-based Beazer Homes, in the mid 2010s. The company managed to assemble about 250 lots, but ultimately withdrew its plans because the firm didn't see the project as viable without the remaining parcels.
The company auctioned off the property, with those parcels going to Apex.

Experts said it's unusual for a large piece of land to sit undeveloped for decades. And Reller said the city has few tracts this large still available—particularly on the north side.
He said Pike Township has lacked single-family residential development opportunities for more than a decade, with most builders eyeing the doughnut counties or some parts of southern Marion County.
"I think what Apex and Arbor are working on is going to sell out very rapidly, because, of course, there continues to be a demand for housing," he said. "People didn't stop demanding housing in Marion County just because the land ran out."
He said the fact that a new development is coming online will be mutually beneficial to residents and the businesses nearby, including big-box stores like Lowe's and Costco.
Bo Leffel, a land broker with the Indianapolis office of Chicago-based Cushman & Wakefield, said the property is in prime position for development, given the demand for houses.
He said the new-home market is the strongest he's seen in 20 years, with many development projects taking off in 2019 and staying strong even during the pandemic. At least a dozen new subdivisions are under construction near Indianapolis.
During the pandemic, Leffel said, "many of the home builders saw their company's stock price plummet, but at the same time they were still saying they were going to have a great quarter—they were selling units like crazy."
"We saw the stock bounce up as the greater market realized that it was not the end of the world for housing and real estate."
But for Apex's Grabovsky, the approach to Augusta Heights is far different from what's being done on a large scale by other builders.
Developers are quick to just buy a piece of flat ground, [building] up the exact same type of home and moving on to the next project," he said. "Here, you've got a different topography throughout the site, so it's going to be a really unique, beautiful neighborhood."•
Please enable JavaScript to view this content.