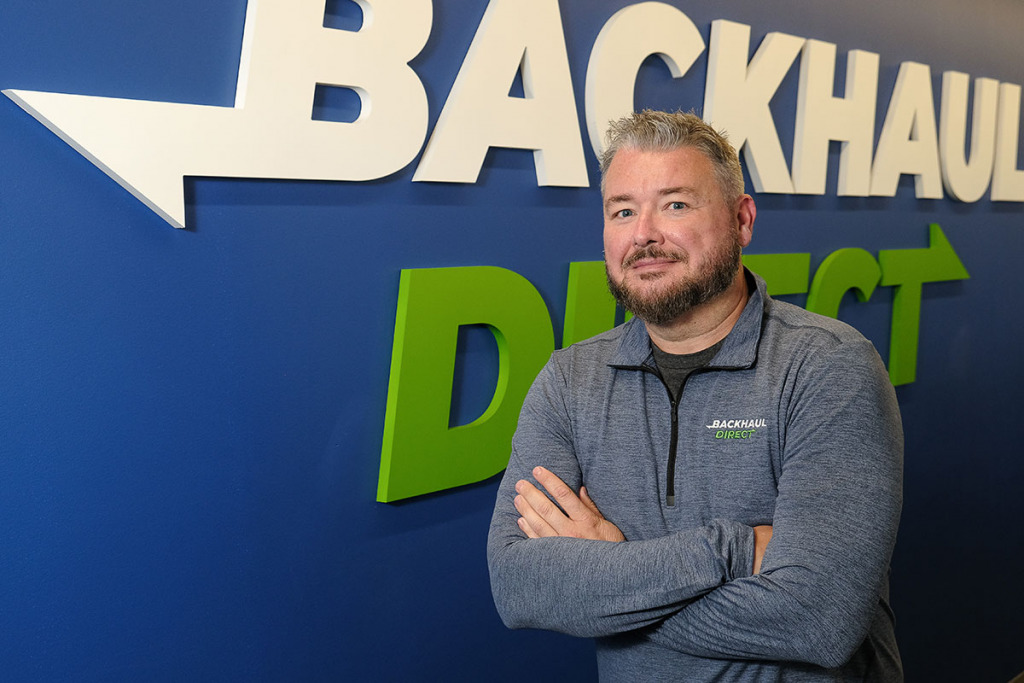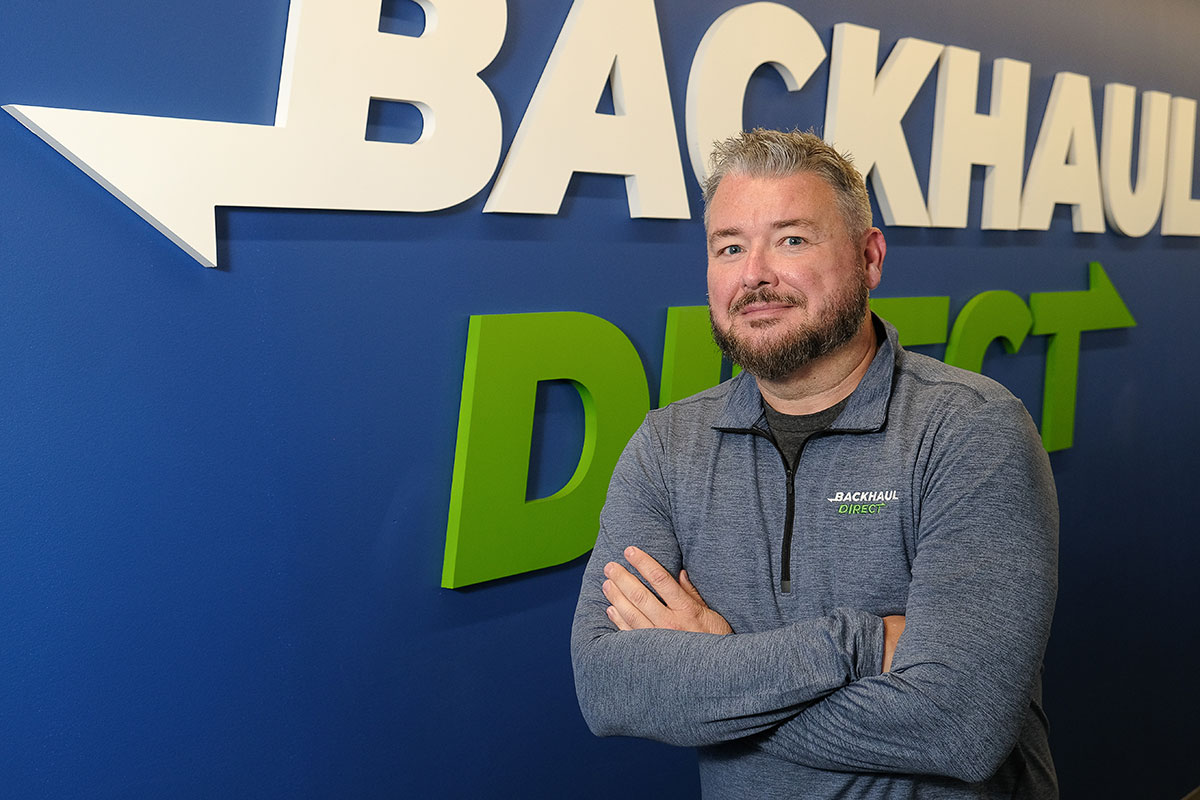 Backhaul Direct President and CEO Greg Harris started the company in 2004 with three people.
Now, he leads about 300 colleagues at the Indianapolis-based third-party logistics firm—and it's about to grow even more. Harris has big plans following Backhaul Direct's purchase in August of Indianapolis-based shipping company Bakers Express and its sister firm, DNK Express.
He's also breaking in a new office after Backhaul Direct moved out of its downtown headquarters on Virginia Avenue and into a new spot at 10194 Crosspoint Blvd., off of Interstate 69 north of East 96th Street.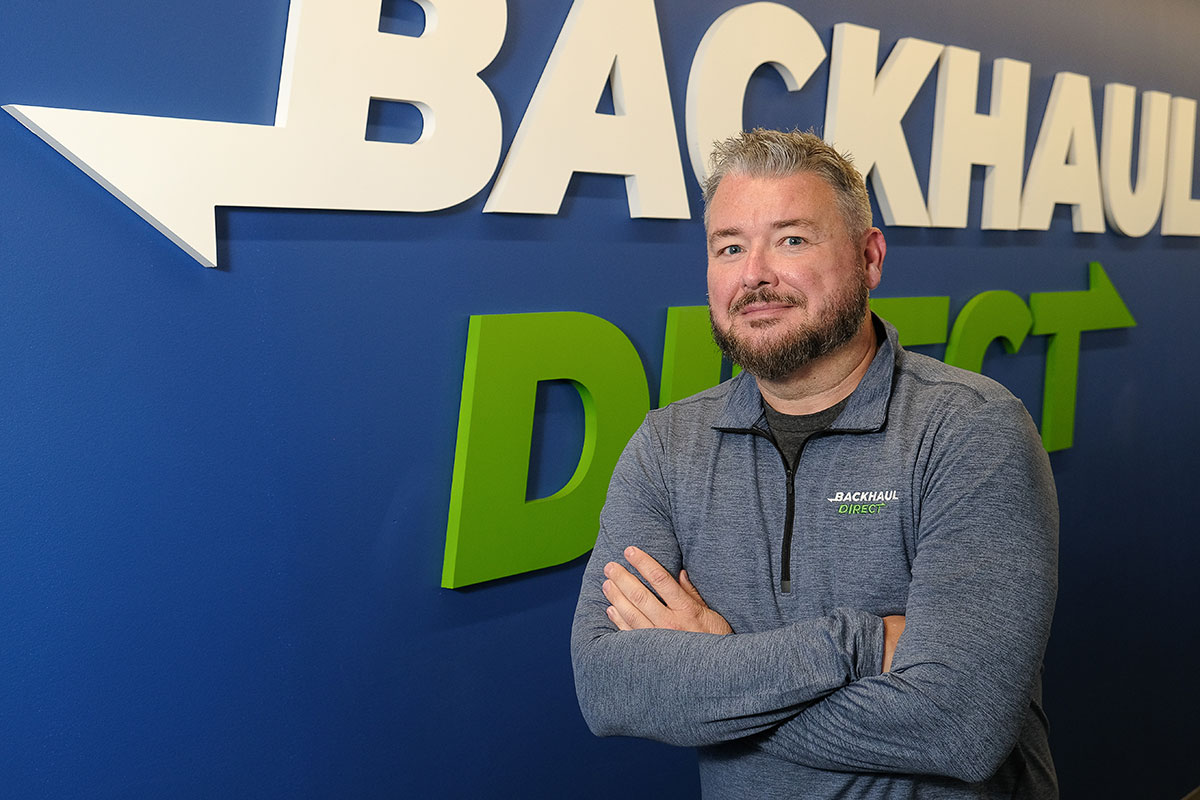 What does the purchase of Bakers Express and DNK Express mean for Backhaul Direct?
It means more dedicated capacity. I think that, specifically for our customer base, we're bringing more technological solutions to Bakers Express … because Backhaul Direct is more of a technology company in the [third-party logistics] world. We're bringing them a greater level of expertise and data in that regard.
What are your growth plans following the purchase?
We have very aggressive growth plans for both Bakers Express and Backhaul Direct. We plan on doubling the size of their fleet in two years. That will include adding right around 100 drivers. So, I think between the two companies, the growth plan for both Backhaul Direct and Bakers Express is, hopefully by the end of 2024, we'll be employing something like 500 Hoosiers.
What motivates you when you go to work each day?
I love the coaching aspect of my position. I love walking in and having 175 people in this office and 100 remote employees that are all unique individuals with specific wants and needs and desires both personally and professionally. For me, I really look forward to coming in and sort of being that player-coach to these guys. By far, it's the most fulfilling thing for me in my career.
What did you learn from pandemic-related supply chain problems, and how did you adapt?
I learned to not take anything for granted. Our industry sometimes has wild fluctuations in terms of demand or price, and I feel like, historically, Backhaul Direct has done a great job in predicting these fluctuations. I think that's one of the reasons why we've been so successful over the years, but during the pandemic, all bets were off. So, I feel like we all had to come together to solve some very unique problems.
Why did you decide to move Backhaul Direct from downtown Indianapolis to the northeast side?
This is sort of a mixed bag for me because, first and foremost, I love Indianapolis. Downtown has been our home for 18 years. But, quite frankly, the record-high violent crime rate. Our folks were getting harassed walking down the streets to their cars. We had several cars get broken into. Personally, I was assaulted at 7:30 in the morning on my way to work. … It's just tough.
Do you talk to other downtown business owners about those issues?
Again, I love Indianapolis, and I hate to say this, but yeah. Yeah, I do. … I really hope they figure it out, but there is zero chance of us moving back down there as long as the status quo remains. … I know it's a hard job and I couldn't imagine being the one in charge of coming up with a solution to this problem, but I think that it's clear that what they're doing just doesn't work, and they've got to make a change or else they're going to lose a lot more businesses to the outlying suburbs.•
Please enable JavaScript to view this content.