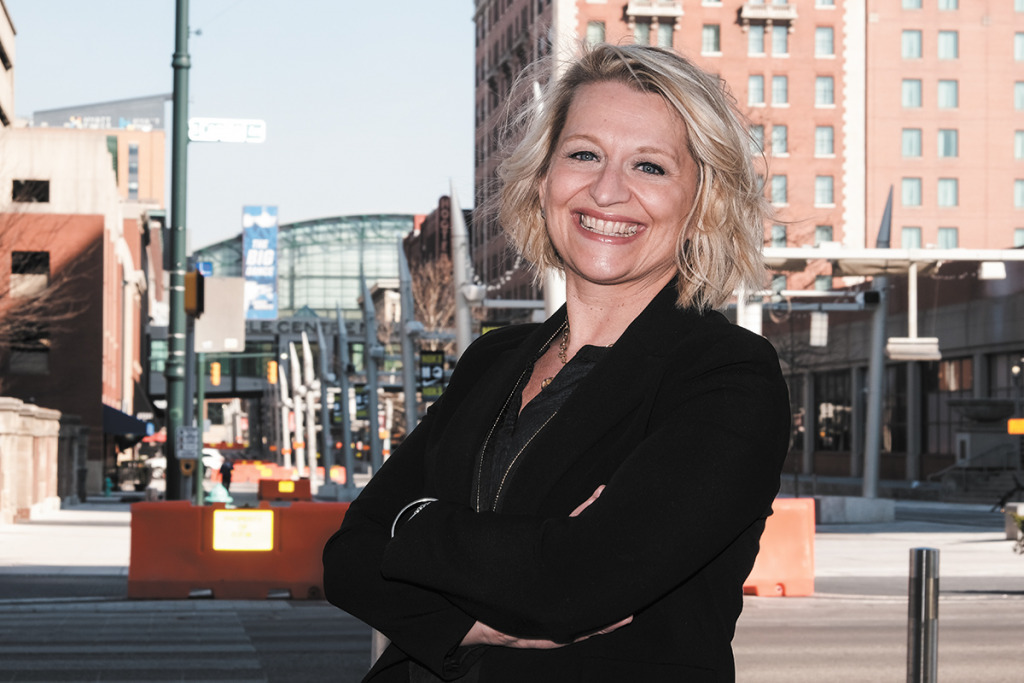 Jennifer Pope Baker won't be serving any fancy meals in her dining room this month. She doesn't have time, and she definitely doesn't have space on her dinner table.
"I have completely covered my office walls and my dining room walls with pieces of paper that talk about every single thing I'm working on," Baker said. "I write everything down. I wouldn't remember a darn thing if I didn't write it down."
Her dining room table has likewise vanished under an avalanche of paperwork, all of it pertaining to her volunteer position as board chair of the city's March Madness campaign. Over the last few weeks, she's overseen Indy's effort to host this year's NCAA Division I Men's Basketball Tournament. Not just the Final Four (which was long ago awarded to the city), but the entire tournament, from the dozens of first- and second-round games March 18-22 to the championship matchup April 5.
Pandemic constraints dictated that March Madness 2021 be held in one location, instead of parceled out to cities across the country. Baker is spending pretty much every waking moment trying to make sure Indy pulls it off.
"Jennifer is perfect for this," said Rick Fuson, chairman of the Indiana Sports Corp. "She loves being in the trenches and she loves the detailed work and has strong relationships with a great many people. She's a great leader."
She'll need all her skills for this gig. As vice chair of the Indiana Sports Corp., she was handed this mammoth undertaking on Jan. 8, just nine weeks before Selection Sunday on March 14, when the tournament's participants are named. She's taken leave of her "day job" as executive director of the Women's Fund of Central Indiana to attack the challenge.
And the challenge won't take place in a vacuum. This month, in some of the same venues hosting March Madness, the city is also accommodating Indiana Pacers games, the Big Ten Men's Basketball Tournament and the Big Ten Women's Basketball Tournament.
It's a high-risk, high-reward scenario. If things go off without any major hiccups, Indianapolis could win international notice as a can-do city leading the pandemic comeback—a huge shot in the arm for downtown. But the timing is almost impossibly tight.
"We had a number of years to put the Super Bowl together," Fuson said. "But this time, we basically have maybe 90 days to accommodate 68 teams and 67 games. … The whole world will be watching, and we look forward to smiling back at them."
Coordinating efforts
The pandemic has put some constraints on how Baker can motivate her troops. Instead of meeting face-to-face with volunteers, her days are mostly spent in a never-ending series of Zoom meetings. Which also has an upside.
"I don't know how we would do this if we were meeting in person all the time," she said. "If we had to physically go from one meeting to another, or drive someplace, we would not get as much work done."
She sees herself as something of a ringmaster, coordinating efforts of the roughly 600 upper-level volunteers dealing with every aspect of the tournament.
"Finding gaps and overlaps is important, because everybody is taking their piece and running with it and doing a great job, but sometimes I've discovered that two people are running with the same thing," Baker said. "So, we get together and have one person do it, or those two people do it together."
At least Indianapolis isn't starting from zero. The city was selected years ago to host the 2021 Final Four, so that portion of the effort is already well in hand. Staging the rest of the tournament is another animal entirely.
"We were planning on having four teams here for several days, not 68 teams for 67 games," Baker said.
Fortunately, when it comes to organizing complex sporting events, this isn't Baker's first rodeo. Nor is she a stranger to sports extravaganzas. She's been a basketball fan from day one, though, as a child, her loyalties weren't necessarily in line with those of the average Hoosier.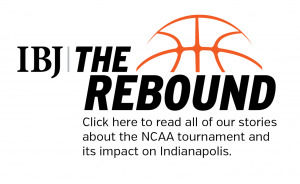 "I grew up in Kentucky, so my family is huge University of Kentucky fans," she said. "When I was a little girl, I used to go to football and basketball games with my mom and dad, and it was always a big deal."
She received a communications degree from DePauw University and moved to Indianapolis in 1990, where she almost immediately started volunteering for the Indiana Sports Corp. She was a member of the local organizing committee for the P&G Gymnastics Championships and for several NCAA Women's Final Four championships, and served as NFL Team Liaison for Super Bowl XLVI.
Out of necessity, much of the work of organizing March Madness has been delegated to others. But not all.
"There are a couple of items that I own, and that I'm working on personally, but mostly it's providing extra insight and thought leadership," Baker said.
Among the items she "owns" is an effort to put together a time capsule for the tournament. But don't ask for details about what it will contain, or where it will be kept or what year it will eventually be opened. Not just yet, anyway. Because, like so many aspects of this tournament, the time capsule is still very much a work in progress.
While the papers fastened to her dining room walls include inspirational quotes like, "Diversity matters. Don't go too fast and forget," and, "We were made for this madness," there are also lots of notes about the mundane, day-to-day logistics of staging a massive event in just a few weeks.
Stinky towels
Right now, for instance, one of the largest challenges on Baker's plate is dirty clothes. Specifically, figuring out who's going to wash all the dirty towels, uniforms and street clothes generated by 68 basketball teams.
"One of the areas that I spend time on every single day, which I could've never imagined in a million years, is laundry," she said.
There will certainly be plenty of it. About 2,400 tournament participants, from coaches to players to staff, will need everything from sweaty practice uniforms to marinara-stained ties either laundered or dry cleaned. Add to that the fact that teams will be confined to a bubble composed of the Indiana Convention Center and five downtown hotels.
"We have four different tracks of laundry that we have to worry about," Baker said. "First and most important, is player uniforms and practice gear. Then, personal clothes, dry cleaning and towels."
The Towel Problem is no small matter. About 3,500 will be used daily at the convention center's temporary practice courts. In addition, the personal laundry of players and coaches will be handled anonymously. Vendors doing the work won't know what teams they're servicing, thanks to a double-blind system.
Of course, it's impossible to keep logo-emblazoned team uniforms secret, so they will be washed at dedicated on-site facilities.
"We're working with Lowe's, which is a corporate partner of the NCAA," Baker said. "They're bringing in two tractor-trailers, each with eight washers and eight dryers in them, to the convention center. We're creating what I've been calling the Lowe's Laundromat."
The work will be done by a legion of volunteers. Baker attended a practice session at Butler University explaining the special handling uniforms require. A training video will also be made for the laundry volunteers.
Pivotal moment
Once the tournament starts, Baker will disappear into the bubble where teams and officials will (in theory) shelter away from possible COVID contamination. Though the status of the pandemic at the time of the tournament is out of her hands, she and other planners are doing everything in their power to keep everyone safe.
"My objective is to remember that we have to keep safety in mind," she said.
Given how important a successful tournament will be to the economic health of the city, she's also working shoulder-to-shoulder with business and civic organizations.
"We are in contact with Jennifer and the entire Indiana Sports Corp. team," said Chris Gahl, senior vice president of marketing and communications at Visit Indy. "Not a day goes by that we're not calling or meeting with her and the team to ensure that tourism is in lockstep with the tournament."
The most important thing is making sure it's as safe as possible. The second is making the most of the publicity the city will receive.
"We are fixated on leveraging the up to 2,000 media that will descend on Indianapolis and capitalizing on this brand, building media exposure to help keep our momentum and catapult us past other major cities as we recover from the pandemic," Gahl said.
He drew a parallel between now and the 1987 Pan American Games, which Indianapolis landed after the original host bowed out. The city had only a couple of years to prepare, but the result vaulted it onto the national stage.
Gahl said March Madness 2021 could be this generation's Pan Am Games—a chance to impress the world with Indianapolis' organizational acumen and human and physical resources.
"When residents of Indianapolis look back, we will point to March of 2021 as a pivotal moment in history," he said. "Jennifer Pope Baker was made for this moment. She has dedicated her career to helping Indianapolis move forward. And she is doing it with grace and enthusiasm."
For her part, Baker seems to take the pressure in stride. Her goal, she said, is to create a memorable event for the players and fans, and perhaps surprise the nation with what Indianapolis can accomplish on short notice.
"I think a lot of people aren't expecting a lot from something like this during the pandemic," she said, "and I want them to be surprised and delighted by how fabulous it is."•
Please enable JavaScript to view this content.