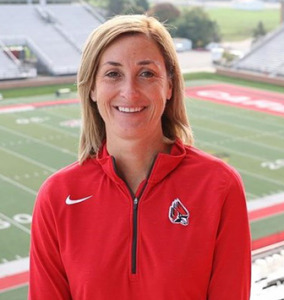 Ball State University Athletic Director Beth Goetz—who chairs the NCAA Division I Women's Basketball Committee and was named 2022 Division I FBS Nike Executive of the Year by Women Leaders in College Sports—has accepted a position at the University of Iowa.
Goetz, who has served as Ball State's AD since May 2018, will become Iowa's deputy athletic director and chief operating officer, Iowa announced Wednesday.
This move is a return to the Big Ten Conference for Goetz, who previously served as deputy athletics director at the University of Minnesota.
"Beth is a proven, experienced and respected leader in college athletics," said Barta. "We're excited to have her join the Hawkeye family," said Gary Barta, University of Iowa's athletics director.
Ball State has won 10 Mid-American Conference championships since Goetz was named athletics director.
She's also credited with improving academic success of Ball State athletes. The university has seen back-to-back years with a Graduation Success Rate of 90%.
"Beth has [also] led our student athletes to extraordinary success in the classroom," said Ball State University President Geoffrey Mearns. "Last academic year, across all sport programs, our student athletes earned a collective GPA of 3.35. As a result, our university received the 2022 MAC Institutional Academic Achievement Award, which is presented each year to the university with the highest GPA in the MAC."
Due in part to the academic success, Goetz was recognized by IBJ as one of its 2021 Women of Influence.
"As Beth regularly reminds me, every individual achievement is the result of a team effort. In that regard, Beth has retained and recruited an excellent team of coaches and administrators—women and men who will inspire our student athletes to even greater success in the future," said Mearns.
Goetz replaces Barbara Burke, who previously announced she will retire at the end of the 2022-23 academic year. Her last day at Ball State will be Sept. 23.
Please enable JavaScript to view this content.