Busey Bank says it has lost more than $100 million in loans to a competitor because of "brazen and systematic poaching" of its employees.
Busey says 21 employees in Carmel and Illinois jumped ship for jobs at Flagstar Bank FSB last year, taking a significant chunk of Busey's mortgage business with them.
Now, Illinois-based Busey is suing Flagstar, and those 21 individuals, in two separate federal cases.
The bank filed a complaint June 4 in U.S. District Court for the Southern District of Indiana against its six former Carmel employees, all of whom left Busey between July 24 and Sept. 28 to take jobs with Michigan-based Flagstar. Those individuals are Kyle R. Bernfield, Mark Dietrich, Kellie Marie LaMonaca, Kimberly Ann Sannella, Christa A. Smith and Casey Joanne-Elaine Wilson.
On May 28, Busey filed a similar lawsuit in U.S. District Court for the Northern District of Illinois, Eastern Division, against 15 individuals who worked at five separate Busey offices in that state before leaving between July 24 and Oct. 23 for jobs at Flagstar.
Flagstar is named as a defendant in both the Indiana and Illinois lawsuits.
Busey's only Indiana office is in Carmel. The bank has 67 other offices in Illinois, Missouri and Florida. Flagstar has no physical offices in the Indianapolis area, although it does have mortgage lending employees working in this market. On its website, Flagstar identifies itself as the nation's sixth-largest mortgage originator, as well as a major servicer of both mortgages and consumer loans.
The departures, Busey says, left the Carmel and Illinois offices without employees, forcing Busey to expend significant resources to hire and train new staff. In its Indiana complaint, Busey describes the situation as "Flagstar's brazen and systematic poaching of busey Bank's former employees" that has harmed Busey's business.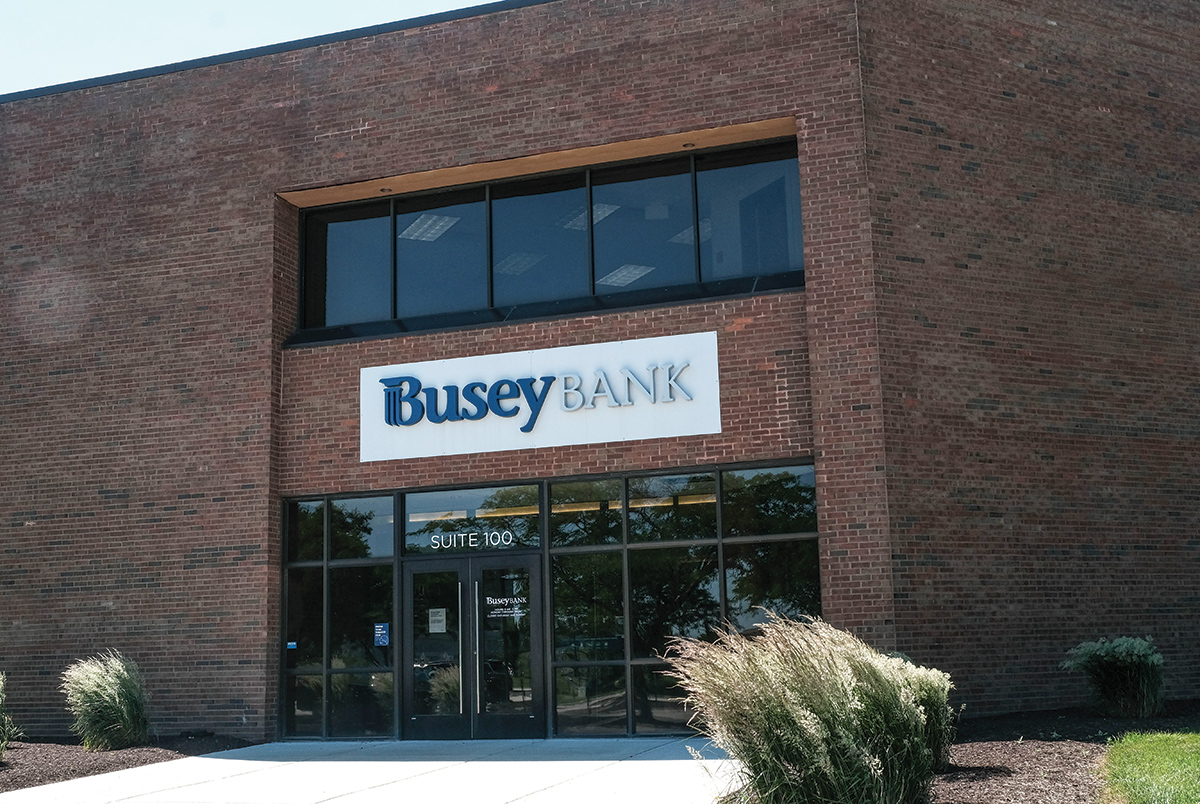 "Flagstar collaborated and conspired with the former employee defendants in a concerted effort to coordinate a staggered, mass resignation of numerous Busey Bank employees, thereby decimating Busey Bank's mortgage loan originator workforce across six offices in two states," Busey says in its Indiana complaint.
In a statement emailed to IBJ via its counsel in the case, Sarasota, Florida-based attorney Michael Taaffe, Busey said it filed the lawsuits after trying unsuccessfully to settle the dispute out of court.
"We are disappointed in the conduct undertaken by Flagstar and multiple named individuals in regards to unfairly establishing additional business for themselves in Illinois and Indiana," the statement said.
"Busey Bank identified a number of issues with this conduct and made every effort to reasonably and amicably resolve its disputes with Flagstar and these individuals without use of the court system.
"Unfortunately, Flagstar and the individuals left Busey Bank with no choice other than to file complaints in multiple states to protect its legitimate business interests as well as its employee and customer relationships."
Court records do not yet have information on who is representing Flagstar and the six Indiana defendants. Three of those individuals—Sannella, Smith and Wilson—declined to comment to IBJ about the allegations against them. The other three—Bernfield, Dietrich and LaMonaca—did not respond to phone and email messages. Flagstar declined to comment on the case.
Illinois defendant Michael Turney, whom Busey identifies as a key participant in helping to convince his colleagues to join him at Flagstar, also did not respond to IBJ's email and phone messages.Turney formerly worked as a senior vice president of Busey's mortgage sales division.
"Both before and after his resignation from Busey Bank, Turney worked in concert with Flagstar to wrongfully solicit Busey Bank employees and customers and continues to do so," Busey's Indiana complaint alleges.
The lawsuit also accuses Turney of falsely telling several Busey employees that Busey was exiting the mortgage business and encouraging the employees to follow him to Flagstar.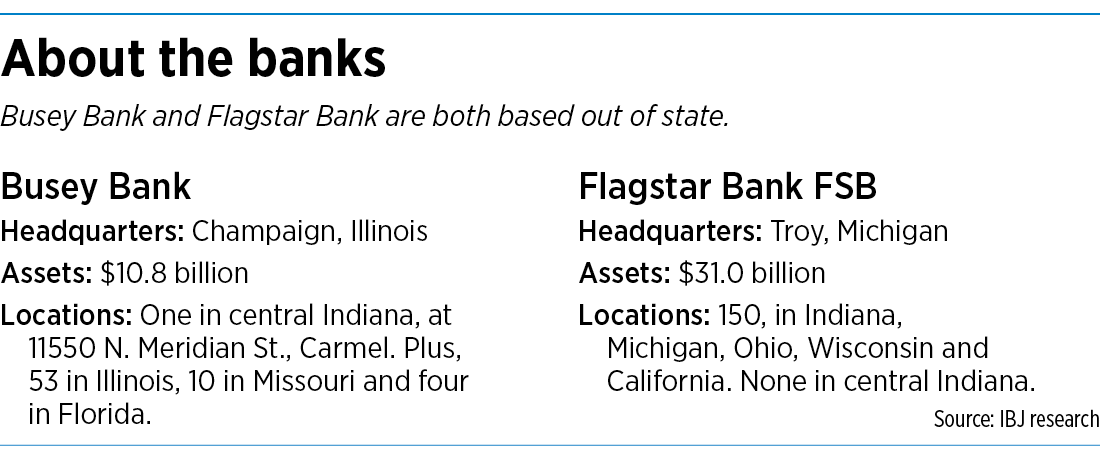 While still employed by Busey and during business hours, the complaint alleges, the defendants participated in an online recruitment meeting with Flagstar representatives.
When they left for their new jobs, Busey alleges, the defendants took customer lists with them—in violation of confidentiality agreements they had signed with the bank. Busey says its former employees also violated their non-solicitation agreements, which stipulate that former Busey employees must wait 12 months before they're allowed to solicit Busey's customers or employees.
As one example, the complaint says, Dietrich emailed at least four documents to himself the day before he left Busey. Those documents included a Busey client list and database that contained borrowers' names, addresses, birth dates and employers.
"[Dietrich] almost certainly did so to compete against Busey Bank on behalf of Flagstar," the complaint alleges.
Since leaving Busey, the complaint alleges, the defendants have solicited Busey customers to move more than $100 million in loans from Busey to Flagstar.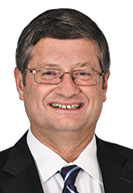 In both its Indiana and Illinois complaints, Busey is asking the court to issue an injunction that would require the defendants to stop using Busey's client information, stop soliciting business from Busey customers, and to turn over any Busey records or information in the defendants' possession.
Busey is also asking that it be awarded damages in an unspecified amount, along with attorney's fees.
Indianapolis attorney John Tanselle, a partner at law firm SmithAmundsen LLC, said such disputes are not uncommon in the banking industry when employees change jobs.
"You will find a lot of bank employees, especially the revenue generators, will have some sort of a nonsolicit and confidentiality obligation," said Tanselle, who works with many banking clients but is not involved in the Busey litigation.
The banking industry is especially competitive right now, Tanselle said, with banks vying for both customers and high-level employees. The pandemic depressed customer appetite for loans over the past year, making banks especially eager to lend now.
In its complaints, Busey alleges that its former employees have violated both state and federal law by misappropriating Busey's trade secrets.
David Carr, a partner at Ice Miller LLP's Indianapolis office and an expert in labor and employment law, said information must meet certain legal requirements in order to be considered a trade secret: It must be information that's not generally known but that holds economic value; and it must be subject to efforts to keep it secret.
This means customer lists could be considered a trade secret, depending on the circumstances, Carr said. "It's the employer's treatment of the information that is very crucial to determining whether it is a trade secret."
Carr's expertise includes employment contracts involving trade secrets, confidential information and non-compete agreements. He is not involved in the Busey litigation.
Trade-secret lawsuits like the Busey litigation are quite common, Carr said, but there's no real pattern to who's likely to prevail in such cases. "It's very, very fact-sensitive."
And because none of the defendants in the Busey cases have yet filed formal responses to Busey's allegations, it's impossible to know at this point what the facts are, Carr said. "It could end up being vastly different from what's been represented from the plaintiff's perspective."•
Please enable JavaScript to view this content.