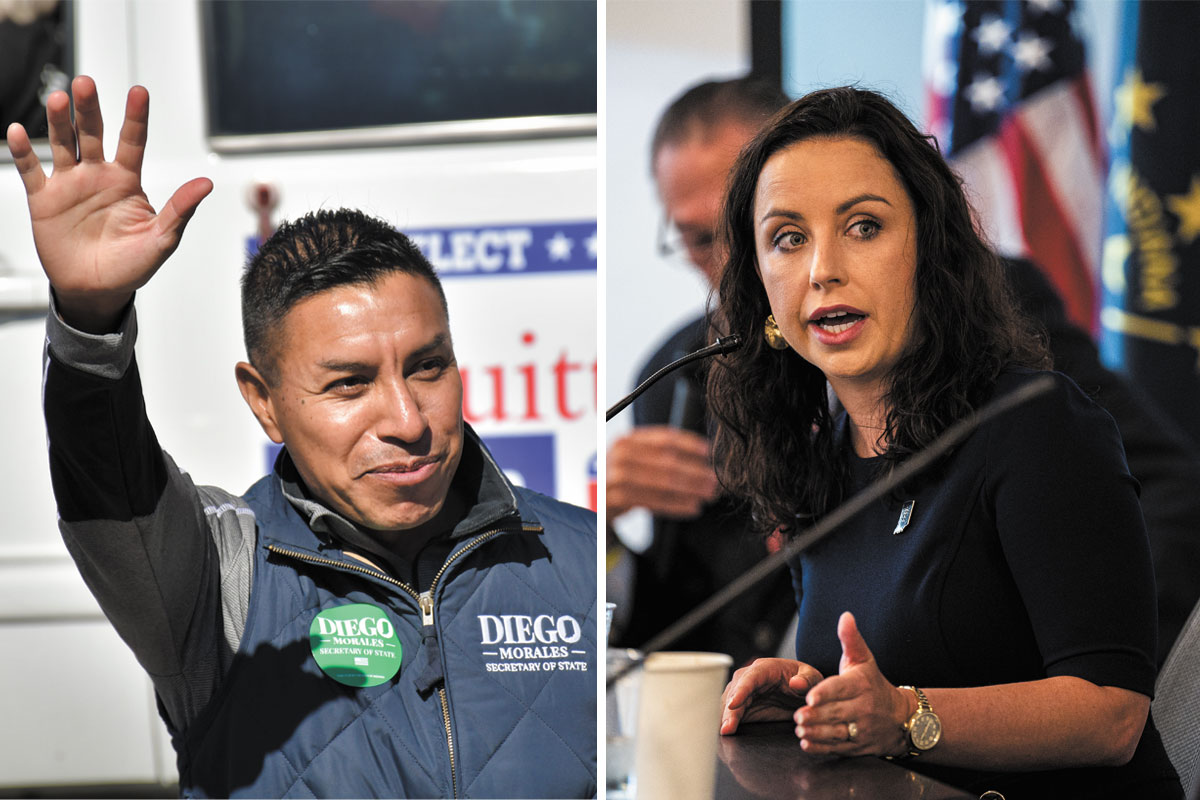 It's less than four weeks from Election Day, and Diego Morales, the Republican candidate for Indiana secretary of state, has found himself mired in a series of controversies, all of which have Democrats believing they have a fighting chance at winning their first statewide office since 2012.
The list of accusations against Morales includes embellishing his military record, denying the results of the 2020 presidential election (then changing his stance), purchasing a campaign car with $44,000 in campaign contributions and, most recently, sexual misconduct.
Destiny Wells, the Democratic candidate from Morgan County, so far has avoided any major dustups in what is her first campaign for elected office, giving her party hope that she can become the first Democrat to win the position since Joe Hogsett, now the mayor of Indianapolis, claimed victory in 1990.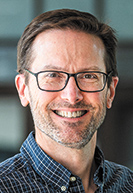 "There are several reasons to think this race could be competitive when we look at the polling, the division in the Republican Party at the convention, and the bad press one of the candidates has been getting," said Andrew Downs, director emeritus of the Mike Downs Center for Indiana Politics. "I think it is safe to predict the margin between the top two candidates will be narrower than in recent secretary of state elections."
A recent snapshot shows a tightening race: An IndyPolitics poll of 600 likely voters conducted by Illinois-based ARW Strategies showed Wells leading the race with 36% of the vote, compared to 32% for Morales and 7% for Libertarian candidate Jeff Maurer. The remaining 25% of voters said they were undecided, and the poll had a margin of error of plus or minus 4 percentage points.
But the poll's sample was relatively small, and many voters don't pay close attention to down-ballot races.
"Voters often have not known much about secretary of state candidates, and so each voter has voted for the candidate with the party label preferred by that voter," Downs said. "This is why the secretary of state race has been used as a measure of party affiliation in the state."
In the right scenario for Wells, Maurer could pull enough votes away from traditional Republican voters to give her a slight edge over Morales.
Maurer, a member of the Indiana Air National Guard, is campaigning on a pledge to conduct an independent audit of all 92 counties following each election.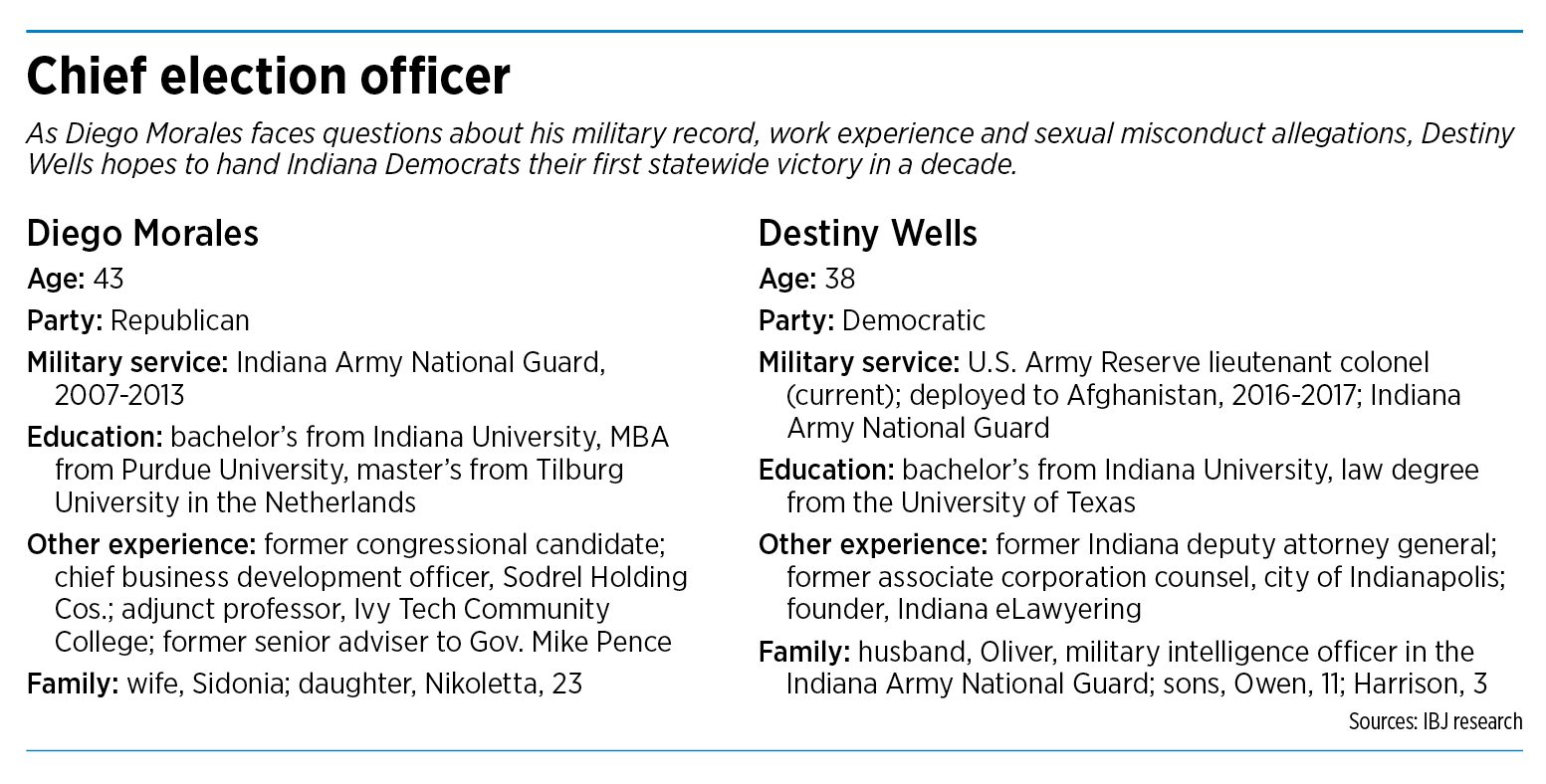 Dogged campaigner
Morales, 43, grew up in Guatemala before emigrating to Clark County, just across the Ohio River from Louisville. He attended Silver Creek High School, then received his bachelor's degree from Indiana University, his MBA from Purdue University and his master's from Tilburg University in the Netherlands.
In campaign messaging, Morales touts his military experience, but his detractors accuse him of exaggerating his service. Records show he spent three months and 18 days on active duty as part of his training period and separated from the Indiana National Guard three years before his eight-year commitment was over.
In 2018, Morales ran for the Republican nomination to represent the 4th Congressional District and placed third to eventual general-election winner, U.S. Rep. Jim Baird. During his campaign, Morales was criticized for embellishing parts of his resume, including his work as an aide for then-Gov. Mike Pence and his time in the Secretary of State's Office.
Records show Morales was fired from that office in 2009 under then-Secretary Todd Rokita for failing to agree to a work-improvement plan. When he landed another job in the office in 2011 under then-Secretary Charlie White, he was disciplined for failing to complete work. He later told The Indianapolis Star the documents were part of a smear campaign by envious colleagues.
More recently, two women came forward to accuse Morales of unwanted sexual advances and inappropriate contact more than a decade ago.
Morales has denied the allegations, calling them "politically motivated."
In an interview with IndyPolitics.org publisher Abdul-Hakim Shabazz, one woman described her experience working with Morales in 2009, saying Morales asked her to grab drinks and invited her to partake in "campaign sex." After he forcibly kissed her and she rejected him, he stonewalled her at work for weeks, the Indiana Capital Chronicle reported.
Another woman said Morales invited her to his apartment to pick up a gift from a congressman and repeatedly tried to kiss her, IndyPolitics reported.
Morales has been notably absent from public debates. He was a no-show at a League of Women Voters televised debate on Monday, and a chair reserved for him sat empty during an election law forum hosted last month by the Indiana chapter of the Asian Pacific American Bar Association.
In response, Morales has said he would rather focus his energy on traveling the state's 92 counties, which he says he has done several times.
"I like to visit with voters one-on-one," Morales said. "That's what I will continue to do."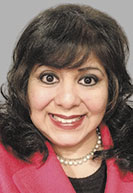 Morales' campaign has taken a decidedly grassroots approach. He is tireless on the campaign trail, routinely appearing at county GOP events throughout the state.
Morales is not the first Hispanic candidate to seek statewide office, but his allies still see his effort as important for the Hispanic community.
"It's a perfect role model for others who are seeking office in lower races throughout the county and townships," said Victoria Gresham, state chair for the Indiana chapter of the Republican National Hispanic Assembly, who described Morales as friendly, approachable and open-minded. "Given his immigrant status and becoming naturalized here, for us, he is a walking American dream."
Morales said he hopes his victory opens doors for other minority communities "so they can see that someone like me is able to become a secretary of state in Indiana."
Some of his critics push back against the notion that a Morales victory equals an achievement for the Hispanic community.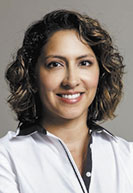 Vanessa Cruz Nichols, professor of political science at Indiana University, said Morales doesn't lean into his Latino roots. His campaign ad is voiced by a third-party narrator with a flat, Midwestern accent, which she assumes is part of an effort to shield him from biases due to his accent.
"He uses a classic whitewashing strategy that some minority candidates use to reduce their otherness when appealing to a white electorate," Nichols said.
If elected, Morales has said, he would increase voter confidence by strengthening voter ID laws. To increase voter turnout, he would roll out public campaigns to educate Hoosiers about the voting process.
"I'm going to go back to the minority communities so they can get engaged in this process," he said.
Despite his alleged shortcomings, Morales has earned the backing of several high-profile Republicans, including Rokita, former Secretary of State Ed Simcox and former Vice President Mike Pence, who hosted a fundraiser in Carmel for Morales this week.
'Came back as a Democrat'
Wells, 38, grew up working on the family farm in a conservative household in rural Morgan County. The first in her family to go to college, she attended Indiana University, where she majored in political science. At 19 years old, she joined Army ROTC and was commissioned into the Indiana National Guard when she graduated.
Like many in her age group, Wells said she began identifying with the Democratic Party during Barack Obama's 2008 presidential campaign.
"I traveled around the world a few times and came back as a Democrat," she said.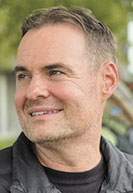 Matt Mehan, who served in the Guard with Wells in Texas, said she was always eager to debate with her cohorts.
"She's very knowledgeable about things. She likes to point out the flaws, obviously in an attempt to make things better," Mehan said.
After earning her law degree from the University of Texas, she briefly practiced law in her hometown of Martinsville and founded a legal tech startup before getting deployed to Afghanistan in 2016, an experience that helped her earn the rank of U.S. Army Reserve lieutenant colonel.
While overseas, Wells paid attention to what was happening back home, particularly in the wake of Donald Trump's presidential victory in 2016, which came just a few weeks after her tour began. She was bothered by some of Trump's early actions as president, including the decision to ban transgender individuals from serving in the military, an executive order that was later lifted by President Joe Biden.
"When I got home, I felt like I needed to do more," Wells said. "There's this notion of democracy abroad, and at the same time, you're watching stuff happen back home."
Upon her return to Indiana, Wells began volunteering for Democratic campaigns and using her law bona fides to earn stints as associate corporation counsel for the city of Indianapolis and Marion County and deputy attorney general for Indiana under Curtis Hill.
Her campaign for secretary of state officially launched on Jan. 6, 2022, one year after the insurrection at the Capitol.
Wells is critical of her opponent, pointing to his earlier position that the 2020 election was a "scam."
"I feel very passionate about this—what I perceive as a mission—in defending this office from an election denier," Wells said. "But I'm also confident that no one has my skill set that can run for this office at this point in time for the Democratic Party."
Indiana consistently ranks in the bottom 20% of states in voter turnout, which Wells pointed to when making the argument that Indiana "is a purple state with a turnout problem."
To alleviate this problem, Wells said, she would advocate for removing restrictions on absentee mail-in voting. Currently, Hoosiers must provide one of 11 excuses when requesting a mail-in ballot, which can include senior citizen status, military service or being sick or disabled.
Wells recently earned the endorsement of ReCenter Indiana, a bipartisan group with the goal of shifting politics away from extremes and motivating more Hoosiers to vote.
Chief of elections
The United States has enjoyed free and fair elections for much of its history, but the GOP's public campaign against voter fraud and Trump's claims of a rigged 2020 election have helped cement doubts in the public consciousness about the election process despite scant evidence of widespread voter fraud or ballot-tampering.
Recent polls show about 70% of Republicans don't think Biden is the legitimate presidential winner of the 2020 election, and that includes some secretary of state candidates in the midterm elections.
In Arizona, the GOP is backing election denier Mark Finchem, who defeated his Republican opponents in the primary by stoking fears of a stolen election. Jim Marchant, the Republican nominee in Nevada, has been a leader in the "Stop the Steal" movement.
Indiana's secretary of state race hasn't gotten as much attention as races in battleground states, in part because the office is seen as safely Republican in a decidedly red state.
The election for secretary of state has historically not drawn much attention. The position is largely bureaucratic; in addition to overseeing state elections, the office is responsible for registering new businesses and trademarks, regulating the securities industry, and licensing vehicle dealerships.
But the Supreme Court will soon decide whether to grant state legislatures authority over federal elections, part of a legal argument known as the independent state legislature theory. Democrats fear that a favorable ruling would give state lawmakers the power to override popular votes in presidential elections by refusing to certify results.
"We are living in highly partisan times, and there is a lack of faith in 'the other party' to administer elections fairly," Downs, the political analyst, told IBJ. "Each party is using this as a method to rally their base and hoping their message will bring independent and swing voters to their side."
When Morales earned his party's nomination at the Indiana Republican Convention in June, it was seen as a direct rebuke against Gov. Eric Holcomb and more moderate members of his party, including Holli Sullivan, the current secretary of state and a Holcomb appointee.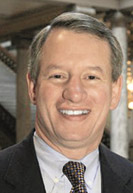 Some in the party might now be wondering if Morales was the right choice.
"The GOP should be nervous about their odds in this race," said Nichols, the political science professor. "The only thing helping them is that this smaller seat and campaign tends to fly under the radar."
Former GOP Rep. Mike Murphy wondered whether the criticisms against Morales have negated the natural advantage he had as a Republican candidate in a down-ballot race.
"One thing I've learned in all my years in politics is, the voters are always right," Murphy said. "You may disagree with them, but it's their decision to make, and there's no crying after that. They will decide, and that's who our new secretary of state will be."•
Correction: This story originally said that Diego Morales is believed to be the first Hispanic candidate for statewide office in Indiana. That is not the case. There have been several Hispanic candidates. Most recently, John Aguilera was the Democratic nominee for Indiana treasurer in 2018.
Please enable JavaScript to view this content.