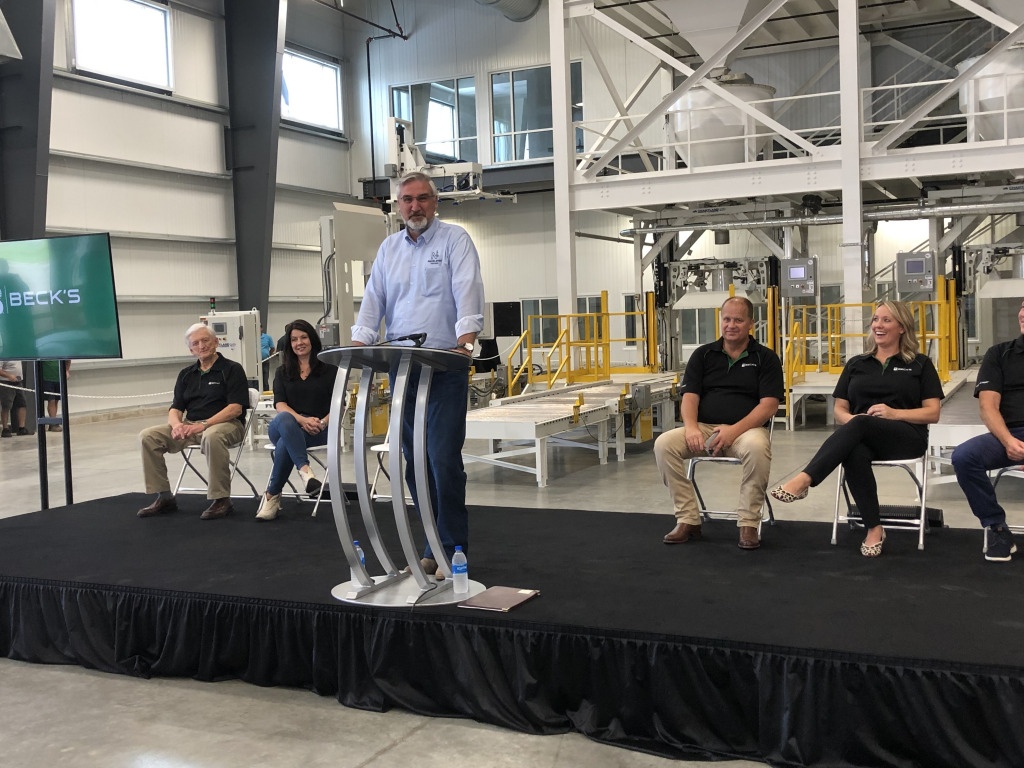 Beck's Hybrids marked the opening of its 10-story east soybean processing tower with Indiana Gov. Eric Holcomb and Secretary of Commerce Brad Chambers on hand in Atlanta to cut the ribbon Wednesday.
The 10-story tower in northern Hamilton County is one of the largest soybean processing towers in the world, capable of processing three million bushels of soybeans annually, doubling Beck's processing at the location. It will also allow for a 1.3 million unit increase in corn processing capacity.
This tower is part of the company's $62 million expansion project at its headquarters, expected to create nearly 60 jobs by the end of 2022. In addition to the tower, the expansion will include five new warehouses for seed and equipment storage and new office space.
The stand-alone processing tower includes an observation deck with a glass floor for visitors to see soybeans being processed, video monitoring on machinery operations and "state-of-the-art batch treating to allow more versatility of ingredients."
In 2019, the Indiana Economic Development Corp. offered Beck's up to $560,000 in conditional tax credits based on the job-creation plans. Hamilton County also approved a property-tax abatement for the project and agreed to improve roads near the company's headquarters at 6767 E. 276th St.
Holcomb said Beck's and the state's partnership is a prime example of what Indiana is looking for when investing in economic development and attracting talent across the state.
"We're doing that right here in the heart of the heartland, proving that we can bring world class research and development universities like Purdue, of course, IU, Notre Dame … to build out talent and pipelines to fuel companies like Beck's success," Holcomb said. "What they're creating, these aren't jobs. These are great careers."
Beck's is a family-owned company, the top-selling corn and soybean seed brand in Indiana and the third-largest corn and soybean brand in the United States. Beck's has seen several expansions since its founding in 1937, doubling in size roughly every six and a half years since 1992, CEO Sonny Beck said.
This recent expansion will help the company better serve market demand in Indiana and a dozen other states, he said.
Holcomb said Beck's put Atlanta and the state on the "national map," and the state does not take that for granted.
"Truly a national market, the largest family retail company of its type. We're proud," Holcomb said. "They continue to be a magnet for talent."
Please enable JavaScript to view this content.