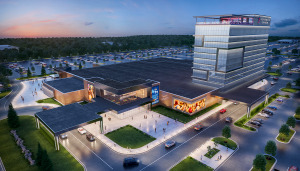 It's been a long and winding road, but late last month, developers finally broke ground on a $260 million casino and hotel in Terre Haute. Named the Queen of Terre Haute Casino Resort and developed by Kentucky-based Churchill Downs Inc., it's the neon-bedecked fruit of decades of effort to bring gambling to the city.
"Back at the very beginning, when casinos first came to Indiana, Terre Haute was a part of that conversation," said Terre Haute Mayor Duke Bennett. "We were left out, but people have always thought the city should have received a license."
Terre Haute has invested much energy into the effort—not because its residents are particularly enamored of blackjack or slot machines, but because of the fat revenue stream on-site gambling offers its host cities.
Once the casino opens, Bennett figures, the city is looking at about $10 million in casino tax revenue every year for the next 10 years. And he's got plans, including street repairs and perhaps a sports park. Basically, capital improvements to make the town more accommodating and attractive to investors and visitors.
When it comes to generating tax revenue, he said, a casino beats, say, a new factory by a mile.
"Typically, when we get a large factory, we provide incentives such as tax abatements," Bennett said. "But in this case, they're going to invest $250 million, not ask for any incentives, and pay their taxes. All that money comes back here locally. We benefit better than we would from any factory."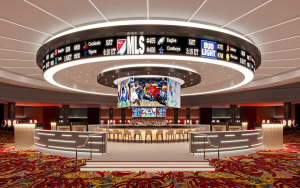 Crowded market
Provided, of course, that the Queen of Terre Haute can find its footing in what's becoming an ever more crowded market. Indiana hosts 12 casinos that span the state, from Evansville to French Lick to Gary.
According to the American Gaming Association, a trade group for U.S. casinos, the pandemic in 2020 caused a 31.3% drop in casino revenue to "only" $30 billion. It was the first market
contraction since 2014, and the lowest total since 2003. However, the industry
is nothing if not resilient. The AGA reported that 2021 ushered in a powerful recovery, with annual revenue reaching a record $53.0 billion—a 21.5% increase over pre-COVID 2019,
which was the previous high.
Matt Bell, president of the Casino Association of Indiana, said the state's gambling establishments, though dealing with the same post-COVID challenges many businesses struggle with (high prices, worker shortages, supply-line snafus) have likely seen a quick revenue rebound. In 2021, Indiana facilities brought in $2.13 billion. However this year, according to numbers that run through May, they've already bested that figure with a haul of $2.33 billion.
But there are recent signs that inflation is slowing bettors' spending. Revenue from Indiana's casinos fell for a second consecutive month in May as inflation reached a four-decade high.
Numbers released by the Indiana Gaming Commission show that statewide casino revenue after successful bettors were paid totaled $211.9 million for May, an 8% decrease from April's $229.1 million.
Still, casinos tend to weather economic storms largely unbattered.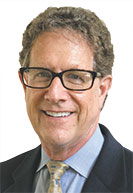 "Until the global crisis of 2008-2009, it seemed like the casinos were almost counter-cyclical," said Ed Feigenbaum, editor of Indiana Gaming Insight. "They actually seemed to do a little better during tough times."
The road to bringing a casino to Terre Haute has taken several tortured twists and turns.
Turmoil engulfed the project in early 2020 when state casino officials began investigating Spectacle Entertainment and then-CEO Rod Ratcliff after the filing of federal charges of illegal political campaign contributions involving a longtime Ratcliff business partner, former Spectacle Vice President John Keeler.
Ratcliff has denied wrongdoing and hasn't been charged by federal authorities in the campaign financing case. Keeler has pleaded guilty to one count of filing a false tax return and is awaiting sentencing.
State officials forced Spectacle last year to give up ownership of the project to Terre Haute businessman Greg Gibson, but his efforts to open the casino stalled.
In November, state officials awarded the Terre Haute casino license to Churchill Downs and the project is now back on track. Its 1,000 slot machines, 50 table games and 56,000 square feet of gambling space are expected to create some 500 jobs and $190 million in annual economic impact.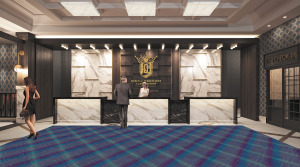 Lots of competition
But when the Queen of Terre Haute opens next year, it will inhabit a gambling ecosystem far more competitive and complex than in previous decades.
When Indiana legalized casino gambling in 1993 (after several failed attempts during previous legislative sessions), it authorized only riverboats—five to Lake Michigan, five to the Ohio River and one to Patoka Lake. In 2015, the Legislature did away with the riverboat restriction, and allowed land-based gambling operations.
Today, Indiana's 12 casinos create more than 22,000 jobs and an economic impact of $4 billion annually.
State law requires each to be at least 75 miles from the others, so this is probably about it for Indiana expansion. There simply isn't much room for more.
And right now, Bell said, no one's agitating particularly strongly to get a license.
"Outside of Terre Haute, there have not been communities that have come to the Legislature in a very organized way and said, 'Hey, give us the privilege of hosting gaming,'" he said.
But competition among in-state facilities (and those in neighboring states) will continue with a vengeance.
About two hours east of the Queen of Terre Haute, Caesars Entertainment Inc. is working on a $39 million expansion of its Harrah's Hoosier Park Racing & Casino in Anderson. And over in Danville, Illinois, an hour northwest of Terre Haute, the Golden Nugget casino is under construction.
Interestingly, in a bow to both inflation and supply chain difficulties, the Anderson expansion was downsized slightly, and its price increased by $5 million.
"When the casino in Terre Haute opens, what are they going to encounter?" Feigenbaum said. "We don't know what the economy will be like, but we've seen other casinos open in tough times. For instance, Anderson originally opened at the height of the 2008-2009 global fiscal crisis. Yet it still managed to do OK. You never know with a new property, but there should be enough people interested in kicking the tires."
But the Queen might not be finished as quickly as its developers hope.
"Terre Haute may potentially be affected by supply chain issues," Feigenbaum said. "You may have some delays in building it out, so you might see it debut later in 2023 or perhaps in early 2024. But the economy may be in better shape by then."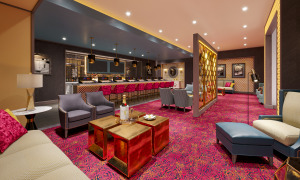 Using casino revenue
While any community would drool over the tax revenue a casino can generate, Feigenbaum said that money has to be used wisely. Mostly because revenue can vary markedly from year to year (for example, while 2021 went well, pandemic-hobbled 2020 was terrible).
Smart cities, he said, don't immediately hire 20 new police officers and buy a bunch of police cars—a continuing expense that might be tough to cover during an economic downturn that cuts casino revenue.
Instead, casino cities often use the money for capital projects that will pay for themselves or raise the city's profile—things like convention centers or neighborhood revitalization. For instance, Evansville's casino, Bally's Evansville, became a cornerstone for the Downtown Evansville Economic Improvement District, hosting everything from bars to museums.
"The smart communities said, 'What can we do to build upon the fact that we're bringing in all these visitors?'" Feigenbaum said. "How do we keep them here, so that they don't just visit the casino and leave? They can stop at some of our other attractions, have lunch or dinner at one of our restaurants, instead of just remaining on casino property."
Bennett foresees something similar for Terre Haute.
"We intend to invest in quality-of-life projects," he said. "We don't need it for our budget or anything. We need it to make Terre Haute a better place for the people who live here, the people who visit, and the people who want to invest here. We're going to have money that will lead to further economic development opportunities down the road. If we invest in ourselves, private dollars will follow."•
Please enable JavaScript to view this content.