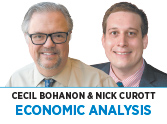 With all the bad news, sometimes it's nice to focus on some news that is good–at least comparatively.
We are very pleased that President Biden plans to reappoint Jerome Powell as chairman of the Federal Reserve Bank for another four years. Not because we necessarily agree with the president's economic agenda nor think Powell's handling of his Fed duties has been exceptionally stellar. Rather, it is because, with all the economic uncertainty from the COVID omicron variant, rising inflation, supply-chain struggles and fiscal imbalances, this is not the time to rock the boat at the Fed with a new and untried leader.
To appreciate this good news, all we need do is turn our attention to Istanbul. Our putative NATO ally, the Republic of Turkey, is led by an increasingly despotic leader, Recep Erdogan. Inflation in Turkey has recently soared to an annual rate of over 20%. Economists and central bankers around the world uniformly know the only way to break inflation is to follow a tight money policy, which inevitable leads to higher interest rates.
However, Mr. Erdogan adamantly holds the iconoclastic view that high interest rates are the cause of current inflation, not part of their cure. Some American politicians touted a similar view during the inflationary 1970s, but they weren't able to implement a policy of lowering interest rates in the presence of rising inflation. Thank heavens!
However, unlike the U.S. president, who can appoint but not remove the Federal Reserve chairman, the president of Turkey can fire the chair of the Central Bank of Turkey at will. In fact, in the last two years, Erdogan has fired three of them, and in the last few months, fired two members of the Turkish Central Bank's Monetary Policy Committee.
Markets have been quick to respond. The Turkish lira has fallen around 40% in the last month, increasing the lira price of all imports by a like amount, and reducing the value of lira-denominated savings by a similar factor. The Turkish people are not happy.
Our takeaway is that here is a textbook example of why rules matter. It's not that only Turkish politicians follow foolish theories; innumerable American politicians past, present and future are just as likely to hold wackadoodle ideas. However, in this case, the American rules make it hard to impose those ideas on the central bankers. Dispersion and balance of power—a pretty good idea!•
__________
Bohanon and Curott are professors of economics at Ball State University. Send comments to ibjedit@ibj.com.
Please enable JavaScript to view this content.