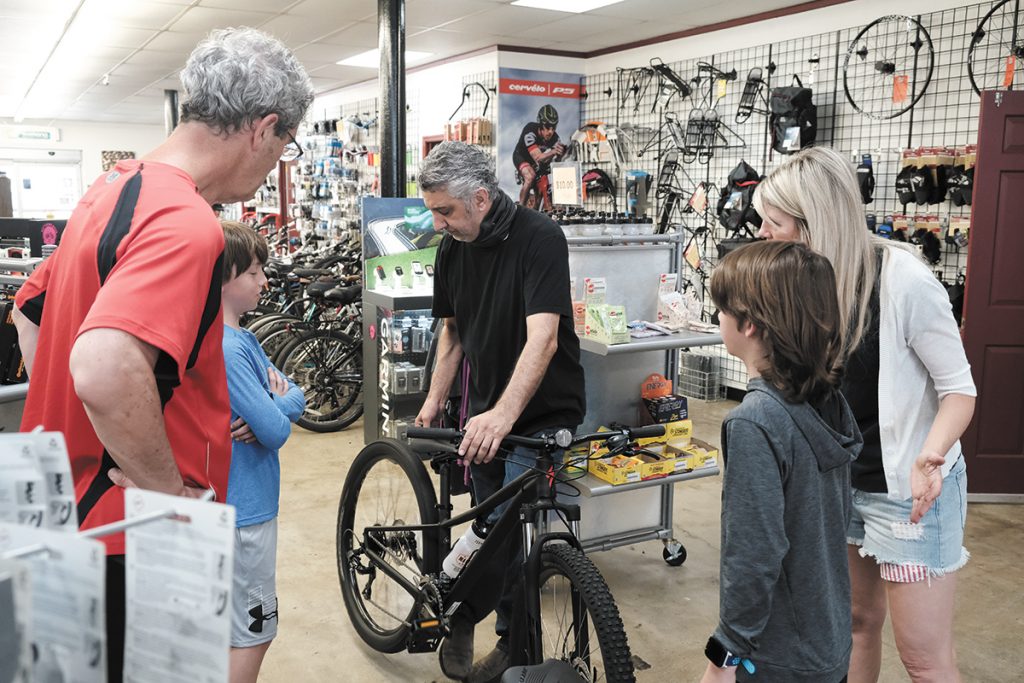 In this odd, pandemic-stricken time when buying habits are as difficult to predict as the weather, bicycles have become the new toilet paper.
Pedal bikes have become so scarce, they've turned specialty cycling shops—once the bastion of spandex-clad riding fanatics—into an oasis for people thirsting for something that will roll away the lockdown monotony and give them a little exercise.
Bicycle shops—due to the role they play in transportation—in March were deemed essential businesses. Most have stayed open through the pandemic.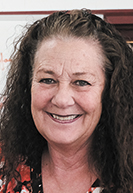 On a recent weekday, Nancy Parent, longtime owner of Matthews Bicycle Mart on the city's northeast side, looked out her shop's window in amazement.
"It's an absolute traffic jam in my parking lot, and it's a Tuesday," she said. "It's been like this since early March."
Parent said sales at Matthews are up about 70% in the last three months. Her shop at 7272 Pendleton Pike—one of the biggest in the state—usually stocks more than 500 new bicycles.
"Right now, we have about 150," she said. "It's been overwhelming."
Some local bicycle shop owners have reported sales two to three times higher than normal for this time of year.
"We've sold a summer's worth of bikes in April and May," said Charlie Revard, co-owner of The Bike Line in Broad Ripple.
To keep the store clean and his staff and customers safe, The Bike Line has moved to a curbside service model, where customers tell employees what they're looking for and product is brought out to them.
"We've had times where we have brought a bicycle out for someone to look at and they decided not to buy it, but the person a spot or two behind them in line will speak up and say, 'I'll take it,'" Revard said. "That's the kind of demand we're seeing. We've been in business for 41 years, and this is the busiest we've ever been."
Many types and brands of bicycles are selling out of specialty shops and mass retailers alike, and restocking has become a serious problem.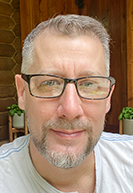 Brian Gootee, owner of Gray Goat Bicycle Co., which has four central Indiana stores, said, if he had all the inventory he wanted, sales would be up at least fivefold from normal.
"If I had all the $500 mountain bikes I wanted, I could sell one after another after another," he said.
Gray Goat has tried to limit the number of people in the store, but that, too, has been challenging.
"We have all these signs up about store limits and social distancing, and there are still people who just blow by them and don't pay any attention," Gootee said. "We have had some days where there have been long lines waiting to get in. Believe me, we're working as fast as we can."
Nationally, bicycle sales are up 141% in March and April compared to the previous year, according to NPD Group, a New York-based market research firm. Sales in big cities such as Boston, Chicago, New York and Philadelphia have been pumped up by people looking to avoid mass transit, NPD said.
But elsewhere, demand has been fueled by the closure of gyms due to the pandemic, along with the continued growth of rails-to-trails programs and construction of dedicated bicycle trails locally and nationally. In addition, bikes have allowed families stuck inside to get outside in a socially distant way.
Specialty bicycle shops usually see customers coming from a 15-mile radius. But people are so desperate to find bicycles and accessories that many stores' customer bases have grown dramatically.
In the last 10 weeks, Gray Goat has served customers who drove in from Ohio, Kentucky, Illinois and Michigan. "I've shipped a bike as far as California," Gootee said.
The demand has become so great that managing a local shop's website has become a full-time job, shop owners said. The phones, too, are ringing off the hook. And most specialty shops have fewer than 10 employees.
"These are major challenges for small businesses like ours," said Revard, whose shop has five full-time and five part-time employees. "From May 20 to 26, we had more than 800 inbound phone calls. That's more than double the average."
Going, going, gone!
Parent's crew at Matthews barely has time to get bikes into the store.
"We pull a bike out of a box, and we're literally selling them before we get it put together," Parent said.
Gray Goat has a waiting list for bicycles. Gootee said he has about 20% the number of bicycles on the floor he normally does.
"There's been an insane demand for anything under $800, and now we've started to see demand grow on the higher price points," Gootee said.
He is telling visitors to his bike shop, "If you're sitting there with your hand on a bike that you want, you better buy it. Because it won't be here in 15 minutes."
While that might sound like sales hype, Indianapolis resident Tom Smock said it's not.
Smock was at Matthews recently because he had a bicycle sold out from under him at another store.
"I was shopping for a bike for my 11-year-old daughter. I found one that was something like $600," Smock told IBJ. "I went to call my wife to see what she thought, came back 10 minutes later, and it was gone."
Smock said he had already scoured Target and Meijer. "Bike inventory is down to almost nothing at the big-box retailers," he said.
He later found his daughter a bike at Matthews. "They were just putting it on the floor, and this time around, we grabbed it," he said.
Smock said he dusted off his 25-year-old bike during spring cleaning and decided to get it fixed up so he could ride with his two children. "I don't think I had ridden a bike in 20 years, since high school," he said.
He's found riding a bicycle "is a great way to explore."
"When my kids rode before—which wasn't very often—they stayed on our driveway," Smock said. "Now, me and my son and daughter ride all over the neighborhood, and sometimes farther than that. It's been a great way to get away from the electronics, get some fresh air and check out places we never knew existed. It's amazing the things I never knew were here."
Juggling demands
Smock was lucky. He got his bicycle in to get worked on before service wait times grew dramatically.
While The Bike Line in Broad Ripple is still turning bicycle repairs around in about five days, many local bicycle shop service departments are backed up several weeks. Gootee said wait times at his shops are running four weeks. Normally, all repairs at Gray Goat can be turned around in two to three days. The story is the same at Matthews.
"People are at home and they're cleaning out their garage, their shed or their chicken coop and they're running across their old bikes and start thinking, 'Hey, let's get this out and get outside and get some exercise," Gootee said.
"There are days we are checking in so many bikes that need repairs, we can't even find the time to do a single repair," he said.
Still, he and his staff are trying to get some quick fixes done while people wait.
"We've had so many people with flat tires that some days we do nothing but fix flats," he said. "I've had days where I'm fixing four flats myself at one time. I'm coming home at midnight a lot of nights. We can't find a solution."
Gootee has even contemplated closing one day a week just so all his workers can dedicate their time to the backlog of repairs.
Bicycles aren't the only items selling. Local bike shops owners said accessories such as helmets, water bottles, tires and innertubes, bike chains, car-mounted bicycle racks and kickstands are selling faster than they can reorder them.
The biggest seller, though, is baby seats.
"Not a single distributor in the nation has one," Gootee said. "Trailers, too, are selling out fast."
The rush has left many shop owners rushing to make deals with new distributors. Gootee has brought in two new brands. The Bike Line is also bringing in new brands—with an emphasis on family-style bikes under $1,000.
Supply chain crash
Though bicycle shops have remained open, some area residents are just starting to venture out, which is creating another wave of sales, shop owners said.
But local shops and the pedal bike industry as a whole have another major—potentially crippling—problem.
With many bicycles, parts and accessories made overseas and in China, supply has become a serious problem because of about three months of quarantine in much of Asia.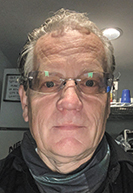 "March, April and May was a feast, but June, July and August could be a famine for the industry," said Brad Hughes, founding partner and managing director for Human Powered Solutions, a Wisconsin-based cycling industry research organization. "The broken supply line and lack of inventory could become crippling in the coming months."
With overseas manufacturing plants just starting to reopen, many bicycle shops won't be able to get major shipments of new inventory until September or October.
"I'm scared about June, July and August," Gootee said. "I'm not looking at this like a big windfall and having a party. I'm a squirrel, and I'm putting my nuts away."
He is crossing his fingers that he'll get a shipment of bicycles in the "next couple of weeks."
"We're taking whatever we can find wherever we can find it," he said.
The extended shutdown came at the worst possible time for bicycle shops. Chinese manufacturing plants close for two to three weeks each Chinese New Year, which begins in late January. This year, they weren't able to reopen as normal in early to mid-February—often one of the busiest times for bicycle manufacturers—because the pandemic had set in.
And while Chinese plants are finally reopening, major plants in Malaysia, Singapore and the Philippines haven't yet, Hughes said.
Even American bicycle manufacturers like Cannondale, Trek and Specialized—which make few or no bicycles in China—are challenged.
"Bicycle makers can't just ramp up manufacturing, because there's a shortage for almost all the parts they need to build bikes," Hughes said. "Right now, we're looking at a 90- to 120-day lag in product from China and possibly longer lag times from other key suppliers."
High-stakes gamble
Gootee, who serves on an advisory board for Specialized, marvels at the sales explosion.
"For years, we've been trying to find a way to give people a reason to put down electronic devices and get on bikes," Gootee said. "Who knew that reason would be a worldwide pandemic? For the first time in 20 years, I'm seeing large numbers of kids riding around on bikes.
"Of course, no one predicted this," he said. "But we have to find a way to capitalize on it long term."
Gootee has reason to hope this boom will last well past this spring.
"I don't think this is just going to be a short-term phenomenon," he said. "This pandemic has reversed trends 180 degrees. It's really changed people's mindsets. I'm hearing stories all day long about how fun it is to get on a bike and explore your neighborhood, your city and your state."
Making that kind of bet is a real gamble for bicycle shop owners, Hughes said.
Human Powered Solutions is currently conducting a study on future bicycle buying habits that is set to be published in early July.
"Bike shops have a serious challenge predicting future sales," Hughes said. "You certainly want to take advantage of this trend and meet your customers' demands. But if these bike shops seeing this trend load up with inventory and can't move it, it could be real trouble. Most of these shops are small businesses, and they could get upside down with debt pretty quickly.
"So this period now is great," he added. "But it's not all about just letting the good times roll."•
Please enable JavaScript to view this content.