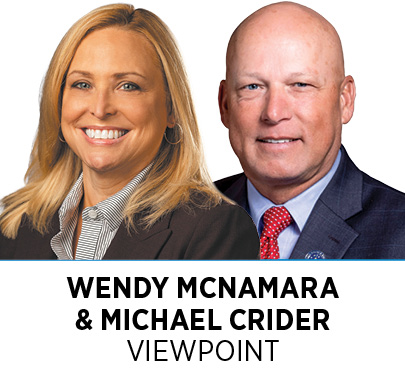 Indiana has made tremendous strides in recent years to improve our juvenile justice system, and, as a result, the number of youths referred to the system has declined substantially.
Unfortunately, there are still many kids in the system who do not belong there. According to a recent analysis, 80% of youths referred to juvenile courts in Indiana and more than 60% placed in secure detention have committed low-level, nonviolent offenses. Put simply, our juvenile justice system could make better use of taxpayer dollars.
In Indiana, our attention has been too focused on low-risk youths, who would be better served through community-based programming, while kids who commit more serious offenses and pose a public safety risk are the ones we should prioritize.
We have a critical window to make substantial progress. Last month, we led the bipartisan Indiana Juvenile Justice Reform Task Force, which approved a comprehensive, consensus-based set of recommendations to improve Indiana's juvenile justice system. These proposed reforms were translated into House Bill 1359.
This legislation presents an opportunity to ensure that Indiana's children get the support they need while also holding them accountable for their actions. Some of the bill's key provisions would establish more consistent, research-based policies to support low-risk youths in the community so the juvenile justice system can prioritize kids who are at a higher risk to reoffend. The bill would establish a statewide grant program to invest in local services and develop policies to expand diversion opportunities. Additionally, children under 12 years old would not be able to be placed in secure detention except under specific and limited circumstances.
At the same time, the bill establishes a grant program for counties to better invest resources in community-based alternatives to incarceration and requires counties to provide critical supports and services to youths released from the Department of Correction. Providing reintegration resources to our most vulnerable and highest-risk kids is essential to ensuring their success and reducing recidivism.
The bill also requires the creation of a statewide juvenile justice data collection plan. Improving data collection and reporting will enable policymakers and juvenile justice system leaders to set goals, measure progress, identify what's working well and determine areas for improvement, as well as ensure better use of taxpayer resources.
Importantly, this legislation would also reinforce local control of the juvenile justice system. County officials would retain flexibility within their processes and programming to ensure they are meeting the needs of their distinct communities and not compromising public safety. This bill would simply create research-based statewide guidelines to ensure consistency and make sure kids have similar access to opportunities regardless of what part of the state they're in.
The bill makes economic sense as well. Data shows that every dollar spent on research-based programs and practices, such as juvenile diversion, instead of punitive-based practices like incarceration, can yield $11 in savings. This means fewer kids end up cycling through the justice system again. And it saves taxpayer dollars upfront, as less involvement with the justice system leads to greater economic opportunity for youth in the long run. Additionally, the bill will help ensure that dollars are being spent on services and interventions that work.
We have an opportunity to make a great improvement in the lives of our youth, but we must act urgently to get this done.
We urge our fellow lawmakers to pass HB 1359. Indiana's children cannot afford to wait.•
__________
McNamara, a Republican, is a member of the Indiana House from Evansville. Crider, a Republican, is a state senator from Greenfield.
Please enable JavaScript to view this content.