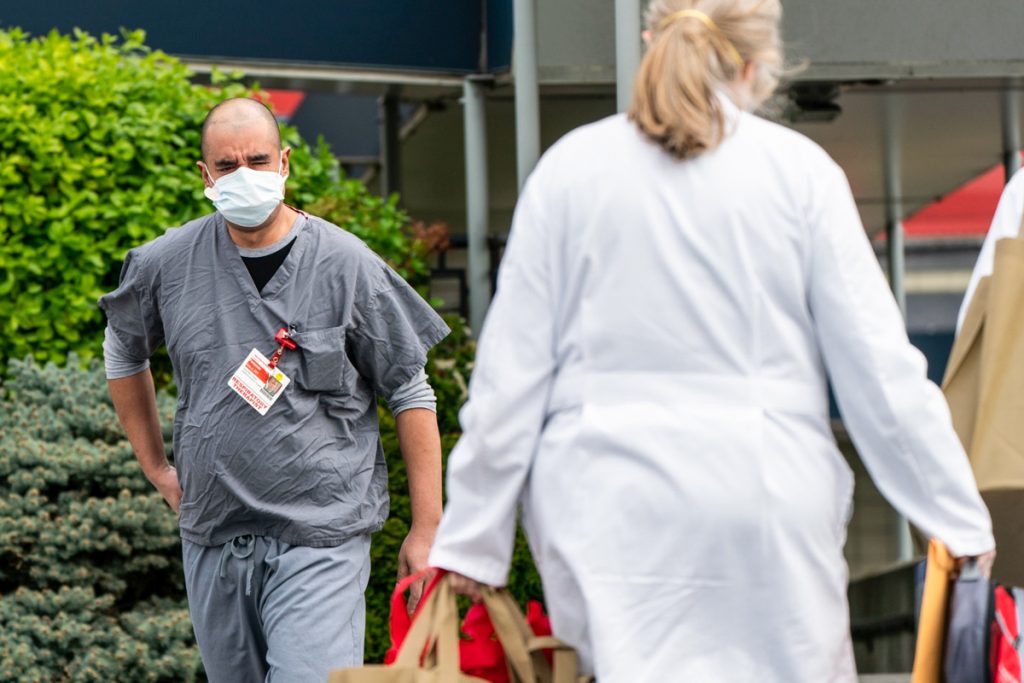 An executive at a Palm Beach hospital stands between a box of surgical masks and a Purell dispenser.
"We understand you haven't been inside our hospitals for some time," she says to the camera. The executive is delivering her line for a promotional video intended to get people back to hospitals after almost three months of avoiding the place at all costs.
Moments later, the film crew records her chatting with a vascular surgeon in an idled operating room, who soothingly reassures that a hospital is the cleanest place to be outside your home. "The hospital is safer than the grocery store," the doctor says.
The video published on YouTube in mid-May is part of a marketing campaign by Tenet Healthcare, which operates 65 hospitals and about 250 ambulatory surgery centers. It's one attempt to solve a problem the entire health care industry faces: Most patients vanished when COVID-19 swept the country.
Much of routine health care came to a halt in March as hospitals cleared space for an expected wave of COVID-19 patients and authorities ordered a halt to surgeries and other procedures that could be postponed. The decline in volume has clobbered hospital finances, with the industry estimating it is losing $50 billion a month.
Emergency visits dropped by 42% in four weeks in April compared to the same period last year, the Centers for Disease Control reported June 3. The number of U.S. patients getting hospital care dropped by more than half in late March and early April compared to 2019, according to data from Strata Decision Technology, which provides software to hospitals.
Some of that rebounded modestly in May as distancing rules eased, but hospital volume is nowhere near pre-covid levels. With the pandemic ongoing and many states still confirming hundreds of new cases daily, patients are hesitating to rush back to hospitals.
"The main thing that really is a gating factor at this point is patient comfort," Tenet Chief Operating Officer Saumya Sutaria said at a recent virtual conference with investors. Tenet declined interview requests.
To counter the public's fears, hospitals publicize what they're doing to keep patients safe. They're handing out masks at the door and spacing out chairs in waiting rooms. They're steering COVID-19 patients to dedicated sites and testing staff regularly.
Hospitals need to show patients that their facilities are safe. At Catholic hospital chain Trinity Health, that includes moving patients through "COVID-free" zones with separate doors, elevators and waiting areas.
"We can put all of the outreach and marketing in place, but it's only as effective as the people who execute those strategies," said Julie Spencer Washington, Trinity's chief marketing and communications officer.
The question for the entire industry is how quickly patients come back. The answer will depend on a constellation of related variables, including how reluctant people are to resume care, and the course of the pandemic. Future surges could force hospitals to shut down regular care again – and spook patients further.
Hospitals and doctors are going to have to do as much as they can as fast as they can until they can't anymore," said Lisa Bielamowicz, co-founder of consultancy Gist Healthcare.
Many patients, on the other hand, are in no rush. "They're waiting and watching rather than pulling the trigger and going to see the doctor like they would have in the past," Bielamowicz said.•
Please enable JavaScript to view this content.