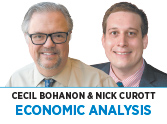 Economist Arnold Kling argues there are three languages of politics in the United States. Conservatives tend to couch social conflict in terms of those defending civilization struggling against barbarism. Progressives tend to couch social conflict as those of an oppressed class struggling against oppression. Classical liberals tend to couch social conflict as those seeking freedom struggling against coercion. He argues that members of each "tribe" usually talk past one another, making political compromise—the essence of a democratic society—problematic. Each tribe digs in on its viewpoint as being both exclusively righteous and accurate. Each tends to be dismissive—indeed, often insulting and hostile—to those of the other tribes.
Media images of thousands of Haitians camping out under a bridge near Del Rio, Texas, play into these narratives. To many conservatives, people camped on the border of the Rio Grande epitomizes a breakdown of law and civilization. They fear allowing the mob to enter the United States undermines the rule of law and threatens to overwhelm local communities with new migrants who will rout local health, welfare and educational institutions, as well as place downward pressure on the wages of the lowest-earning Americans.
To many progressives, it is axiomatic that providing succor and relief to those at the border at taxpayer expense is the only humane course of action. Images of white men on horses chasing Black migrants across the Rio Grande back to Mexico horrifically repeats the tragic history of racial oppression in the United States.
Finally, classical liberals see people who have taken incredible risks hoping for freedom and opportunity. They are prevented from entering by a near-century-old policy of immigration restrictions. The migrants are simply asking for a chance, in Deirdre McCloskey's words, "to have a go."
We admit to being in the third camp, so here are our thoughts. First, let's all stop vilifying one another. Progressives are not barbarians, conservatives are not oppressors, and classical liberals are not anarchists.
But second, our plea is: Let them in. In an orderly fashion. With registration and identification cards. Deport any who become public charges or break the law. Since they will be legal residents, ensure they receive the protection of law in both their physical persons and private property. However, give them no tax-supported aid or welfare benefits. Private entities are free to help them as they choose. But for heaven's sake, let them have a go.•
__________
Bohanon and Curott are professors of economics at Ball State University. Send comments to ibjedit@ibj.com.
Please enable JavaScript to view this content.