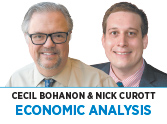 In a brazen display of constitutional indifference, President Biden recently directed the Centers for Disease Control to extend the federal moratorium on evictions until Oct. 3. The moratorium was initially enacted in spring 2020 as an emergency measure to prevent tenants from losing their homes during a time of extreme hardship. But what are the economic consequences of suspending evictions?
Most obviously, the eviction moratorium protects the housing security of millions of Americans who lost their incomes during the pandemic through no fault of their own. However, by distorting the incentives for tenants and landlords, the moratorium also creates some unintended and undesirable consequences.
While many tenants are genuinely hard-up, others are taking advantage of what amounts to a suspension of rent payments. Newspapers report stories of tenants spending on toys like boats and RVs, while their landlords lose income and face bankruptcy. It's a classic case of "moral hazard"—when individuals are protected against the negative consequences of their actions, they choose to act irresponsibly.
Landlords' choices are also being twisted by perverse incentives. Many landlords are cutting spending on maintenance and remodeling to preserve cash for their mortgage payments. Axing such routine expenditures degrades housing quality and harms tenants. Landlords also have an incentive to convert rental units into owner-occupied condos, which over time reduces the quantity of affordable housing available.
And most perniciously, landlords have an incentive to become more discriminatory when renting their property to new tenants. Consequently, they raise credit-score thresholds, ask for larger deposits, and become more judgmental than usual about anything indicating a prospective tenant's risk level—how he's dressed, his tattoos, or even the car he pulled up in. This all makes it harder for low-income, working-class people to find decent places to live.
The longer an eviction ban is in place, the worse these undesirable secondary consequences become. Which is why these kinds of emergency measures should be temporary, have a known length, and have as much certainty surrounding the policy as possible. The government's ineptitude at finding a solution to address the looming eviction crisis without shunting the economic distress on landlords is indicative of our country's sad state of partisan politics.
A staggering 11 million Americans—about 16% of all renters—are behind on rent. The moratorium does nothing to address the looming eviction crisis; it merely pushes the day of reckoning a couple of months down the road.•
__________
Bohanon and Curott are professors of economics at Ball State University. Send comments to ibjedit@ibj.com.
Please enable JavaScript to view this content.