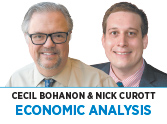 The opening of the People's Republic of China in the 1970-1980s and the fall of the Soviet Union in the 1990s were major events of the 20th century. Yet now, well into the 21st century, the United States and our European/Asian allies are locked in struggles with both China and Russia. As we write, Russia is sending troops into the newly declared Republics of Donetsk and Luhansk, which the rest of the world recognizes as part of Ukraine. It is as if nothing has changed. However, the economic backdrop of 2022 is very different from that of 1962.
In 1962, the proportion of USA GDP allocated to defense spending was 11.5%. By 2019, it had dropped to 4%. In 1962, the percentage of USA GDP allocated to producing goods and services for export was 4.8%. By 2019, it had more than doubled, to 11.7%. In 1962, both China and the USSR had extensive military capabilities but almost no economic interaction with the free world. Today, both China and the Russian Federation have formidable military capacity but are deeply intertwined with the Western economies. In 1962, there was no such thing as the internet or cyberspace. Today, it is a primary channel of economic activity.
In 1961, President Kennedy declared in his inauguration that, "We shall pay any price, bear any burden, meet any hardship, support any friend, oppose any foe to assure the survival and success of liberty." Whoever wins the presidency in 2024 is unlikely to utter similar words at his or her inauguration in 2025. After Vietnam, Iraq and Afghanistan, the USA hasn't the political will to engage in another war. So, we are left with economic sanctions as our primary tool to offset Russian or Chinese aggression.
And how effective are sanctions likely to be in altering Russian and Chinese behavior? We don't know, but if our experience with Iran is any indication, the answer is not very. Globalization, demilitarization and cyberspace have surely been blessings. In 1960, some 54% of the world's population lived on less than the current equivalent of $2 a day. By 2015, that proportion had dropped to under 10%. But human nature doesn't change. Despots are going to be despots. Freedom is not inevitable.
Along with Sen. Bernie Sanders, we opine that USA/Western economic sanctions will inevitably lead to Russo-Sino retaliation that "could result in massive economic upheaval." Let's just hope it is not as lethal as a land war.•
__________
Bohanon and Curott are professors of economics at Ball State University. Send comments to ibjedit@ibj.com.
Please enable JavaScript to view this content.