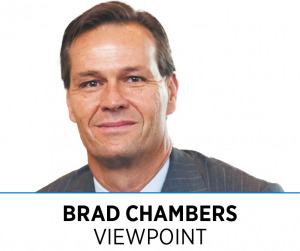 Indiana University and Purdue University recently announced the dissolution of IUPUI and the transformation of one shared campus into two independent entities. The move is necessary, future-focused and overdue.
IUPUI has served Indianapolis and the state of Indiana well in its more than 50 years of existence—attracting, training and retaining contributors to the Hoosier economy. However, it can be argued that IUPUI's distinctive administrative structure held the school back from achieving its full potential and by extension, the region's prosperity.
By separating and delineating the responsibilities of a previously conjoined institution, both universities can implement their own visions and establish strategic aspirations, unique to their own strengths, to meet the needs of an increasingly interconnected global economy. And, of course, a little friendly, untethered competition between two prestigious neighbors isn't a bad thing.
For IU, that means offering undergraduate health-based science degrees in Indianapolis, allowing for a truer partnership with the IU School of Medicine, which will include the launch of future-focused research collaborations backed by increased funding. Participation in cutting-edge research while still in school will produce thoroughly experienced medical professionals and, more important, innovation and potential startups.
Purdue, in turn, can focus on increasing the number of STEM-educated students. Across the country, economic development leaders, corporate executives and growing businesses of all sizes have expressed concern at the scarcity of top-quality talent prepared to contribute to high-end technological research.
In fact, the United States is estimated to have a shortfall of some 300,000 engineers needed in new semiconductor fabs alone by the end of the decade.
While Purdue is doing its part, a more robust presence in our largest economic engine, Indianapolis, is critically important to our state's future. By increasing its concentration of STEM students in central Indiana, Purdue will address the workforce burdens on our next-generation industries and pave the way for students to pursue world-class—and world-changing—careers right here in the Hoosier State.
In the wake of this announcement, congratulations go to President Pamela Whitten for her boldness. Hardly a year into her tenure as IU's 19th president, she worked urgently in her evaluation of the challenge and, along with her board, reached a thoughtful decision that has the potential to improve both the university and the state's economic prospects. Likewise, to Purdue's President Mitch Daniels for finishing his remarkable tenure on this important high note and for continuing to honor Purdue's unique designation and responsibility as Indiana's only land-grant university.
Yet even with this welcome progress, I wonder what former Mayor Richard Lugar would think. It was his belief, as detailed in his 1968 speech, that for Indianapolis to truly thrive, it was critical to establish a "great State University … in Indianapolis." While the next chapter of Indianapolis' west-side story has yet to be written, I remain hopeful and optimistic that Mayor Lugar's vision may someday be fully realized.•
__________
Chambers is Indiana's secretary of commerce. He previously founded and served as CEO of Indianapolis-based real estate firm Buckingham Cos.
Please enable JavaScript to view this content.