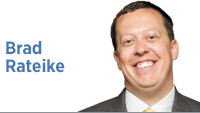 When I was a child, my grandfather asked me what I wanted to "be" when I grew up, and my answer was, "president of the United States." Feel free to roll your eyes, but remember that I was probably 10 years old, and I am positive I am not the first, nor the last, kid that age to respond with that answer.
Fortunately for me, I matured (sometimes against my will). My answer to my grandfather's question changed substantially over the years. I went on to wanting to be a country lawyer, a musician (briefly—blame the only two consecutive "successful" guitar lessons I ever had), an accountant and finally a stockbroker. Why I took a different path professionally is another tale for another time.
Our professional lives rarely go as planned. However, a professional goal I have attempted to pursue for the last 15 years is, ironically enough, taken from a fictional portrayal of the president.
In an episode of NBC's hit TV show, "The West Wing," there is a scene where the White House communications director pays the president a compliment by saying the level of respect with which the staff speaks of him does not change whether or not he is in the room. The compliment was sincere and, most important, deserved.
I do not remember what my professional ambitions might have been at that moment in my 20s when I heard those words, but I remember filing it away and thinking to myself that, whatever I did, I should strive to be the person who earns that kind of respect.
I was no one's boss at the time, but now each time I go through the process of hiring an employee, I think about this standard and whether I can live up to it. I liken it in some way to the prayer, "Lord, please help me be the man my pet thinks I am," but not exactly.
Both in business and in politics, there are moments where significant leadership is required, even above and beyond the daily burdens of responsibility. At the risk of inducing Nixon-esque paranoia, I think an appropriate measure of leaders can and should be whether they conduct themselves in a manner that motivates those who surround them to speak of them the same whether they are in the room or not. Machiavelli might want to weigh in here to tell me there is much more nuance than that.
I have worked for bosses on both ends of this spectrum. It does not necessarily reflect their effectiveness as a leader, but it does largely reflect their effectiveness as a communicator. Those who have a vision, lay out the path, empower their team and execute have always been my favorite to work with, though often hard to find. Those who cannot translate what success looks like, offer little instruction on how to get there, and fail to "coach up" their colleagues usually get a different grade. I obviously aspire to be the former, but fear I too often resemble the latter.
Our colleagues' expectations evolve, and no one I know can read minds. Given basically no other good option, I have to hope demonstrating a commitment to try to anticipate needs, communicate a vision, empower people and show what success looks like every day will be enough to earn the respect of whatever team I am on, whether I am in the room or not.
Otherwise, I might have to add an entirely new vocation onto the list for my grandfather.•
__________
Rateike is founder and owner of BAR Communications and served as director of cabinet communications for President Donald Trump. Send comments to ibjedit@ibj.com.

Click here for more Forefront columns.
Please enable JavaScript to view this content.